Anglo-American Studies: VIDEOS
Brookside Media. Audio Theatre Series:
Story Theatre for Young Readers

IMPORTANT NOTICE: All prices are subject to change. The prices listed here are for reference only and were the publisher's suggested retail price at the time we posted this catalogue. Usually, LEA Book Distributors will charge the publisher's suggested US retail price or at times the publisher's price for foreign customers. Check with us for latest price changes.

TO ORDER: Just send an e-mail with your list, full address, and credit card data. Institutions: Send P.O. orders@leabooks.com

We offer these outstanding choices:
Story Theatre for Young Readers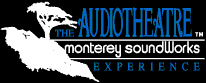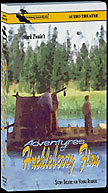 Adventures of
Huckleberry Finn

Cast off on a raft with a runaway slave down the great Mississippi and a boy couldn't dream of a greater adventure.
$25.00

"A merry introduction to Twain's masterpiece."- Today's Librarian

"Pure, fast-moving entertainment."- Today's Librarian

Cat# 300044 / 141 min / 2 cassettes
ISBN# 1-56994-528-4
UPC# 0 12233 00044 3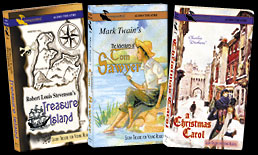 Robert Louis Stevenson's
Treasure Island

Set sail to the heart of adventure with Jim Hawkins aboard the pirate ship of legendary scoundrel, Capt. Long John Silver!
2 audio cassettes/150min
$25.00
Mark Twain's
The Adventures of Tom Sawyer
All kinds of mischief and adventures, with that ever-lovin' charmer from Missouri, Tom Sawyer.
2 audio cassettes/140min
$25.00
Charles Dickens' "A Christmas Carol"
112 min /2cassette/cat # 309584
$25.00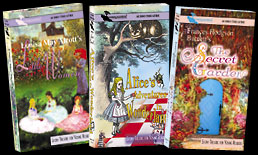 Louisa May Alcott's
LITTLE WOMEN

The classic story of family, hope, dreams, and growing up as four devoted sisters search for romance and find maturity.
2 audio cassettes/100min
$25.00
Lewis Carroll
ALICE'S ADVENTURES IN WONDERLAND
Down the rabbit hole, advice from a Caterpillar, a sip at a Mad party of tea... dancing the Lobster-Quadrille, a Queen, a King, a journey of such wonder that you can't help but see, it's a magical fantastical journey... Tweedledum, Tweedledee.
2 audio cassettes/86min
$25.00
Frances Hodgson Burnett's
THE SECRET GARDEN
This beloved children's classic tells of a young girl who discovers a secret garden and restores a young boys faith.
2 audio cassettes/120min
$25.00


Cinderella
110min/2cassettes
$25.00
Peter Pan
110min/2cassettes
$25.00
L. Frank Baum's
The Wonderful Wizard of Oz
A Scarecrow, a Tin Woodsman and a mighty Wizard, Oh My! And Dorothy and Toto
lost in a magical land of enchanted inhabitants.
2 audio cassettes/120min
$25.00
Send an order or a message to: leabooks@leabooks.com
Remember, we commit ourselves to provide...
ANY BOOK PUBLISHED IN ENGLISH OR IN SPANISH!
(Minimum order: $100.00 individuals, $200.00 institutions and bookstores)
LEA Book Distributors
170-23 83rd Avenue, Jamaica Hills, NY 11432, USA
Tel. 1(718)291-9891 * Fax 1(718)291-9830
Please direct all inquiries to: orders@leabooks.com
© LEA Book Distributors 1999