Anglo-American Studies: VIDEOS
Monterey Media:
American Playhouse

IMPORTANT NOTICE: All prices are subject to change. The prices listed here are for reference only and were the publisher's suggested retail price at the time we posted this catalogue. Usually, LEA Book Distributors will charge the publisher's suggested US retail price or at times the publisher's price for foreign customers. Check with us for latest price changes.

TO ORDER: Just send an e-mail with your list, full address, and credit card data. Institutions: Send P.O. orders@leabooks.com

We offer these outstanding choices:
Who Am I This Time?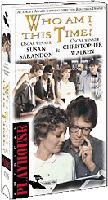 Academy Award Winners Susan Sarandon & Christopher Walken star in Kurt Vonnegut, Jr.'s:
"An off beat delight. One of the best on Television" - Los Angeles Times
60 min/Color/Cat# 34818
Suitable for family viewing
$29.00



---
Under the Biltmore Clock
Sean Young in F. Scott Fitzgerald's: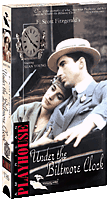 "One of the examples of what 'American Playhouse' did best could be 'Under the Biltmore Clock'." - The New York Times

"A checklist of this week's noteworthy shows: Set your clock - or VCR - to watch 'Biltmore'" - People Magazine

"A Look at the Past Season, The Best We Saw... Honorable Mention: 'Under the Biltmore Clock'" - TV Guide
80 min/Color/Cat# 34713
Suitable for family viewing
$29.00


---
Academy Award Winner Helen Hunt in Mary Austin's:

Land of Little Rain


65 min/Color/Cat# 32816
Suitable for family viewing
$29.00
---
Monterey Video is also proud to present these three additional distinguished American Playhouse programs whose use is currently limited to libraries and educational institutions.
Mary MCDONNELL, Richard THOMAS, Sada THOMPSON,George GRIZZARD, John GLOVER in:

Andre's Mother

"3 _ Stars. Highly recommended. This touching story beautifully illustrates how the decisions we make regarding our own lives and relationships impacts the lives of those around us. Carries its powerful, emotional message simply, in a top-notch production that plays like a motion picture."

60 min/Color/Cat#32019
Suitable for family viewing
$29.00

Willa CATHER, Henrik IBSEN, Terrence MCNALLY, Arthur MILLER

O' Pioneers!

"The American Playhouse attitude is a rare and wondrous thing."

118 min/Color/Cat#33271
Suitable for family viewing
$29.00
Seen on


An Enemy of the People



"...a series that unapologetically aims for high artistic standards."

118 min/Color/Cat#30254
Suitable for family viewing
$29.00

$29.00
Includes Public Performance
Monterey Video proudly introduces the inclusion of these Award winning Black Heritage titles

GO TELL IT ON THE MOUNTAIN
"A remarkable film. Powerful enough to lift us off the ground ' it soars! " - The Wall Street Journal
"A taughtly compelling and tremendously moving drama." - The New York Times
To be black in America. To seek both salvation and understanding in the journey of a family from the rural South to "big city" Harlem. From the celebrated James Baldwin novel.
Stars Paul Winfield, Alfre Woodard.

Color/100min/PBS/1984
$29.00

A RAISIN IN THE SUN

"Exceptional." - LA Times

"****" - Chicago Sun Times

"Don't miss it." - New York Magazine

Danny Glover stars in this highly acclaimed adaptation of Lorraine Hansberry's Award- winning play about the dreams and often unforgiving reality of a Black family's life in Chicago. (1988)

Color/165min/CC/PBS
$29.00

Catalog number: 31954
Run time: 100 minutes
Color
ISBN 1 56994 012 6
UPC 012233 1954 3 9

Catalog number: 30033
Run time: 165 minutes
Color
ISBN 1 56994 018 5
UPC 012233 0033 3 8
SOLOMON NORTHUP'S ODYSSEY

"…an outstanding movie." - Miami News

"This is a winning choice." - Booklist

Solomon Northup would live a nightmare. He was kidnapped and carried off into slavery for twelve long years. A harrowing story, even more powerful because... this story is true.
Stars Avery Brooks

Color/115min/PBS/1984
$29.00

AMERICAN PLAYHOUSE CELEBRATES BLACK HISTORY
Three outstanding titles :
"Go Tell it on the Mountain,"
"A Raisin in the Sun,"
and "Solomon Northup's Odyssey"


BUY THE COMPLETE SET AND SAVE $6.00
3 volumes
$81.00

Catalog number: 33975
Run time: 115 minutes
Color
ISBN 1 56994 016 9
UPC 012233 3975 3 6

Catalog number: 30213
Run time: 384 minutes
Color
ISBN 1 56994 208 0
Winner of the coveted Cine Golden Eagle award, this compelling film transports us into the world of a 1960's New York cafeteria and the isolated people who find one another. Bob Dishy stars as a European-born refugee, who is fascinated by a young woman (Zohra Lampert), a refugee and survivor of the holocaust. $29.00

Seen on

Rarely has a play so captivated its audiences as this Tennessee Williams' masterpiece. This five time ACE Award nominated production stars Academy Award-winning actress Jessica Lange inhabiting one of literature's most complex and sensual ladies, Maggie the Cat. Joining her is Academy Award winner Tommy Lee Jones, Rip Torn and, in her EMMY Award-winning performance, Kim Stanley.
$29.00

Catalog number: 34122
Run time: 53 minutes
Color
Close Caption
Suitable for family viewing
ISBN 1 56994 206 4
UPC 0 12233 41223 9

"A brilliant production. The cast is superb." - Newsday

"Represents American Playhouse at its best."
- Wilmington Morning News


Winner of the Cine Golden Eagle Award

Catalog number: 33893
Run time: 144 minutes
Color
Close Caption
Suitable for family viewing
ISBN 1 56994 207 2
UPC 0 12233 38933 3

"Flickering, effervescent, fiercely charged. A superb cast."

Scrooge may be alive and well and living in West Virginia in the person of Flagg Purdy. He rules his life by his "principles".
But something has just happened to his well-ordered universe. A story of love, devotion, relationships and Christmas adapted for PBS from John D. Weaver's humorous story starring twice Academy Award nominated and Tony Award-winning actor Alan Arkin and his real life wife, Barbara Dana. $29.00

Catalog number: 30021
Run time: 56 minutes
Color
Suitable for family viewing

ISBN 1 56994 220 X
UPC 0 12233 00213 3

"Alan Arkin is brilliant and spellbinding. Don't miss this dramatic firecracker."
Send an order or a message to: leabooks@leabooks.com
Remember, we commit ourselves to provide...
ANY BOOK PUBLISHED IN ENGLISH OR IN SPANISH!
(Minimum order: $100.00 individuals, $200.00 institutions and bookstores)
LEA Book Distributors
170-23 83rd Avenue, Jamaica Hills, NY 11432, USA
Tel. 1(718)291-9891 * Fax 1(718)291-9830
Please direct all inquiries to: orders@leabooks.com
© LEA Book Distributors 1999