Gale Research Group and
LEA Book Distributors Now Offer You:
El Grupo Gale Research y
LEA Book Distributors Ahora Le Ofrecen:

MEDICINA Y SALUD / MEDICINE & HEALTH

IMPORTANT NOTICE: All prices are subject to change. The prices listed here are for reference only and were the publisher's suggested retail price at the time we posted this catalogue. Usually, LEA Book Distributors will charge the publisher's suggested US retail price or at times the publisher's price for foreign customers. Check with us for latest price changes.

Le ofrecemos estas selecciones excepcionales:
(LEA no vende estos productos a clientes dentro de España):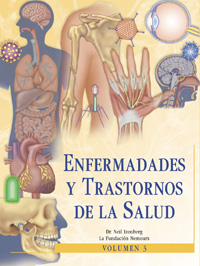 Enfermedades y Trastornos de la Salud--
Human Diseases and Conditions
Published by Charles Scribner's Sons
This new translation of Scribners' acclaimed Human Diseases and Conditions provides Spanish researchers with a detailed resource for health and medical information on more than 295 diseases and conditions. Presented with full-color images and written in an engaging narrative style, this new set will appeal to Spanish students and researchers
at all levels.
Published/Released: December 2003
ISBN: 0-684-31273-5
Page count: About 1,000 pp. in 3 vols.
Number of vols. in set: 3
Weight: 20 lbs/ 9.07 kgs
Price: Ask for price and availability
---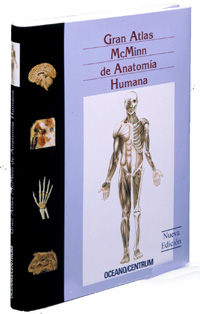 Great Atlas of Human Anatomy--
Gran Atlas de Anatomia Humana
Published by Oceano Grupo Editorial
Using over 600 full color surgical photographs, this unique single volume provides vivid visual depiction of the human body. All photos are annotated in detail and the nomenclature and classification of arteries, veins, lymphatic nodes, nerves and muscles are given in an appendix. The result is a tool for research by the Spanish speaking student and visual guide to the human body for the general reader.
This product is published in Spanish only

Published/Released: August 2000
ISBN: 84-817-4376-3
Weight: 4 lbs/ 1.81 kgs
Price: Ask for price and availability



-Una obra única: La visión más real y completa del cuerpo humano.
-360 páginas y más de 600 fotografías a todo color.
-7.700 piezas y regiones del cuerpo humano, con notas aclaratorias y abundante documentación especializada: broncogramas, escáners, radiografías y ecografías.
-Extenso Apéndice de nomenclatura y definición.
-El GRAN ATLAS MCMINN DE ANATOMÍA HUMANA ofrece la visión más detallada y real del organismo humano. Una obra clásica de referencia para los estudiantes y profesionales de la Medicina y la Sanidad.
---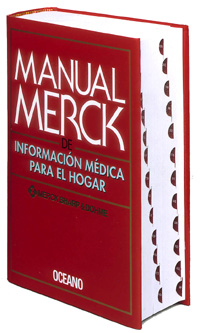 Merck Manual Medical Information for the Home--
Manual Merck de Informaciòn Medica para el Hogar
Published by Oceano Grupo Editorial
For more than a century, the Merck Manual has been the most widely used reference work by doctors all over the world. The Merck Home Medical Information Manual develops all the topics related to health in an easy to understand language for the Spanish-speaking layman. The result is an indispensable book: for doctors, hospital and clinic staff, students, teachers and anyone interested in their health and the health of their family. More than 1,200 diseases and disorders minutely described along with their causes, symptom, diagnostic and treatment in 1,500 pages with more than 800 illustrations.
This product is published in Spanish only
Published/Released: December 2004
ISBN: 84-494-1184-X; 1544 páginas
Weight: 6 lbs/ 2.72 kgs
Price: $99.00

-Sólo su médico sabe más sobre su salud.
-Más de 1.500 páginas y 800 dibujos, gráficos, cuadros y tablas.
-Más de 1.200 enfermedades y trastornos descritos minuciosamente, con sus causas, sus síntomas, su diagnóstico y su tratamiento.
-Completo índice de terminología médica.
-Desde hace un siglo, el Manual Merck es la obra de referencia más utilizada por los médicos de todo el mundo. Ahora, el MANUAL MERCK DE INFORMACIÓN MÉDICA PARA EL HOGAR desarrolla todos los temas relacionados con la salud en lenguaje cotidiano y los pone al alcance de todos.

Topics covered include:
Reader's Guide
Understanding medical terms
Pharmaceuticals
Cardiovascular diseases
Respiratory System Disorders
Bone disorders
Brain and nervous system disorders
Mental disorders
Mouth and teeth disorders
Gastrointestinal disorders
Liver and gall bladder disorders
Kidney and urinary disorders
Nutrition and metabolism disorders
Hormonal disorders
Blood disorders
Cancer
Immune system disorders
Skin disorders
Ear, nose, and throat disorders
Eye disorders
Male health problems
Female health problems
Children health problems
Accidents and lesions
Appendices
---

Medicinas Alternativas-- The Gale Encyclopedia of Alternative Medicine
Published by Oceano Grupo Editorial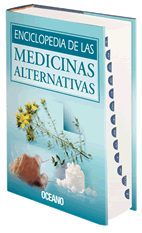 This translation of The Gale Encyclopedia of Alternative Medicine makes this detailed resource available for Spanish-language researchers. Covering all aspects of the subject -- therapies, conditions/diseases, herbs/plants and people -- Medicinas Alternativas identifies the many types of alternative medicine being practiced today, from acupuncture to yoga.
Published/Released: April 2003
ISBN: 84-494-2442-9
Page count: 1,544 pp.
Price: US $145.00
Weight: 8 lbs./ 3.63 kgs.


-La más completa recopilación de medicina no convencional
-Ordenación alfabética para facilitar la consulta y referencias cruzadas.
-Índice general a dos niveles para localizar fácilmente aspectos concretos de cualquier tema.
-Más de 400 ilustraciones (dibujos y esquemas) y encarte con fotografías a todo color.
-Una fuente imprescindible de información médica alternativa, que ofrece una guía exhaustiva sobre tratamientos complementarios, plantas y remedios, así como enfermedades y trastornos comunes de la salud. Todos los artículos han sido redactados por médicos con amplia experiencia, profesionales de la medicina alternativa, educadores sanitarios, farmacéuticos, enfermeras y otros expertos en salud y en terapias complementarias. Todo ello bajo la supervisión de un equipo médico experto.
---

Merck Veterinary Manual-- Merck Manual de Veterinaria

Published by Oceano Grupo Editorial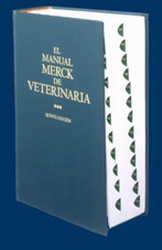 This Spanish edition of the Merck Veterinary Manual puts at the fingertips of readers the most authoritative and complete reference work on veterinary practices. It incorporates the most recent knowledge and advances on the diagnosis and treatment of animal health problems. The professional practicing veterinarian as well as the student or researcher in animal heath will find its clear, concise and well-organized presentation useful.

Published/Released: January 2001
ISBN: 84-494-1814-3; 2500 páginas
Weight: 4 lbs/ 1.84 kgs
Price: $125.00


-La obra más importante, completa y actual sobre Veterinaria.
-2.500 páginas, numerosas ilustraciones, cuadros y tablas.
-Amplio apartado de farmacología y completo índice analítico.
-Práctico uñero.
-El Manual Merck de Veterinaria es la fuente de consulta más autorizada. El mejor referente profesional para el diagnóstico y tratamiento de las afecciones en veterinaria.
---
Acuérdese, nos comprometemos a proporcionarle...
CUALQUIER LIBRO PUBLICADO EN INGLÉS O EN ESPAÑOL
(Pedido mínimo $200.00 organizaciones)
LEA Book Distributors
170-23 83rd Avenue, Jamaica Hills, NY 11432, USA
Tel. 1(718)291-9891 * Fax 1(718)291-9830
Please direct all inquiries to: orders@leabooks.com
Home
--- Estudios Hispánicos --- SGEL ---
© LEA Book Distributors 1999