Biblioteca Esencial Espasa
Un gran paquete para todo presupuesto, 2001

IMPORTANT NOTICE: All prices are subject to change. The prices listed here are for reference only and were the publisher's suggested retail price at the time we posted this catalogue. Usually, LEA Book Distributors will charge the publisher's suggested US retail price or at times the publisher's price for foreign customers. Check with us for latest price changes.

Le ofrecemos estas selecciones excepcionales:
(LEA no vende estos libros a clientes dentro de España):

Editorial / Imprint:

ESPASA

Título / Title:

BIBLIOTECA ESENCIAL ESPASA 7 Tomos

(ESSENTIAL ESPASA LIBRARY 7 Vols.)

Páginas / Pages:

3,316

Volumes:

7 volumes 17.5 cm. X 11.5 cm.

Presentación
Presentation

7 vols. en Rústica en un elegante estuche
7 Paperback vols. in an elegant case

ISBN:

84-239-1679-5

Precio / Price:

$39.95 (set / 7 vols.)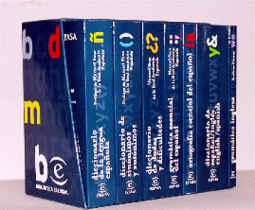 Títulos que componen la obra:

1-

Dicc. de la Lengua Española:
628 pages. More than 25,000 entries
(Spanish Language Dictionary)
2-

Dicc. de Sinónimos y Antónimos

:
557 pages. More than 18,000 entries.
(Synonyms and Antonyms Dictionary)
3-

Dicc. de Dudas y Dificultades:
433 pages.
(Queries Dictionary)
4-

Gramática Esencial del Español

: 418 pages.
(Essential Spanish Grammar Dictionary)
5-

Ortografía Esencial del Español

:
252 pages
(Essential Spelling Dictionary)
6-

Dicc. Español-Inglés, English-Spanish

:
852 pages.
(Spanish-English/English-Spanish Dictionary)
7-

Gramática Inglesa

:
176 pages.
(English Grammar)
Acuérdese, nos comprometemos a proporcionarle...
CUALQUIER LIBRO PUBLICADO EN INGLÉS O EN ESPAÑOL
(Pedido mínimo $200.00 organizaciones)
LEA Book Distributors
170-23 83rd Avenue, Jamaica Hills, NY 11432, USA
Tel. 1(718)291-9891 * Fax 1(718)291-9830
Please direct all inquiries to: orders@leabooks.com