Home
--- PROFESSIONAL BOOKS --- Arts & Humanities --- Art & Architecture
Please direct all inquiries to: orders@leabooks.com
Hispanic Seminary of Medieval Studies
(Hispanic Seminary Publications / Distributed by LEA)
LÉXICO HISPANOAMERICANO


IMPORTANT NOTICE: All prices are subject to change. The prices listed here are for reference only and were the publisher's suggested retail price at the time we posted this catalogue. Usually, LEA Book Distributors will charge the publisher's suggested US retail price or at times the publisher's price for foreign customers. Check with us for latest price changes.

A MAJOR COMPILATION. A MUST FOR EVERY LIBRARY with programs in Hispanic and Latin American Studies. Order today.
TO ORDER: Just send an e-mail with your list, full address, and credit card data. Institutions: Send P.O. orders@leabooks.com

Ray Harris-Northall and John J. Nitti, eds. Peter Boyd-Bowman's Léxico hispanoamericano 1493-1993. (New York, 2003). CD-ROM only. (ISBN 1-56954-084-5). $95.00. No longer available.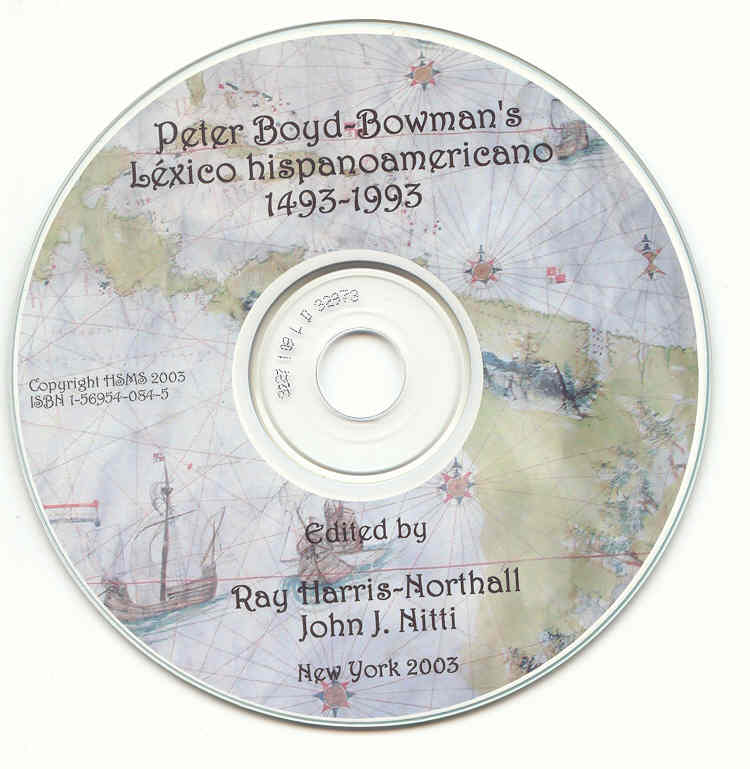 This CD-ROM edition of the Léxico hispanoamericano brings together the five volumes of Peter Boyd-Bowman's extensive lexicon of the Spanish language used in the Americas, initially published as a microfiche series by the Hispanic Seminary of Medieval Studies between 1982 and 1994. Demand for the Léxico, widely praised as a unique reference work in the field of Hispanic linguistics, quickly led to the unavailability of the microfiche edition.

The CD-ROM version therefore gives scholars a new opportunity to acquire the Léxico, in a format which offers not only a complete revision of the work together with the incorporation of new citations, but also the advantages of custom-designed software, making use and manipulation of the data fast, efficient, and reliable.

It contains over 80,000 headwords drawn from 387 sources, spanning the years 1493-1993.

Each headword in the Léxico is followed by a number of citations illustrating its grammatical properties, semantic content, co-occurrence with other linguistic forms, and other aspects of its use. The citations are accompanied by their documented date and location, and information on the sources from which they are taken. Those sources include all types of material, from literary texts to private correspondence, and from legal documents to freight lists.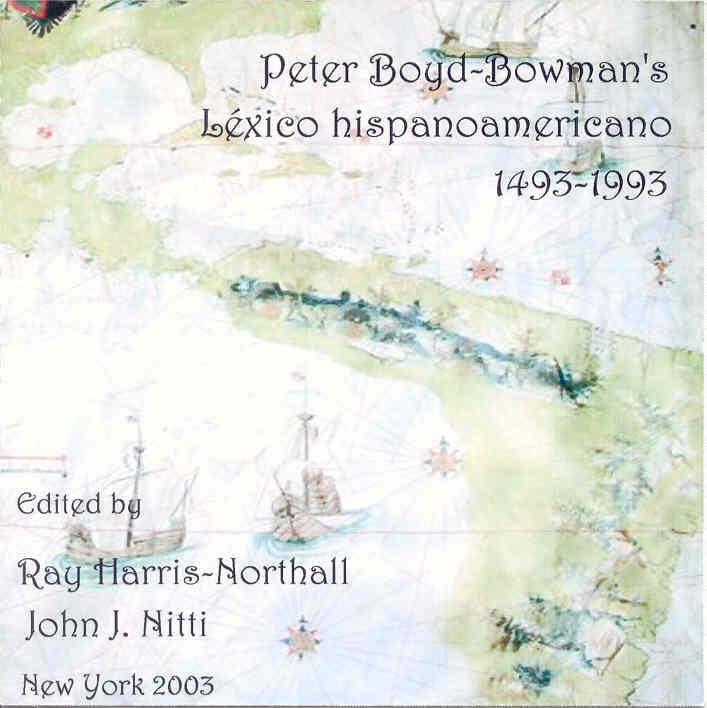 The software which has been developed specifically for this edition enables the user to search by headword and word in context, by location, by date or date range, by source, and to combine searches in such as way as to optimize access to the citation database.


Many of the citations reveal the earliest documentation of forms in American Spanish, but the Léxico also provides information on the appearance and use of loanwords, the spread of cultural concepts and technical terminology, the survival of forms considered obsolete or regional in Peninsular Spanish, and so on.


The Léxico hispanoamericano is a major contribution to our knowledge of the Spanish used in the Americas from the end of the 15th century to the end of the 20th.

N.B. The books we list under any of these subject headings are only
a small selection that we simply want to promote more actively.
We thought those may be of particular interest to you.
Minimum order: $200.00.

Remember, we commit ourselves to provide...
ANY BOOK PUBLISHED IN ENGLISH OR IN SPANISH!
LEA Book Distributors
170-23 83rd Avenue, Jamaica Hills, NY 11432, USA
Tel. 1(718)291-9891 * Fax 1(718)291-9830
Please direct all inquiries to: orders@leabooks.com
Home
--- HISPANIC STUDIES --- Hispanic Seminary ---
© LEA Book Distributors 1999