Home
--- PROFESSIONAL BOOKS --- Arts & Humanities --- Art & Architecture
Please direct all inquiries to: orders@leabooks.com
New York Hispanic Society
(Hispanic Society Publications / Distributed by LEA)
TALAVERA POBLANA


IMPORTANT NOTICE: All prices are subject to change. The prices listed here are for reference only and were the publisher's suggested retail price at the time we posted this catalogue. Usually, LEA Book Distributors will charge the publisher's suggested US retail price or at times the publisher's price for foreign customers. Check with us for latest price changes. Prices on this page had been posted and not updated until February, 2016.

FINE and DECORATIVE ARTS
Out-of-Print Volumes: Send us your list a

nd we will look for them.

Order any OP book from L.E.A. Book Distributors.

Many prices have changed. New titles added.
Send us an e-mail for current prices and the latest catalog: lea@leabooks.com
Connors McQuade, Margaret.
Talavera Poblana: Four Centuries of a Mexican Ceramic Tradition
New York: Americas Society, 1999. 112p. Col. illus.


ISBN: 1-879128-19-5
Binding: Hardcover
Description: 112p. Col. illus.
Price: $150.00 to $495.00 depending on condition. Send an e-mail for availability. Several copies available at different prices.

Catalog of the exhibition organized by the Hispanic Society of America, The Americas Society and the Fundación Amparo/Museo Amparo, Puebla (México) held at the Americas Society, Sept. 17-Dec. 12, 1999.

This is a fully bilingual edition of a prized catalog of Mexican ceramics. The main study by Margaret Connors McQuade appears in English with all the illustrations interspersed and later in Spanish as a supplement. A study by Jaime Contreras Castro follows, first in its English version and later in Spanish ("Talavera: Tradition for the Future").
There are 42 illustrations in full color, and a full catalog of all the objects exhibited at The Americas Society.

Margaret E. Connors McQuade joined the staff of the Hispanic Society of America, New York in 1993 and became assistant curator of ceramics, furniture and glass in 1998. She specializes in the study of the pottery traditions of Spain and Mexico and has published and lectured on these traditions in the U.S.A., Spain and Mexico. She curated and authored the accompanying catalogs for the exhibions: Talavera Poblana: Four Centuries of a Mexican Ceramic Tradition in 1999 and Splendor of Alcora: Spanish Ceramics of the 18th Century ( Parts 1 - 3 ) which ran from November 2000 through December 2001. Ms. Connors McQuade is currently writing her Ph.D. dissertation on the colonial ceramics of Puebla, Mexico and has plans to organize a larger exhibition on the Ceramics of Alcora, incorporating many of the original factory documents and the nearly 100 pieces of exquisite Alcora ceramics from the 18th and 19th centuries in the collections of the Hispanic Society fo America.


Extensive article and review of this exhibit at: http://www.criticarte.com/Page/enlaces/enlaces_de_actualidad/Talavera_Poblana.htm


For Potters From Spain, a New World of Styles

By RITA REIF

OTHER BOOKS ON HISPANIC CERAMICS:

Connors McQuade, Margaret.
Splendor of Alcora: Spanish Ceramics of the Eighteenth Century
in the Collection of The Hispanic Society of America.
2000. 21p. 17 col. illus. Softcover $30.00


Frothingham, Alice Wilson.

Tile Panels of Spain (1500‑1650).
1969. 248p. 178 illus., 6 col. pl. Cloth $49.00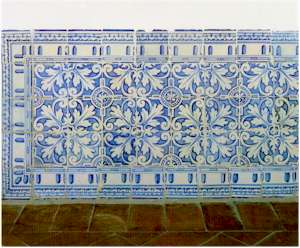 Tile Panels of Spain deals with pictorial compositions and Renaissance patterns painted in glaze colors on title panels used as wainscots, altarpieces, and other architectural ornamentation. The firt book in English devoted entirely to Spanish tiles, it illustrates profusely the panels originating mainly at Sevilla and Talavera de la Reina and associates the recorded names of tilemasters with their works.
Many panels are illustrated and discussed here for the first time.
The author shows how Renaissance decoration and the Italian method of glaze painting, first introduced at Sevilla byFrancisco Niculoso "the Pisan," captivated the Spaniards and flourished belatedly until the mid-seventeenth century.
The subject of Flemish influences brought to Spain by artists from Antwerp is also discussed. Of prime importance is the account of Spanish tilemasters' work, both for its artistic quality and the almost unbelievable quantities supplied for buildings great and small in Andalucía, Stailla, and the New World.




The Hispanic Society of America: Tesoros.
(2000). 485p. Illus. Cloth $125.00
Deluxe edition of the official bilingual catalog of the Hispanic Society of America. It includes numerous reproductions of ceramic artifcacts.
A large-format book containing over 200, full-color photographs of items drawn from the entire range of the Society's collections, many of which are being published for the first time. The volume also includes essays by Jonathan Brown on the paintings collection and María Luisa López-Vidriero on the library collection. Text in English and Spanish.
Remember, we commit ourselves to provide...
ANY BOOK PUBLISHED IN ENGLISH OR IN SPANISH!
(Minimum order: $100.00 individuals, $200.00 institutions and bookstores)
LEA Book Distributors
170-23 83rd Avenue, Jamaica Hills, NY 11432, USA
Tel. 1(718)291-9891 * Fax 1(718)291-9830
Please direct all inquiries to: orders@leabooks.com
© LEA Book Distributors 1999