Hispanics in the United States
Anuario Hispano - Hispanic Yearbook
A Unique Resource and Reference Guide for Hispanic Americans
Published annually


IMPORTANT NOTICE: All prices are subject to change. The prices listed here are for reference only and were the publisher's suggested retail price at the time we posted this catalogue. Usually, LEA Book Distributors will charge the publisher's suggested US retail price or at times the publisher's price for foreign customers. Check with us for latest price changes.

TO ORDER: Just send an e-mail with your list, full address, and credit card data. Institutions: Send P.O. orders@leabooks.com



Hispanics in the US: Reference
---
Anuario Hispano- Hispanic Yearbook.
Below: Messages from Presidents Bush, Aznar, and Fox to Anuario Hispano for the 2003 Edition
TIYM Publishing Company Inc
Since 1986, TIYM Publishing Company Inc., has been publishing the Anuario Hispano-Hispanic Yearbook- the primer national reference guide for and about Hispanics and Latinos in the United States and Puerto Rico. The Yearbook is a unique resource in the areas of employment, business, education, and health, as well as a powerful tool for organizations seeking to reach the rapidly growing U.S.

The Yearbook

Hispanic market. The Yearbook counts on a diverse readership, including decision-markets in the public and private sectors, community and academic leaders, and Hispanic professionals and students, among others.
Reaching a Diverse Market Share
Hispanic Organizations, Publications, and Media.
Approximately 5,000 organizations and 1,000 publications, nationwide. Also a comprehensive listing of Hispanic radio and television stations, nationwide, indexed and listed by state.
Career Opportunities for Hispanics in the Government and the Private Sector. Information on employment opportunities for Hispanics. Listings of government agencies and private companies with names and contact information of appropriate personnel contact point and/or equal employment opportunity representative. Education and Health. Extensive listing of scholarship/financial aid programs and opportunities offered by private companies, non-profit organizations and institutions, and government agencies. Listing of guaranteed student loan offices, as well as entrance examinations most widely used in the U.S. List programs sponsored by the government, pertinent to the Hispanic community.
Minority Business Development Opportunities
Comprehensive listing of private companies and government agencies involved in small, women and minority-owned business program, including program officials. Also included is a listing of the U.S. Small Business Administration?s branch offices. Department of Defense and the International Scene. Educational and career opportunities in the U.S. Department of Defense. Information on issues relating to the Latin American economy, including trade and business developments. Includes listings of embassies and consulates and Hispanic Missions to the UN and the OAS
---

Anuario Hispano - Hispanic Yearbook:
A Unique Resource and Referral Guide for Hispanic Americans
Author: TIYM Publishing Company Staff
Publisher: T I Y M Publishing Company, Incorporated
ISBN or UPC: 0-9656545-3-2
Pages: 399
This is the 17th annual edition:
Format: Trade Cloth
Date: May 2003
Special Price for Libraries, Schools, Academic Institutions, & Non-Profit Organizations, Print Edition (USA): $45.00
Price for corporations and individuals, Print Edition (USA): $50.00
Price for the Print Edition (Outside USA): $55.00 (plus shipping)

The book includes approximately:
5,000 Hispanic Organizations

1,000 Hispanic Publications

600 Hispanic Radio Stations

150 Hispanic TV Stations

500 Largest Hispanic Companies
Detailed information:
Name of Organization/Publication/Company

Purpose of Organization/Type of Business or Publication

Complete Address

Contact Person and Title

Phone and Fax Numbers

Email and Web Site

Meetings

Membership or Distribution
---
PRESIDENT BUSH'S MESSAGE
Message from PRESIDENT GEORGE W. BUSH
introducing the YEAR 2003 ISSUE of
the "ANUARIO-HISPANO"
January 16, 2003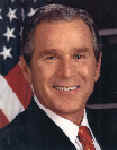 I am pleased to send greetings to all who contributed to this year's edition or the Anuario Hispano-Hispanic Yearbook. Since 1986, the Anuario Hispano-Hispanic Yearbook has become a tool for thousands of Americans by providing countless networking opportunities for business professionals.
In addition to begin a pillar for the business community, the Anuario Hispano-Hispanic Yearbook has also served as a resource for all Americans interested in learning more about our Nation's diversity. In this 17 years of operation, the Yearbook has continued to honor the importance of the Hispanic community and to highlight its important role in American society. I congratulate you on your great success in producing a valuable resource and tool for our Nation.
May God bless you, and may God continue to bless America.
George W. Busch

---
PRESIDENT AZNAR'S MESSAGE
MENSAJE DEL PRESIDENTE DEL GOBIERNO ESPAÑOL
PRESENTANDO EL NÚMERO DEL
"ANUARIO HISPANO" DEL AÑO 2003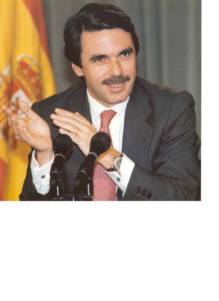 José María Aznar

Me alegra mucho poder compartir con los Presidentes de los Estados Unidos de América y de los Estados Unidos de México las primeras páginas de este número del "Anuario Hispano", que por primera vez será presentado en México, amigo y socio principal de los Estados Unidos y de España en el mundo.
México es uno de los países de Iberoamérica que goza del status de Asociado de la Unión Europea y a la vez es miembro del Tratado de Libre Comercio de América del Norte. Se ha convertido en el segundo socio comercial de los Estados Unidos y en uno de los principales destinos de la inversión española. Con México nos une un pasado común, basado en unos valores compartidos y un presente y un futuro cimentado en unas pujantes relaciones políticas, culturales y económicas.
La relación de España con los Estados Unidos y con México ha alcanzado una madurez sin precedentes. Nuestros Gobiernos comparten la firme convicción de que debemos juntar nuestros recursos y esfuerzos para trabajar por el avance de la libertad, la paz y la prosperidad internacionales. Estamos también unidos por un interés directo en el desarrollo económico, social y político de todo el mundo hispano.
Aprovecho la oportunidad de este saludo a las comunidades hispanas de los Estados Unidos para reiterar nuestra fe en las relaciones personales e institucionales y en el papel que pueden desarrollar enriqueciendo este fructífero diálogo entre nuestros tres países.
I am very happy to be able to share with the Presidents of the United States of America and the United States of Mexico the first pages of this issue of the "Anuario Hispano". For the first time will be presented in Mexico, major friend and partner of both the United States and Spain.
Mexico is one of the countries of Ibero-America that possesses Associate status with the European Union while, at the same time, being a member of the North America Free Trade Agreement. It has become the second trading partner of the United States and one of the main destinations for Spanish investment flows. With Mexico, we share a common past, based on shared values, a present and a future rooted in flourishing political, cultural and economic relations.
Relation between Spain and the United States and Mexico have attained an unprecedented maturity. Our Governments share a firm conviction that we must combine our resources and efforts in advancing international freedom, peace and prosperity. We are also united in sharing a direct interest in the economic, social and political development of the entire Hispanic world.
I would like to take advantage of this opportunity, whilst greeting the Hispanic communities in the United States, to reiterate our belief in personal and institutional relations and the role they can play in enriching this fruitful dialogue between our three nations.

José María Aznar
---
PRESIDENT FOX'S MESSAGE
MENSAJE DEL PRESIDENTE DEL GOBIERNO MEXICANO
PRESENTANDO EL NÚMERO DEL
"ANUARIO HISPANO" DEL AÑO 2003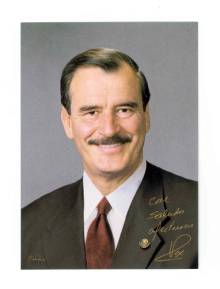 Vicente Fox
March 2003
Message from the President of Mexico to TIYM Publishing Company, Inc.
I celebrate this valuable opportunity to send a fraternal message to the Hispanic communities of the world.
My sincere congratulations to TIYM Publishing Company, Inc., for the publication of the ANUARIO HISPANO-HISPANIC YEARBOOK in its seventeenth edition, dedicated on this occasion, to Mexico. From its very first edition, the ANUARIO HISPANO-HISPANIC YEARBOOK has contributed significantly to the strengthening of relationships between the Hispanic communities that live in the United States of America and those around the world.
Millions of Mexican men and women that reside in the United States as well as American citizens of Mexican origin, contribute with their hard work to the development of that nation. With their values and idiosyncratic culture not only have they created a new sense of community in the United States, but they have also enriched a society that characterizes itself for its cultural diversity and its search for a harmonious coexistence, in a democratic atmosphere, among those who have different perspectives.
Gradually, the Mexican communities in the United States have left their label of isolated communities to become integrated communities that share a culture and identity of their own as well as their desire to contribute the best of themselves to the American society where they live and work.
Undoubtedly, the strengthening of ties between Mexico and these communities will keep contributing to a better understanding and cooperation between Mexican and American societies.
I have no doubt that, together, both nations will be able to better face the challenges and take advantage of the great opportunities that the new century offers.
Vicente Fox Quesada


Anuario Hispánico - Hispanic Yearbook.
Electronic Edition on CD-ROM. Ask for more information to LEA.

Remember, we commit ourselves to provide...
ANY BOOK PUBLISHED IN ENGLISH OR IN SPANISH!
(Minimum order: $100.00 individuals, $200.00 institutions and bookstores)
LEA Book Distributors
170-23 83rd Avenue, Jamaica Hills, NY 11432, USA
Tel. 1(718)291-9891 * Fax 1(718)291-9830
Please direct all inquiries to: orders@leabooks.com
Home
--- HISPANIC STUDIES --- U. of Texas Press ---
© LEA Book Distributors 1999