Hispanics in the United States
History, Hispanic Heritage, Literature, The Arts, Reference, Politics, Economics



IMPORTANT NOTICE: All prices are subject to change. The prices listed here are for reference only and were the publisher's suggested retail price at the time we posted this catalogue. Usually, LEA Book Distributors will charge the publisher's suggested US retail price or at times the publisher's price for foreign customers. Check with us for latest price changes.

TO ORDER: Just send an e-mail with your list, full address, and credit card data. Institutions: Send P.O. orders@leabooks.com




Hispanics in the US: General Publications

By Celsa Paloma Rocha, How to Reach 'Los Hispanos'


About the Book:

Designed for the person who speaks little or no Spanish, but has a desire or a need to communicate with Spanish-speaking people, How to Reach Los Hispanos will have you speaking correct Spanish within moments of opening it! It will help you build relationships with Hispanics by providing an easy-to-implement bridge of communication.
Employers, entrepreneurs and almost anyone who has encountered a frustrating language barrier will find this book incredibly useful in bridging the gap between you and your Spanish-speaking workers and friends. Useful in the home, the work, in the church and while traveling, How to Reach Los Hispanos will be something you'll want to have with you wherever you encounter Spanish-speaking people.
Contains easy-to-use phonetic pronunciations, in plain English, that will enable you to quickly acquire the words, phrases and conversational sentences you need to communicate effectively with the Spanish-speaking people in your life. Speaking Spanish was never this easy!
| | |
| --- | --- |
| Paperback (5x8) | $ 14.50 |
| Dust Jacket Hardcover (6x9) | $ 22.50 |
---



Americanos: Latino Life in the United States
by Dr. Lea Ybarra, Edward James Olmos and Manuel Monterrey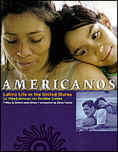 Under the direction of actor and activist Edward James Olmos, more than thirty award-winning photographers fanned out across the country to capture life on the neighborhood playgrounds, on the streets of New York, on the banks of the Rio Grande, at the flamenco bars, at work, and in churches. Thousands of miles and thousands of photographs later, the result is an astounding panoramic vision of the United States today.
With bilingual essays, poetry, and commentary from such notable figures as Carlos Fuentes and Maya Angelou, Americanos celebrates the diversity and energy of today's Latin-American community through a wealth of nationalities Cuban, Panamanian, Puerto Rican, Mexican, Argentinean, and others. Readers share unforgettable glimpses of the lives of celebrities, as well as the inspiring experiences found in the lives of everyday heroes. Americanos is a bold self-portrait of a people bound together by their languages and traditions, as varied as America itself.
Americanos: La Vida Latina en los Estados Unidos

Bajo la instruccion del actor y activista Edward James Olmos, mas de trenta fotsgrafos han recorrido el pais, incluyendo los parques de recreo, las calles de Nueva York, las orillas del Rio Grande, los salones de flameneco, los lugares de trabajo, y las iglesias, para cautivar la vida Latina en los Estados Unidos. Miles de millas y fotografmas despues, el resultado es una vision panoramica de lo que es en si, los Estados Unidos hoy en dma.
Lleno de composiciones, poesia, y comentarios por figuras destacadas como Carlos Fuentes y Maya Angelo, Americanos celebra la energma y diversidad que existe en todas las communidades hispanas; sean Cubanos, Panoamericanos, Puerto Riquenos, Mexicanos, Argentinos, o otros Latinoamericanos. Las fotos no solamenta da un vistazo de la vida de los famosos, sino tambien la de los heroes cotidiano. Americanos es un valiente retrato de una gente unida por sus lenguas y tradiciones, apesar de tantas diferencias, tal cual el pais mismo.
A word from editor Edward James Olmos...

There have been few experiences in my life that have been as rewarding to me as the making of Americanos. As it evolved, it became a source of inner peace, and short of the birth of my children, nothing else has ever inspired me more.

Why Americanos? Why would we give this title to a project on Latinos? There were several reasons. One is that too often this society sees us not as Americans, but as strangers of this land. We have worked hard to help build this country and we continue to do so every day. When people see the face of America, they need to also see our images included. Second, as Latinos we often think of Americanos as the others in this country, not us. We, and especially our children, need to see that we are an integral and equal part of this society. Third, we wanted a title that would recognize and honor our bilingual heritage and would be easily understood in both English and Spanish. And finally, we wanted to illustrate that much like a quilt woven with many intricate and beautiful fibers, Latinos are a proud and diverse people interwoven with indigenous, Spanish/European, African, and Asian roots. We are citizens not only of the United States of America, but of all the Americas and Latin American countries around the world. My colleagues and I gave much thought to the title and the content of this book and we hope we have created a work that will both educate and inspire.

The Arts/Photography
ISBN: 0316649147 Hardcover

$40.00/U.S.
176 pages, 9 3/16 x 11 7/8
LITTLE, BROWN


The Arts/Photography
ISBN: 0316649090, Paperback (trade)

$25.00/U.S.
176 pages, 9 3/16 x 11 7/8
LITTLE, BROWN
---

Hispanics and the Humanities in the Southwest
A Directory of Resources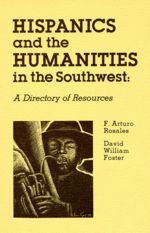 F. Arturo Rosales and David W. Foster, eds.
Arizona State University Center for Latin American Studies Press

---
327 pp. / 6 x 9 / 1983
University of Arizona Press
Paper (0879180552) $15.00s
---
Using annotated lists organized by topic and region, this work directs readers to a vast array of humanistic resources pertaining to Hispanics in the Southwest. Includes four essays on the state of the humanities vis-à-vis Hispanics in Arizona, California, New Mexico and Texas. University of Arizona Press
---

Handbook of Hispanic Culture of the United States
Nicolás Kanellos and Claudio Esteva Fabrega
1994, Clothbound, Four Volume Set
ISBN 1-55885-103-8, $200.00
(For individual volumes, see below.)
Selected as "Outstanding Academic Books 1995" by Choice magazine.Included in "Outstanding References Sourses" by the American Library Association's Reference and Adult Services Division, 1995.
Cited to "Outstanding Reference Works" by the New York Public Library, 1995.
Named "Best Reference Work on Minority Issues in the United States" by the Denali Press, 1996.
This four-volume series is edited by noted scholars Nicolás Kanellos (University of Houston) and Claudio Esteva Fabregat (University of Barcelona). Kanellos, literary historian, and Esteva, anthropologist, have assembled a team of outstanding scholars to bring together comprehensive studies on all aspects of U.S. Hispanic culture in the following disciplines: Volume I, Literature and Art, edited by Francisco Lomelí (University of California-Santa Barbara); Volume II, History, edited by Alfredo Jiménez (University of Seville); Volume III, Sociology, edited by Félix Padilla (Northeastern University); Volume IV, Anthropology, edited by Thomas Weaver (University of Arizona).
Handbook of Hispanic Cultures of the United States–Anthropology
Thomas Weaver
1994, 372 pages, Clothbound, ISBN 1-55885-102-X, $60.00
Handbook of Hispanic Cultures of the United States–History
Alfredo Jiménez
1994, 339 pages, Clothbound, ISBN 1-55885-100-3, $60.00
Handbook of Hispanic Cultures of the United States–Literature and Art
Francisco Lomelí
1994, 413 pages, Clothbound, ISBN 1-55885-074-0, $60.00
Handbook of Hispanic Cultures of the United States–Sociology
Félix Padilla
1994, 368 pages, Clothbound, ISBN 1-55885-101-1, $60.00
---

Latin American Studies
A Companion
PHILIP SWANSON

This guide gives a brief and accessible overview of the whole of Latin American Studies. Covering all the possible topics, from colonial cultures and identity to US Latino culture and issues of race, gender and sexuality, this book situates Latin America in its historical, linguistic and cultural context. Written by an international team of experts, the Companion includes time-lines, a glossary of terms and annotated suggestions for further reading.

Philip Swanson is a Professor of Hispanic Studies at the University of Aberdeen
224 pp.; 0-340-80682-6; $72.00 (06); cloth; 0340806818; Published: 2003
$19.95 (01); paper; 0340806826; Published: 2003

---
HISPANICS IN THE UNITED STATES
An Agenda for the Twenty-First Century
Pastora San Juan Cafferty, Editor & David W. Engstrom, Editor

Hispanics in the United States represents a collective exploration providing a basic foundation of the information available to understand Hispanics in the United States and create an effective policy agenda. Hispanics are projected to be the largest minority group in the United States in the twenty-first century. The contributions define an agenda which will be useful for students, scholars, service practitioners, political activists, as well as policy makers. The opening essays define the diversity of the Hispanic experience in America and put each of the other essays within a larger context. This edition adds a new introduction by the editors incorporating and evaluating the implications of the results of the national 2000 census.

The book is organized into two sections: the first establishes the historical, demographic, religious, and cultural context of Hispanics in the United States. The second describes the major issues facing this population in the American social structure, specifically the areas of health care, the labor market, criminal justice, social welfare, and education. The work concludes with a discussion of the role played by Hispanics in the political life of the nation. The contributors, all of whom are scholars with demonstrated competence in the areas, include: Teresa A. Sullivan, David Maldonado, Melissa Roderick, Barry Chiswick, Michael Hurst, Zulema Suarez, Alvin Korte, Katie McDonough, Cruz Reynoso, and Christine Marie Sierra, as well as David Engstrom and Pastora San Juan Cafferty. Together they have produced a book which will be extremely useful to anyone developing public policies and creating social interventions at either the national or local levels during the coming decade. This new edition is a valuable contributor to discussions about the issues defining the population that will be the largest minority group in the United States in this century.

Pastora San Juan Cafferty is professor, in the School of Social Service Administration, and a member of the Center for Latin America Studies at the University of Chicago. She is co-author of the Dilemma of American Immigration: Beyond the Golden Door and The Politics of Language. She has written extensively on issues of race and ethnicity in America.

David W. Engstrom is associate professor in the school of social work at San Diego State University and the author of Presidential Decision Making Adrift. He has published in the areas of immigration, health care, and program evaluation.

363 Pages
Publication Date: 2002
ISBN: 0-7658-0905-2
Price: $29.95
363 Pages
Publication Date: 2000
ISBN: 1-56000-415-0
Price: $49.95

Remember, we commit ourselves to provide...
ANY BOOK PUBLISHED IN ENGLISH OR IN SPANISH!
(Minimum order: $100.00 individuals, $200.00 institutions and bookstores)
LEA Book Distributors
170-23 83rd Avenue, Jamaica Hills, NY 11432, USA
Tel. 1(718)291-9891 * Fax 1(718)291-9830
Please direct all inquiries to: orders@leabooks.com
Home
--- HISPANIC STUDIES --- U. of Texas Press ---
© LEA Book Distributors 1999