Hispanics in the United States
History, Hispanic Heritage, Literature, The Arts, Reference, Politics, Economics


IMPORTANT NOTICE: All prices are subject to change. The prices listed here are for reference only and were the publisher's suggested retail price at the time we posted this catalogue. Usually, LEA Book Distributors will charge the publisher's suggested US retail price or at times the publisher's price for foreign customers. Check with us for latest price changes.


TO ORDER: Just send an e-mail with your list, full address, and credit card data. Institutions: Send P.O. orders@leabooks.com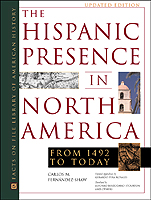 THE HISPANIC PRESENCE IN NORTH AMERICA,
UPDATED EDITION
From 1492 to Today
Carlos M. Fernandez-Shaw and Geraldo Pina Rosales

Published: 1999
ISBN: 0816040109
Publisher: Facts on File
Format: Hardcover
Reading Level: Gr 9 and up
List Price: $66.00

Specifications: 48 black-and-white photographs and line drawings. 34 maps. Indexes. Appendixes. Suggestions for further reading. Chronology. 416 Pages. 8 1/2 x 11.

Reviews:
---
"The Hispanic Presence in North America: From 1492 to Today, Updated Edition published by Facts On File, studies the role in the Revolutionary War and its legacy in American culture, economy and law.

The appendixes that compromise the second half of this volume have been extensively revised and expanded, provided a ready reference source of both historical facts and information about Hispanic culture in America today." - Curriculum Administrator

Praise for the previous edition: "This excellent work rectifies the misunderstandings of those who think that American history begins with the Pilgrims." - School Library Journal

"A useful contribution that serves as a corrective to standard American accounts." - Library Journal

Summary:
---
Over 20,000 Copies of the previous edition sold.
Hispanic traditions have helped shape our national character for nearly 500 years and continue to make distinctive contributions to our wide-ranging American culture. This unique guide studies the role of Spanish explorers, missionaries, and settlers in the United States from the 15th century.

The first half of the book provides a concise overview of the Spanish discovery and influence in the New World, with an emphasis on early exploration and colonization, Spain's role in the Revolutionary War, and its legacy in American culture, economy, and law. A state-by-state survey reveals, not only the Hispanic contribution to such states as Florida, Louisiana, Texas, New Mexico, and California, but also the lesser-known exploits of the Spanish in New England, the mid-Atlantic states, Alaska, and Hawaii. The appendixes that compose the second half of this volume have been extensively revised and expanded, providing a ready reference source of both historical facts and useful information about Hispanic culture in America today, including:

• Spanish missions, forts, and presidios in the United States
• Spanish governors in the United States
• Historical societies
• Universities with a special interest in Hispanic studies
• Hispanic associations
• Holidays and festivals
• Periodicals that publish in Spanish
• Radio and television stations that broadcast in Spanish
• Plus, a new section on important dates in the history of Hispanic presence in the United States.

---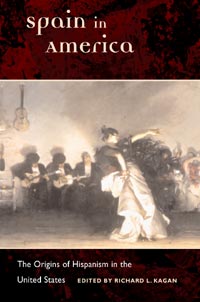 Spain in America
The Origins of Hispanism in the United States
Edited by Richard L. Kagan
Setting aside the pastiche of bullfighters and flamenco dancers that has dominated the U.S. image of Spain for more than a century, this innovative volume uncovers the roots of Spanish studies to explain why the diversity, vitality, and complexity of Spanish history and culture have been reduced in U.S. accounts to the equivalent of a tourist brochure.
Spurred by the complex colonial relations between the United States and Spain, the new field of Spanish studies offered a way for the young country to reflect a positive image of itself as a democracy, in contrast with perceived Spanish intolerance and closure. Spain in America investigates the political and historical forces behind this duality, surveying the work of the major nineteenth-century U.S. Hispanists in the fields of history, art history, literature, and music.
A distinguished panel of contributors offers fresh examinations of the role of U.S. writers, especially Washington Irving and Henry Wadsworth Long-fellow, in crafting a wildly romantic vision of Spain. They examine the views of such scholars as William H. Prescott and George Ticknor, who contrasted the "failure" of Spanish history with U.S. exception-alism. Also included are profiles of the philanthropist Archer Mitchell Huntington and the pioneering art historians Georgiana Goddard King and Arthur Kingsley Porter.
Providing a much-needed look at the development and history of Hispanism, Spain in America opens the way toward confronting and modifying reductive views of Spain that are frozen in another time.
Supported by a grant from the Program for Cultural Cooperative between Spanish's Ministry of Education, Culture, and Sports and United States Universities
Richard L. Kagan, a professor of history at Johns Hopkins University, is the author of Students and Society in Early Modern Spain, Lucrecia's Dreams: Politics and Prophecy in Sixteenth-Century Spain, and other books.
Published: 2002
272 pages. 6 x 9 inches. 17 photographs.
Publisher: Univesity of Illinois Press
Cloth, ISBN 0-252-02724-8. $42.50
Spanish Studies
---

Student Almanac of Hispanic American History
Two Volumes

Book Code: MS2605
ISBN: 0-313-32605-3
Publishr: Greenwood Press
Publication Date: October 30, 2003
List Price: $80.00
Availability: Not yet published. (Estimated publication date, 10/30/2003)

Media Type: Hardcover


Description:
A major influence on both North and South America from the time of Columbus' arrival in 1492, Hispanics helped to shape the United States as it grew from 13 colonies to the 50 states we know today. This two-volume set traces the history of Hispanic Americans from their earliest history to their great contributions to our country today. Primary source documents, maps, charts, and statistics are presented throughout the volume to give a complete picture of Hispanic American history to students. After an introduction to each chapter, A-Z entries identifying people, places, events, and terms give an in-depth look at all things Hispanic-American.

Volume I: From European Contact to the U.S.-Mexican War, Prehistory-1848 Volume II: From the California Gold Rush to Today, 1949-Present Set Features: - 288 pages in 2 volumes - 7 x 10 - 2-color interior - 100 Photopgraphs - 40 Maps, Charts, and Graphs - Timelines - Primary documents - Glossary - Index. Curriculum Themes: - Hispanic peoples coming to America - History of the Hispanic civil rights movement - Hispanic contributions to American culture - Hispanic Americans today (struggles & contributions). Reading Level: 6th-8th Grade

Table of Contents:

VOLUME ONE
Introduction
The Roots of Hispanic America: Spain, Africa, and Native America, Prehistory to 1491
The Spanish Empire: Spain in the Americas, 1492-1775
La Independencia: Independence in Hispanic America, 1776-1823
Manifest Destiny: The Texan Revolution and the U.S.-Mexican War, 1824-1848
Glossary
For More Information
Bibliography
Index

VOLUME TWO
Introduction
Westward and Southward: Hispanic Americans and U.S. Expansion, 1849-1898
Troubled Times: Hispanic Americans in World Wars and Depression, 1899-1945
La Causa: Hispanic Americans and Civil Rights, 1946-1975
Hispanic America Today, 1976-present
Glossary
For More Information
Bibliography
Index

Subject Category: Multicultural Studies
Sub-Category: Latino/Hispanic Studies
LC Card Number: 2003044824
LCC Class: E184
Dewey Class: 973

---

SPANISH-AMERICAN WAR, UPDATED EDITION
Michael Golay

Specifications: 50 black-and-white photographs. 7 maps. Index. Bibliography. Glossary. 176 Pages. 6 x 9.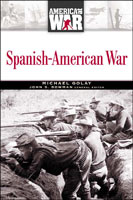 Published: 2003
ISBN: 0816049351
Format: Hardcover
Reading Level: Gr 6 and up
Publisher: Facts on File

List Price: $35.00

Summary:
Praise for the previous edition:

"Succinctly delineating the history of the region as well as international politics of the time, this is a good overview...There are plenty of good photographs and maps to spark the reader's interest...Overall a solid entry in the series America at War."—Voice Of Youth Advocates

Spanish-American War, Updated Edition opens with a riveting account of the mysterious explosion of the USS Maine in Cuba's Havana harbor, which spurred a surge of anti-Spanish sentiment among Americans. Author Michael Golay then gives a lively account of the events leading to war and of the ensuing battles fought on land and sea. The book ends with a thought-provoking assessment of this important conflict from which the United States emerged as a major player on the world stage. New box features give detailed coverage of such topics as the proposed attack on mainland Spain and the development of the Anti-Imperialist League, led by Mark Twain.
---
About the Author(s):
Michael Golay has a master's degree from the State University of New York at Stony Brook and a bachelor's degree in history from the University of Indiana. He is a freelance writer and journalist who has worked for newspapers on both the East and West Coasts. He is the author of other works on U.S. history including To Gettysburg and Beyond, A Ruined Land: The End to the Civil War, which was a finalist for the prestigious Lincoln Prize in American History in 2000, and William Faulkner A to Z, a Facts On File book.
---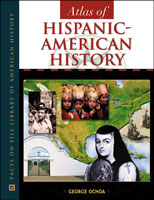 ATLAS OF HISPANIC-AMERICAN HISTORY
George Ochoa
Published: 2001
ISBN: 0816036985
Format: Hardcover
Publisher: Facts on File
Reading Level: Gr 9 and up
List Price: $85.00
---
Specifications: 45 full-color photographs. 63 black-and-white photographs. 79 maps. 29 graphs and line illustrations. Index. Bibliography. 224 Pages. 9 x 12.

Awards:
• Selected as a "Best Reference Source, 2001." - Library Journal
---
Reviews:
"This fascinating book provides a comprehensive look at Hispanics in the United States and their cultural roots throughout the Western Hemisphere…While scholarly in content, the well-written and well-researched text holds the reader's attention. Historical maps, photographs, paintings, and graphs put history in perspective and sidebars highlight important events and people. The inclusion of government officials, musicians, athletes, scientists, and other community leaders provide students with role models. The bibliography contains additional avenues for research while the detailed index aids users in locating specific information. A worthwhile addition to any collection…Recommended." - The Book Report

Summary: Atlas of Hispanic-American History examines how Spanish, Native American, and African influences combined in different ways to form the varied cultures of Hispanic America

Coverage includes:
The Roots of a People:
The multicultural background of Hispanic America and the blending of races and cultures
Spain in the Americas:
Columbus's arrival in the Caribbean and voyages to America; the fall of the Aztec Empire; Florida and the Spanish Caribbean
Independence in the New World:
The Spanish and the American Revolution; Independence from New Spain; Mexican Independence
Manifest Destiny and Hispanic America:
The Texas independence movement; the U.S.-Mexican War; the California gold rush and Chilean mining communities
A Time of Transition:
Hispanic Americans and the U.S. Civil War; the Basques in America; the Spanish-American War
The Age of World Wars:
Revolution in Mexico; World War I and World War II; Puerto Rican Americans in the 1920s and 1930s; the rise of the Hispanic labor movement; the Great Depression; the zoot suit riots
La Raza Unida: The bracero program; Operation Wetback; the question of Puerto Rican statehood; the Cuban Revolution
A Changing Community: The Late 20th Century
Hispanic America Today: Mexican-American immigration; Cuban refugees in the 1990s; Central Americans and Dominicans; Hispanic religion, artists, writers, musicians, actors, and athletes.
Since their first arrival in the New World, the experiences of individual ethnic groups have often been lost in the larger story of American history. This atlas uses a wide arrangement of visual tools to offer a detailed overview of the experiences and important events surrounding Americans of Hispanic decent. Maps, photographs, graphs, charts, chronologies, and boxed features help explore the cultural, historical, political, and social histories of this major group of people. Coverage also includes key events and issues in the groups' homelands, especially those factors that influenced their movements to the United States.
---
Spain and the Independence of the United States: An Intrinsic Gift

Thomas E. Chávez
The role of Spain in the birth of the United States is a little known and little understood aspect of U.S. independence. Through actual fighting, provision of supplies, and money, Spain helped the young British colonies succeed in becoming an independent nation. Soldiers were recruited from all over the Spanish empire, from Spain itself and from throughout Spanish America. Many died fighting British soldiers and their allies in Central America, the Caribbean, along the Mississippi River from New Orleans to St. Louis and as far north as Michigan, along the Gulf Coast to Mobile and Pensacola, as well as in Europe.
Based on primary research in the archives of Spain, this book is about United States history at its very inception, placing the war in its broadest international context. In short, the information in this book should provide a clearer understanding of the independence of the United States, correct a longstanding omission in its history, and enrich its patrimony. It will appeal to anyone interested in the history of the Revolutionary War and in Spain's role in the development of the Americas.
"Based on archival materials in Spain and the US as well as printed primary and numerous secondary resources, this volume deserves reading by historians of late-18th-century Spain, Spanish America, and the American Revolution."--Choice

"There may be similar coverage of this subject somewhere out there, but until you find it, Tom Chavez's extensively researched work will do nicely."--Southwest BookViews

Dr. Thomas E. Chávez, for twenty years Director of the Palace of the Governors in Santa Fe, is currently Director of the National Hispanic Cultural Center in Albuquerque.

6 x 9 330 pages 22 color photos, 22 halftones, 14 maps
University of New Mexico Press
0-8263-2793-1 $29.95 ( hardcover )
Published: 2002
---
Intimate Frontiers: Sex, Gender, and Culture in Old California

Albert L. Hurtado

Foreword by William Cronon, Howard R. Lamar, Martin Ridge, and David J. Weber
This book reveals how powerful undercurrents of sex, gender, and culture helped shape the history of the American frontier from the 1760s to the 1850s. Looking at California under three flags--those of Spain, Mexico, and the United States--Hurtado resurrects daily life in the missions, at mining camps, on overland trails and sea journeys, and in San Francisco. In these settings Hurtado explores courtship, marriage, reproduction, and family life as a way to understand how men and women--whether Native American, Anglo American, Hispanic, Chinese, or of mixed blood--fit into or reshaped the roles and identities set by their race and gender.
Hurtado introduces two themes in delineating his intimate frontiers. One was a libertine California, and some of its delights were heartily described early in the 1850s: "[Gold] dust was plentier than pleasure, pleasure more enticing than virtue. Fortune was the horse, youth in the saddle, dissipation the track, and desire the spur." Not all the times were good or giddy, and in the tragedy of a teenage domestic who died in a botched abortion or a brutalized Indian woman we see the seamy underside of gender relations on the frontier. The other theme explored is the reaction of citizens who abhorred the loss of moral standards and sought to suppress excess. Their efforts included imposing all the stabilizing customs of whichever society dominated California--during the Hispanic period,arranged marriages and concern for family honor were the norm; among the Anglos, laws regulated prostitution,missionaries railed against vices, and "proper" women were brought in to help "civilize" the frontier.
" . . . a sensitive, thoughtful, and thought-provoking piece of scholarship that examines stories about people living in California . . . Intimate Frontiers is an important work . . ." --Southern California Quarterly

". . . an important contribution to our understanding of the history of human sexuality within the context of a multicultural society . . . disturbing . . . provocative . . . Hurtado crafts a new dimension to the word 'frontier.'" --The Journal of American History

"Intimate Frontiers . . . does a masterful job of explaining in clear, jargon-free language, the theoretical keystones of contemporary gender scholarship. . . . exceptional, sensational, and unrelentingly grim." --Western Historical Quarterly

"A must-read for scholars of women and gender in the West and for Borderlanders. Albert L. Hurtado's Intimate Frontiers is a fast-paced yet dense study, filled with interesting anecdotes, memorable characters, and fascinating gender analysis. Its short length, simultaneously topical and chronological chapters, and interesting use of gender theory make it ideal for classroom use." --New Mexico Historical Review
Albert L. Hurtado is the Travis Professor of Modern American History at the University of Oklahoma and the author of award-winning studies of eighteenth- and nineteenth-century California.
6 x 9 203 pages 25 halftones
0-8263-1953-X $39.95 ( hardcover )
0-8263-1954-8 $21.95 ( paperback )
University of New Mexico Press
Published: 1999
---
San Antonio de Béxar: A Community on New Spain's Northern Frontier

Jesús F. de la Teja

This award-winning history, now available in paperback, explores eighteenth-century San Antonio de Béxar, a community on the periphery of Spain's North American frontier. From this struggling settlement eventually developed modern San Antonio, Texas. In spite of isolation and neglect, many of the settlers, veterans of frontier colonies farther south, founded San Antonio on centuries-old institutions. Although the colonists often feuded with one another in the early years, frontier political and economic forces molded them into a single community by the end of the eighteenth century.
Crisp prose, vivid descriptions, and strong archival documentation make this community study accessible to students and of interest to scholars.
"An excellent example of the issues that social historians find important in frontier New Spain. . . . de la Teja has demonstrated beyond question that there was nothing static about frontier society."--Choice

Jesús F. de la Teja, Ph.D. is professor of history at Southwest Texas State University, San Marcos.

6 x 9 240 pages 18 halftones, 3 maps
0-8263-1751-0 $22.95 ( paperback )
University of New Mexico Press
---
The Spanish Borderlands: A Chronicle of Old Florida and the Southwest

Herbert E. Bolton

Introduction by Albert L. Hurtado
First published in 1921 and now available only from UNM Press, this classic monograph argues Anglophilic American history should give equal weight to Spain, which occupied North America longer than any other European colonial power and whose social and cultural legacy was firmly imprinted on North America. In beautiful narrative prose, Bolton recounts the Spanish exploration and the permanent settlement of Old Florida, New Mexico, Texas, Louisiana, and California. Albert L. Hurtado tells the fascinating story of the writing and editing of The Spanish Borderlands and places the volume in historiographical context.
" . . . a marvelous text . . . There are wild and marvelous tales of treasure indeed, but also of a race of men with tails, and tribes whose members stood eight feet tall and had extra fingers in each hand." --Courier Publications

" . . . The Spanish Borderlands is a broad synthesis of Spanish influences on North America . . . It belongs on every New Mexico bookshelf." --Ayer Y Hoy

" . . . this classic monograph is the cornerstone of Spanish Borderlands historical research." --The Forth Worth Stockyards Gazette

"Any student of the so-called American expansion effort as well as any interested in the Hispanic tradition in the United States would do well to consult Father Bannon's excellent survey."--The Social Studies
6 x 9 368 pages 9 illustrations, 1 map
0-8263-1681-6 $26.95 ( paperback )
---
Remember, we commit ourselves to provide...
ANY BOOK PUBLISHED IN ENGLISH OR IN SPANISH!
(Minimum order: $100.00 individuals, $200.00 institutions and bookstores)
LEA Book Distributors
170-23 83rd Avenue, Jamaica Hills, NY 11432, USA
Tel. 1(718)291-9891 * Fax 1(718)291-9830
Please direct all inquiries to: orders@leabooks.com
Home
--- HISPANIC STUDIES --- U. of Texas Press ---
© LEA Book Distributors 1999