Hispanics in the United States
History, Hispanic Heritage, Literature, The Arts, Reference, Politics, Economics


IMPORTANT NOTICE: All prices are subject to change. The prices listed here are for reference only and were the publisher's suggested retail price at the time we posted this catalogue. Usually, LEA Book Distributors will charge the publisher's suggested US retail price or at times the publisher's price for foreign customers. Check with us for latest price changes.

TO ORDER: Just send an e-mail with your list, full address, and credit card data. Institutions: Send P.O. orders@leabooks.com




Hispanics in the US: Liteature



Hispanic Literature of the United States
An Introductory Guide

Nicolas Kanellos
An Oryx Book
Book Code: OXLAHISP
ISBN: 1-57356-558-X
Greenwood Press
Publication Date: November 30, 2003

Media Type: Hardcover

Description:
This essential reference covers Hispanic literature in the United States from the Spanish colonial period to the present. A detailed overview of the history of Hispanic literature in the United States and a separate survey of Hispanic drama provide researchers and general readers with indispensable information and insight into Hispanic literature. An extensive chronology traces the development of Hispanic literature and culture in the United States from 1492 to 2002, providing the context within which such Hispanic writers as Sandra Cisneros, Rodolfo Anaya, and Oscar Hijuelos have worked. Biographical entries describe the careers, importance, and major works of notable Hispanic novelists, poets, and playwrights writing in English or Spanish, and a comprehensive, up-to-date bibliography lists primary resources on Hispanic literature in the United States.

Essays describe in detail the most important past and current trends in Hispanic literature, including bilingualism, Chicano literature, children's literature, exile literature, folklore, immigrant literature, Nuyorican literature, poetry, and women and feminism in Hispanic literature. Another section discusses the history and current trends of Hispanic publishing in the United States. This reference features more than 100 exceptional illustrations of writers, plays in performance, and covers of first editions of important works.

Table of Contents:
Preface
Overview of Hispanic Literature of the United States
Chronology of Hispanic Literature and Culture in the United States
Who's Who of Hispanic Authors of the United States
Significant Trends, Movements, and Themes in Hispanic Literature of the United States
Publishing Trends
Overview of Hispanic Drama
100 Essential Hispanic Literary Works
Bibliography
Title Index
Subject Index


Subject Category: Literature
Sub-Category: American Literature
LC Card Number: 2003048542
LCC Class: PS153
Dewey Class: 810
---

Herencia
The Anthology of Hispanic Literature of the United States
Edited by NICOLAS KANELLOS

A major anthology of Hispanic writing in the United States, ranging from the early Spanish explorers right up to the present day

Herencia (meaning "inheritance" or "heritage") is the first anthology to bring together literature from the entire history of Hispanic writing in the United States, from the age of exploration to the present. The product of a ten-year project involving hundreds of scholars nationwide, Herencia is the most comprehensive literary collection available, spanning over three centuries and including writers from all the major Hispanic ethnic communities, and writing from diverse genres.
Here is the voice of the conqueror and the conquered, the revolutionary and the reactionary, the native and the uprooted or landless. Of course, readers will find pieces by such leading writers as Piri Thomas, Luis Valdez, Isabel Allende, Oscar Hijuelos, and Reinaldo Arenas. But what really distinguishes this anthology is its historical depth and its rich, complex portrait of Hispanic literature in the United States. Beginning with Cabeza de Vaca's account of his explorations in the New World, the anthology includes a passage from La Florida, a narrative historical poem of 22,000 verses, written by Franciscan friar Alonso de Escobedo; an attack on Mexican stereotypes in the nascent movie industry, written by Nicasio Idar, editor of Laredo's La Cronica; and an essay about Coney Island written by revolutionary Jose Marti.
Embracing Chicano, Nuyorican, Cuban American, and Latino writings, the voices of immigrants and the voices of exiles, Herencia makes a vital contribution to our understanding not only of Hispanic writing in the United States, but also of the great contribution Hispanics have made to the United States.

"The publication of Herencia marks the formal birth in the academy of an entire genre of literature. For an apt comparison, we would have to turn to comparable anthologies of American literature first published in the nineteenth century. Nicolas Kanellos has made a major contribution to redefining even what it means to speak of 'American' literature." --Henry Louis Gates, Jr.

"0nce in a while, a book comes along which topples institutional thinking and set beliefs. Herencia is such a book! Nicolas Kanellos's brilliant introduction is more than that. It is a manifesto. A turning-point document of American literary history."--Ishmael Reed

"Finally a major, out-reaching, reliable map of the Hispanic experience in the U.S. With impressive range, texture, and resonance, Herencia illuminates the history, emotions, and meaning of Hispanic-American life. Because of his long-standing devotion to this literature, only Nicolas Kanellos could have been able to accomplish this task with such authority and care. As a living memory, this magnificent book opens its pages to the cross-cultural language of our best future."--Julio Ortega, Professor of Hispanic Studies, Brown University

"Libraries should own a copy of Herencia; teachers should incorporate it into classes on American and U.S. Hispanic literature, history, politics, or cultural diversity; students should turn to it for authoritative excerpts of Hispanic writing; and general readers should browse Herencia for its sheer insight into the literary and historical legacy of contemporary Hispanic culture."--Hispanic Outlook

"Ten years in the making, this anthology is an unprecedented collection of writing in North America from the age of the Spanish explorers in the 16th century to the present.... Herencia is absolutely indispensable."--Library Journal

---
Nicolas Kanellos is the Brown Foundation Professor of Hispanic Literature at the University of Houston and the Director of Recovering the U.S. Hispanic Literary Heritage, a major national research program. He is also founding publisher of the noted Hispanic literary journal The Americas Review and founder of the nation's oldest and most esteemed Hispanic publishing house, Arte Público Press.

Oxford University Press
656 pp.; 6-1/8 x 9-1/4; 0-19-513825-2; $35.00 (01). Published: 2001
$19.95 (03) Tentative paper; 0195138252; July 2003; Due: 07/15/03 Tentative


---
Short Fiction by Hispanic Writers of the United States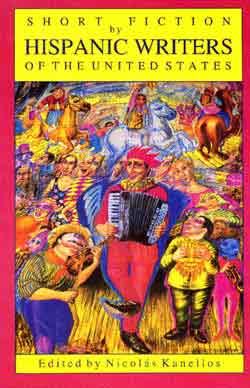 Nicolás Kanellos
Arte Público Press
1993, 256 pages, Trade Paperback
ISBN 1-55885-044-9, $15.95 This anthology includes representative works by the most celebrated Cuban-American, Mexican-American and Puerto Rican writers of short fiction in this country. The texts cover the full range of expression, themes and styles of U.S. Hispanics and are introduced by informative entries which place the authors in their cultural and historical frameworks. In these pages the readers will not find picturesque, folksy or touristy renditions of Hispanic culture. Instead, Short Fiction by Hispanic Writers of the United States brings together works that are clear, incisive and authentic representations of Hispanic life in the United States. The selections are as diverse as Hispanic culture itself and as varied as the personalities of their authors. Here are Max Martínez's outrageous challenge of racial and social structures, Roberta Fernández's construction of a Hispanic women's esthetic, Roberto Fernández's subversion of the English language, Nicholasa Mohr's humorous attack on patriarchy, Judith Ortiz Cofer's poetic evocation of childhood and biculturalism, and much more.

"Kanellos has mined literary gold from the rich vein of contemporary American Hispanic fiction. These are entertaining yet powerful works of short fiction."

—PUBLISHERS WEEKLY


Cuban American Theater
Rodolfo J. Cortina
Arte Público Press
1992, 280 pages, Trade Paperback, ISBN 1-55885-020-1 LC 91-9898, $12.95

Cuban American Theater contains plays by the leading figures in Cuban American drama. The plays included are the following: A Little Something to Ease the Pain, by Rene Aloma; Your Better Half, by Matías Montes Huidobro; Martínez, by Leopoldo Hernández; Birds Without Wings, by Renaldo Ferradas; Once Upon a Dream, by Miguel González-Pando; and With All and for the Good of All, by Uva Clavijo. Here are presented dramatically the themes of exile, culture clash, the generation gap and discrimination, along with the full gamut of concerns about art, theater and life itself. In all respects—linguistic, artistic and philosophical—Cuban American Theater is the first of its kind, a truly historical and groundbreaking document.

Cuentos hispanos de los Estados Unidos
Julián Olivares
Arte Público Press
1998 (Second Edition), 228 pages, Trade Paperback
ISBN 1-55885-260-3, $16.95

The first comprehensive collection of short stories written in Spanish by Hispanic authors of the United States, including the full range of cultural expressions from Cuban American, Mexican American, Puerto Rican and other Hispanic authors. Included are stories by Roberta Fernández, Roberto Fernández, Rolando Hinojosa, Elías Miguel Muñoz, Rosaura Sánchez, Tomás Rivera, Rima de Vallbona, Alfredo Villanueva-Collado and many others. Informative introductions and a glossary of dialectical terms are included to make the book appropriate for students. Especially recommended as a reader for high school and college Spanish and U.S. Hispanic literature classes.


Recovering the U.S. Hispanic Literary Heritage, Vol. I
Ramón Gutiérrez and Genaro Padilla
Arte Público Press
1993, 318 Pages, Clothbound, ISBN 1-55885-063-5, $34.95
Trade Paperback, ISBN 1-55885-058-9, $17.95

Recovering the U.S. Hispanic Literary Heritage is a compendium of articles by the leading scholars on Hispanic literary history of the United States. The anthology functions to acquaint both expert and neophyte with the work that has been done to date on this literary history, to outline the agenda for recovering the lost Hispanic literary heritage and to discuss the pressing questions of canonization, social class, gender and identity that must be addressed in restoring the lost or inaccessible history and literature of any people.

Recovering the U.S. Hispanic Literary Heritage, Vol. II
Erlinda Gonzales-Berry and Chuck Tatum
Arte Público Press
1996, 296 Pages, Clothbound, ISBN 1-55885-139-9, $34.95

This second volume in the series contains articles by the leading scholars on Hispanic literary history of the United States given at the annual convention on Recovering the U.S. Hispanic Literary Heritage. The articles in this volume are in five sections: The Recovery Project Comes of Age; Assimilation, Accommodation or Resistance?; History in Literature/Literature in History; Writing the Revolution; and Recovering the Creation of Community.

Recovering the U.S. Hispanic Literary Heritage, Volume III
María Herrera-Sobek and Virginia Sánchez Korrol
Arte Público Press
1998, 320 Pages, Clothbound, ISBN 1-55885-251-4, $39.95

This third volume of academic essays on recovering the Hispanic literary heritage of the United States features 27 articles by leading scholars. It addresses the broad topics of "Rewriting the Present: Nineteenth-Century Historical Novels"; "Women's Voices: The Construction of Ethnic Gender Identities"; "Chroniclers, Ethnographers, and Historians"; "Identity and Affirmation: Contextualizing U.S. Hispanic Literature"; and "Using Historical, Archival, and Oral Sources." Editors María Herrera-Sobek and Virginia Sánchez Korrol also contribute a unifying introduction.The Recovering the U.S. Hispanic Literary Heritage project is an ongoing and comprehensive national program to locate, identify, preserve, and disseminate the literary contributions of U.S. Hispanics from the colonial era through 1960. As a result of this coordinated effort, hundreds of thousands of literary works—including essays, autobiographies, diaries, and letters—are becoming accessible to scholars, students, and other readers, broadening and enriching the academic curriculum.


Recovering the U.S. Hispanic Literary Heritage, Volume IV
Jose Aranda Jr (Editor), Silvio Torres-Saillant (Editor)
Arte Público Press
Nov. 2002, 360 Pages, Clothbound, ISBN 1-55885-361-8, $29.95
---
---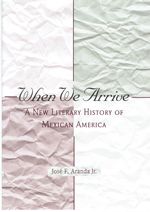 When We Arrive
A New Literary History of Mexican America
José F. Aranda, Jr.

---
256 pp. / 6 1/8 x 9 1/4 / 2003
University of Arizona Press
Cloth (0-8165-2141-7) $40.00s
---
"A deft appraisal of the interpretive paradigms governing both Anglo American and Chicana/o literature. Direct, unadorned, and clear prose and even-toned yet uncompromising critical assessments." —Anne E. Goldman, author of Continental Divides: Revisioning American Literature

"It brings into focus a totally new perspective on Chicano and Anglo American literature . . . a unique view." —María Herrera-Sobek, editor of Reconstructing a Chicano/a Literary Heritage

Most readers and critics view Mexican American writing as a subset of American literature—or at best as a stream running parallel to the main literary current. José Aranda now reexamines American literary history from the perspective of Chicano/a studies to show that Mexican Americans have had a key role in the literary output of the United States for one hundred fifty years.

In this bold new look at the American canon, Aranda weaves the threads of Mexican American literature into the broader tapestry of Anglo American writing, especially its Puritan origins, by pointing out common ties that bind the two traditions: narratives of persecution, of immigration, and of communal crises, alongside chronicles of the promise of America. Examining texts ranging from María Amparo Ruiz de Burton's 1872 critique of the Civil War, Who Would Have Thought It?, through the contemporary autobiographies of Richard Rodriguez and Cherríe Moraga, he surveys Mexican American history, politics, and literature, locating his analyses within the context of Chicano/a cultural criticism of the last four decades.

When We Arrive integrates Early American Studies and Chicano/a Studies into a comparative cultural framework by using the Puritan connection to shed new light on dominant images of Chicano/a narrative, such as Aztlán and the borderlands. Aranda explores the influence of a nationalized Puritan ethos on nineteenth- and twentieth-century writers of Mexican descent, particularly upon constructions of ethnic identity and aesthetic values. He then frames the rise of contemporary Chicano/a literature within a critical body of work produced from the 1930s through the 1950s, one that combines a Puritan myth of origins with a literary history in which American literature is heralded as the product and producer of social and political dissent.

Aranda's work is a virtual sourcebook of historical figures, texts, and ideas that revitalizes both Chicano/a studies and American literary history. By showing how a comparative study of two genres can produce a more integrated literary history for the United States, When We Arrive enables critics and readers alike to see Mexican American literature as part of a broader tradition and establishes for its writers a more deserving place in the American literary imagination.

José F. Aranda Jr. has taught Chicano/a and American literature at Rice University since 1994.

University of Arizona Press
---
Mexico and the Hispanic Southwest in American Literature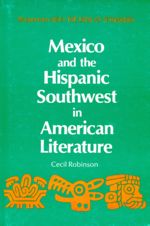 Cecil Robinson.
Revised edition of With the Ears of Strangers

---
391 pp. / 6 x 9 / 1977
University of Arizona Press
Paper (0-8165-0593-4) $20.95s
---
In his groundbreaking work With the Ears of Strangers, Robinson presented a definitive documentation of the stereotype of the Mexican in American literature. This revision extends the scope to Chicano literature in "a book which should be read by every person wishing to gain a better understanding of the 'American' Southwest. There is not a better introduction to the subject."--Western American Literature
University of Arizona Press
---
Se habla español (An Anthology of Short Stories)
(The Latin American Experience in the US)
Author: Anthology/ Edited by Alberto Fuguet and Edmundo Paz Soldán




Our Price: $17.95
ISBN: 1-58150-676-1 # of pages: 386
Publication date : 10/2000
Imprint: Alfaguara
Format: Paper
Language: Spanish Orig. Language: Spanish
"Se habla español" smells like french fries, tastes like Coca-Cola and hamburgers, but it also has the flavor of nachos and salsa, and of mango-guava smoothies. This collection of short stories reflects the Latin American experience in the United States. These are works by 36 young writers who entered the literary world during the '90s with a style described as serious, yet irreverent. Edited by Edmundo Paz Soldán and Alberto Fuguet, this collection explores the space occupied by the United States within the Latin American cultural imagery. It illustrates the contradictions presented by the dream of material progress and the nightmare of ruthless capitalism, and the fulfillment of all desires over the mirage of a never- attainable promise.
---
The Hispanic Connection
Spanish and Spanish-American Literature in the Arts of the World
Zenia Sacks DaSilva
Prepared under the auspices of Hofstra University
Book Code: C8090
ISBN: 0-275-98090-1

Praeger Publishers
Publication Date: January 30, 2004
Series Title: Contributions to the Study of World Literature
Series Number: 122
Description: DaSilva draws together key essays dealing with the span of Spanish and Latin American arts, ranging from literature, music, film, and ballet to painting.
The selections center on ten basic themes: First, the early Icons of Spain; second, the uses of Don Quixote from operas to painting; third, Don Juan is given a similar treatment, with theater, film, and ballet in addition to literature and opera; fourth, an examination of areas of fusion of Spanish and Mexican culture; fifth, Spanish Romantics in Opera and Ballet; sixth, modern writers whose work appears in musical transcription; seventh, modern writers whose novels appear in film; eighth, an examination of works that parody earlier pieces; ninth, a survey of the interrelationship between painting and its literary sources; tenth, a look at the variegated artistic peregrinations of such contemporaries as Marquez, Puig, Skarmeta, and others. Scholars and researchers involved with the scope of Spanish and Spanish American arts will find this collection of particular value.
Table of Contents:
Icons of Early Spain
The Universal Don Quixote
The Peripatetic Don Juan
Point of Contact: New Spain
Spanish Romantics et al. in Opera and Ballet
Modern Writers in Musical Transcription
From Novel to Silver Screen
Texts Intertwined
Word Pictures and Stroke of Brush
The Pointed Pen at Large

Subject Category: Literature
Sub-Category: World Literature
LC Card Number: 2003046395
LCC Class: PQ6041
Dewey Class: 860
Remember, we commit ourselves to provide...
ANY BOOK PUBLISHED IN ENGLISH OR IN SPANISH!
(Minimum order: $100.00 individuals, $200.00 institutions and bookstores)
LEA Book Distributors
170-23 83rd Avenue, Jamaica Hills, NY 11432, USA
Tel. 1(718)291-9891 * Fax 1(718)291-9830
Please direct all inquiries to: orders@leabooks.com
Home
--- HISPANIC STUDIES --- U. of Texas Press ---
© LEA Book Distributors 1999