Hispanics in the United States
History, Hispanic Heritage, Literature, The Arts, Reference, Politics, Economics



IMPORTANT NOTICE: All prices are subject to change. The prices listed here are for reference only and were the publisher's suggested retail price at the time we posted this catalogue. Usually, LEA Book Distributors will charge the publisher's suggested US retail price or at times the publisher's price for foreign customers. Check with us for latest price changes.

TO ORDER: Just send an e-mail with your list, full address, and credit card data. Institutions: Send P.O. orders@leabooks.com




Hispanics in the US: Politics, Business, The Arts



The Rise of Hispanic Political Power
José de la Isla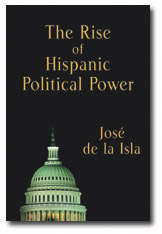 Archer Books
340pp. Hard Cover 6" x 9"
ISBN 1-931122-04-0
First Edition
PUBLISHED: January 2003
Trade edition - $22.00

The Rise of Hispanic Political Power is the first detailed inside look at the growth in significance of this powerful political block. Journalist José de la Isla takes a hardball look at Hispanic politics from the Nixon presidency up to the current administration of George W. Bush. The Republican and Democrat parties, the key legislation, the political players, the insiders and outsiders, and the various factions (Mexican Americans, Puerto Ricans, Cubanos and other Latin Americans), all receive equal scrutiny from de la Isla as he unravels over four decades of political action.
A must-read for political junkies, students of political history, and a virtual handbook for political parties aspiring to get and keep this important voting block in their camp.
Reviews
"The Rise of Hispanic Political Power is a much-needed book, and José de la Isla has done an excellent job of unfolding the political landscape."
—Juan Delgado, Poet/Educator
The Author

José de la Isla is a journalist and public policy analyst. He reported from the Republican National Convention in 1992, covered the NAFTA debate from Mexico City in 1993 and the Mexican presidential election in 1994. His reports and comments have been heard on CNN, National Public Radio and other broadcast media, and his articles have been syndicated by the Los Angeles Times. In 1994, he received the National Hispanic Literary Award.
---
The New American Majority:
Hispanics, Republicans & George W. Bush: Accession to The White House
by Raoul Lowery-Contreras


Our price: $25.95
Format: Paperback
Size: 6 x 9
Pages: 454
ISBN: 0-595-23249-3
Published: Jul-2002

Book Description

The 2000 election was decided by Florida Cuban voters, by Hispanics. The legal quagmire that followed election day was settled by the U.S. Supreme Court, thus validating George W. Bush's victory. From that moment to now, President Bush has reached out to the fastest growing group in the country-Hispanics-like no President ever. There are many in the country who can't or don't want to believe the President's Hispanic efforts are worthwhile, or legitimate. This book explains why and where Hispanics are important to the President.
---
The Rise of the Hispanic Market in the United States:
Challenges, Dilemmas, and Opportunities for Corporate Management
Authored by: Louis E.V. Nevaer

Cloth ISBN: 0-7656-1290-9
USD $66.95
Publisher: M.E. Sharpe

Information: 288pp. Figures, bibliographic references, index.
Est. Publication Date: September 2003

Description: Not only are Hispanics the largest minority group in the United States, but Mexico is fast becoming our major trading partner, surpassing even Japan. In fact, the U.S. now has the fourth largest Spanish-speaking population in the world, after Mexico, Spain, and Argentina. How has this demographic group transformed the U.S. into a bi-lingual nation within the span of a generation? Why do Hispanics resist assimilation and insist on speaking Spanish in public life? And how can businesses effectively reach the emerging Hispanic consumer market with its estimated puchasing power of $1 trillion by 2010?

These questions constitute the single-most important marketing challenge for corporate America in the twenty-first century. This book examines the Hispanic worldview and how it informs their economic decisions, both in the United States and across North America. It challenges the viewpoint that American culture will soon dominate its NAFTA trading partners, looks carefully at the market for Hispanic goods in the U.S. and the market for our goods throughout the Spanish-speaking world, and shows how marketeers are now reaching the Hispanic community domestically. The information and insights found here are essential for teachers, students, and professionals in the fields of international finance and world trade, as well as almost all areas of business, marketing, and strategic planning.

Selected Contents:
Part I. The Political Economy of the Hispanization of the United States and North America
Introduction
Chapter 1. The Future of Marketing and Merchandising in the United States; On the Nature of the U.S. Hispanic Market; The Use of Spanish to Self-Segregate; Racism and Why Hispanics Self-Segregate; Of Puerto Rican Grandmothers and Mexican Gringadas; A Brave iNuevo Mundo for Corporate America
Chapter 2. Management Realities of a Fragmented North American Market; A Linguistically Fragmented North American Consumer Market; How Nafta Fuels the Hispanization of the United States and the World; Decline of English-Language Markets United States and Mexico; Hispanization and Marketing in the United States; Externalities in the North American Hispanic Market; The Growing Market for Educational Services to Hispanics
Chapter 3. Labor, Immigration and Business; The Nature of Illegal Immigration; Corporate Complicity in Illegal Immigration; The Advantages of Regularizing the Labor Force Across Nafta; Towards a Viable Guest Worker Program; The Emerging Conflict between African Americans and Hispanics

Part II. The Emergence of the Hispanic Market in North America
Chapter 4. Americans in Mexico: Demonstration Effects of a Flourishing Demographic; Americans Ethnocentric Assumptions of Mexico Revisited; The Role of Manners and Class Consciousness in Mexico; Hispanic Views of Americans, from Latin American and Within the United States; The American Confidence Demonstration Effect on Hispanics; Paternalisms Influence on Hispanic Consumer Behavior; Hispanization in Latin America and the United States
Chapter 5. A Vanishing Border: The Emergence of a North American Consumer Market; The Role of Intellectuals in American and Mexican Public Life; Denial of Mexicans and Hispanics Property Rights; American Complicity in the Suppression of Mexican Democratic Aspirations; American Undermining of Free Trade
Chapter 6. Mexicans in the United States: Ethnographic Influences on Consumer Behavior; The Rootlessness of the Mexican Diaspora; Mythmaking and the Cult of Victimology; Shades of Racism Against Hispanics; The Phenomenon of Poca Cultura; The Nature of Lookism
Conclusion
Epilogue
---

Los hispanos en Hollywood:
celebrando cien años en el cine y la televisión
Written by Peter Rubie and Luis Reyes




Category:

Performing Arts - Film; Biography & Autobiography - Entertain & Perf. Arts


Imprint:

Random House Espanol

Format: Trade Paperback, 752 pages


Pub Date:

October 2002


Price:

$24.95


ISBN:

1-4000-0006-8
---
Remember, we commit ourselves to provide...
ANY BOOK PUBLISHED IN ENGLISH OR IN SPANISH!
(Minimum order: $100.00 individuals, $200.00 institutions and bookstores)
LEA Book Distributors
170-23 83rd Avenue, Jamaica Hills, NY 11432, USA
Tel. 1(718)291-9891 * Fax 1(718)291-9830
Please direct all inquiries to: orders@leabooks.com
Home
--- HISPANIC STUDIES --- U. of Texas Press ---
© LEA Book Distributors 1999