Hispanics in the United States
History, Hispanic Heritage, Literature, The Arts, Reference, Politics, Economics


IMPORTANT NOTICE: All prices are subject to change. The prices listed here are for reference only and were the publisher's suggested retail price at the time we posted this catalogue. Usually, LEA Book Distributors will charge the publisher's suggested US retail price or at times the publisher's price for foreign customers. Check with us for latest price changes.

TO ORDER: Just send an e-mail with your list, full address, and credit card data. Institutions: Send P.O. orders@leabooks.com



Hispanics in the US: Reference


---
Anuario Hispánico - Hispanic Yearbook. See Special Webpage.
---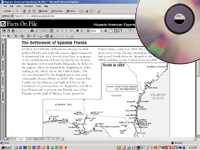 HISPANIC-AMERICAN EXPERIENCE ON FILE™, CD-ROM
Media Projects

Published: 2002
ISBN: 0816042225
Format: CD-ROM
Reading Level: Gr 6 and up
Library Price: $149.95

Specifications:
Single User Version (call 1-800-322-8755 for network license pricing)
Platforms Supported: Windows 95/98/2000/NT; MAC OS 8.1 or higher

Summary:
Every electronic On File™ includes the following features:

• Everything librarians, teachers, and students need in one place. Here is the complete contents of an On File™ binder--maps, charts, illustrations, timelines, examples, experiments, and/or descriptions--in an easy-to-read, easy-to-print, copyright free format. You can view all of the pages here with the free version of Adobe Acrobat Reader.
• A complete index, searchable by initial cap or key word.
• The ability to print out multiple copies of a page at the touch of a button.
• Complete source information.
• Cut and Paste capabilities for electronic note-taking.
• Toll-free customer support.

Coverage includes:
• Latin American and Caribbean Background: Political maps and social timelines of present-day Central and South America, Mexico, the Caribbean, Spain, and Portugal
• Overview of Latino Immigration: Male vs. female immigration figures; the total number of Hispanic immigrants compared to the number of other immigrants through time; and the happenings surrounding the Pueblo revolts
• North America Up to the Mexican War: Columbus' rule in Hispañola; the Triangle Trade route; St. Augustine; the Franciscan and Jesuit missions; and the Texas independence movement
• 1846-1897: The Mexican War and its aftermath; the 1883 strike by Mexican-American cowboys against Texas cattle companies; the surge in Mexican immigration; and the 1898 U.S. invasion of Puerto Rico
• 1898-1945: The rapid expansion of Hispanic immigration; the 1917 Jones Act grants U.S. citizenship to Puerto Ricans; the arrival of Bahamians in Miami between 1900 and 1920; the U.S. Border Patrol in 1924; and repatriation to Mexico in the 1930s
• 1946-1965: The question of Puerto Rican statehood; Cesar Chavez founds the National Farm Workers Union; Cuban political refugees following Castro takeover; and the Immigration and Nationality Act of 1965
• 1966-Present Day: The Mariel boatlift in 1980 from Cuba, and Cuban and Haitian refugees in the 1990s; the changing racial make-up of Little Havana following the rise of Afro-Cubans in the 1980s; and the Immigration Act of 1986
• Cultural Contributions Section: English words with Spanish or Caribbean roots; calendar of Hispanic and African-Caribbean festivities and holidays that are celebrated in the U.S.; and prominent Latino-American individuals.

---
The Companion to Hispanic Studies
Edited by CATHERINE DAVIES, University of Manchester

What is "Hispanic Studies"? This companion gives a concise and accessible overview of the discipline as taught today and suggests new directions for future developments. "Hispanic Studies" is broadly concerned with the languages and cultures of the vast "Hispanic" world, extending chronologically from Roman Hispania to today, and geographically from California in the North to Patagonia in the South, and from Majorca in the East to the Andes in the West. This essential book provides all the necessary introductory information on the subject and will be especially useful for students who have already started courses in Spanish / Hispanic Studies, or who are considering doing so in the future. Written by a team of leading scholars each with established teaching experience this collection of short essays explores topics as diverse as the history of the Spanish language, Islamic Andalusia, race and class in the Spanish Golden Age, Catalan nationalism, the Madrid "movida," Latin America cinema, tango in Argentina, Evita Perón, "testimonio" and the cultural significance of the US-Mexican border.

$65.00; Published: 2002; 224 pp.; cloth: 0-340-76297-7; $18.95 (01) paper 0340762985

---
Contemporary Hispanic Quotations






Daniel E. Stanton , Edward F. Stanton
Book Code: GR1464
ISBN: 0-313-31464-0
272 pages, photos
Greenwood Press
Publication Date: May 30, 2003
List Price: $55.00
Availability: Not yet published. (Estimated publication date, 5/30/2003)

Media Type: Hardcover

Description:
Some 23 million Hispanics reside in the United States. This is the first collection of quotations from Hispanics who have made their mark on the world. Included are more than 1,000 quotations from over 200 notable Hispanics: BL Writers BL Politicians BL Artists BL Entertainers BL Activists BL Physicians BL Educators BL Soldiers BL And others

The editors have culled quotations from a variety of print and non-print sources, though some original quotations are included. Two special features add variety to the volume, containing excerpts from poetry and fiction, anonymous graffiti, and proverbs. Numerous photos accompany the text. Also included are a small number of quotations from noteworthy Latin Americans who have received significant recognition from Americans, making this a rich, inspirational resource for students and general readers alike.

Subject Category: Anthropology
Sub-Category: Cultural Anthropology
LC Card Number: 2002032070
LCC Class: PN6084
Dewey Class: 973

---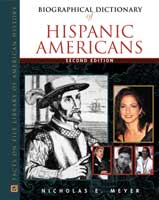 BIOGRAPHICAL DICTIONARY OF HISPANIC AMERICANS
Second Edition
Nicholas E. Meyer


Published: 2001
ISBN: 0816043302
Format: Hardcover
Reading Level: Gr 6 and up
List Price: $44.00


Specifications: 56 black-and-white photographs. Indexes. Bibliography. Cross-references. 336 Pages. 7 3/8 x 9 1/4.

Reviews:

"Nicely illustrated…useful in libraries…" - CHOICE

"This is a well-rounded reference that covers some 250 outstanding Hispanics of every description…People from all areas of life and ranges of time periods are included…Recommended." - The Book Report

"...this volume represents a one-source reference for enterprising students. The alphabetic arrangement lends simplicity and ease of use...This dictionary is comprehensive enough for high schools and junior college libraries needing a basic who's who and who was who of Hispanic America." - American Reference Books Annual

Summary:

Praise for the previous edition:
"...will be very useful in school libraries from middle-school through the high-school levels and in both the children's and adult reference sections of public libraries."–Booklist

"...provide[s] fine alphabetically arranged essays on prominent Hispanic figures..."–Midwest Book Review: The Children's Bookwatch

This extensive biographical dictionary includes more than 250 entries profiling Hispanic men and women whose achievements have made a lasting impact on American society.

Arranged in an easy-to-use A-to-Z format, the volume discusses each individual's background and the highlights of his or her career from a wide spectrum of human endeavor, including business, literature, politics, science, health and medicine, arts and entertainment, and religion. An updated bibliography, expanded lists for further reading, and three new subject indexes –organized by year of birth, country of heritage/ethnic group, and profession–greatly enhance this detailed portrait of over 500 years of achievement.

New profiles include Lourdes G. Baird, judge; Ramon Cortines, educator; Francisco Dallmeier, scientist; Jennifer Lopez, actress and singer; Jorge Mas Canosa, activist; Cherr'e Moraga, writer; Sammy Sosa, baseball player; and Gary Soto, writer.

About the Author(s):

---
Nicholas Meyer is currently an editor at the Buenos Aires Herald and contributor to the travel section of La Nacion, a daily in Argentina. Formerly, he worked as a press officer for the United Nations in their New York headquarters and as a foreign correspondent in New York for an Argentine news agency and film magazine. He has written for numerous publications in South Africa, Britain, Argentina, and New York. Meyer is the author of Magic in the Dark (FOF 1995) and coauthor of World Cinema Since 1945. Meyer has lectured and taught at the New School for Social Research, Argentine-North American Cooperation Institute, and the University of Buenos Aires. He lives in Buenos Aires.

---

Two Eagles in the Sun: A Guide to U. S. Hispanic Culture
Author: Dale Walker
New-publication. Scheduled date of publication is February 28, 2003.
Retail $19.95, ISBN 1-884512-74-5 (344 pages, with illustrations).

Dale Walker wrote in his review of the 1995 edition of Two Eagles in the Sun that it was "... as thorough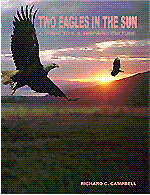 a guidebook to understanding the Hispanic culture in the United States as has ever been written."


This completely revised edition of Two Eagles in the Sun asks many new questions and revisits others from the 1995 edition to provide an updated perspective on the fastest growing minority group in the U.S.—Hispanics. Some of the more than 350 questions answered are: · Are Hispanics a Separate Race? · Who Is a Pachuco? · Who Was the Latina Rosa Parks? · What Does Gringo Mean? · What Is la Llorona? · What Is Zarzuela? · Who Was Malinche? · What Is Caló?


CONTENTS:
The book includes extensive insights into the Mexican, Puerto Rican, Cuban, and other origins of Hispanic culture in the U.S. Campbell uses an easy to read question-and-answer format to address these major topics:
1 Hispanics in the United States — Looking for a Name, 2 Hispanic Roots — Bloodstream and Footprints, 3 Spanish — Language of the Angels, 4 Hispanic Cultural Values — What's Most Important?, 5 Fabulous Food — Full Stomach, Contented Heart, 6 Hispanic Folk Culture — From Adobe to Weaving, 7 Hispanics and Religion — Tradition and Change, 8 Creative Spirit — The Soul of a Culture, 9 Modern Society — Seeking an Identity in America, 10 History — Hispanics in America's Story.
The Epilogue discusses the changing meaning of the cultural symbolism of Two Eagles and provides ideas for living successfully in a multicultural society. The Appendices provide useful resources for exploring the culture deeper and lists of prominent Hispanics who enrich America today.


Two Eagles in the Sun, Revised Edition, provides 300+ pages of informative and fun reading and 21 illustrations, including several pen and ink drawings by Gabriel Sánchez, a reproduction of "Spanish Explorer" by José Cisneros, and color reproductions of two well-known paintings by Hal Marcus: El Paso Thanksgiving/El Paso Gracias a Dios and El Mercado Juarez.
Adair Margo, Chairman, President's Committee on the Arts and Humanities, says in the Foreword of this revised edition: "As a transplant from Michigan to the southwest, Richard Campbell shares his experiences with Hispanics 'through Anglo eyes' in an entertaining and accessible way. This book demonstrates how Hispanic influences are contributing to the texture and strength of America."
---
Remember, we commit ourselves to provide...
ANY BOOK PUBLISHED IN ENGLISH OR IN SPANISH!
(Minimum order: $100.00 individuals, $200.00 institutions and bookstores)
LEA Book Distributors
170-23 83rd Avenue, Jamaica Hills, NY 11432, USA
Tel. 1(718)291-9891 * Fax 1(718)291-9830
Please direct all inquiries to: orders@leabooks.com
Home
--- HISPANIC STUDIES --- U. of Texas Press ---
© LEA Book Distributors 1999