Home
--- Estudios Hispánicos --- SGEL---GRAMÁTICA BÁSICA DEL ESPAÑOL
Please direct all inquiries to: orders@leabooks.com
S G E L:
La Editorial del Idioma Español
Como Lengua Extranjera
GRAMÁTICA BÁSICA DEL ESPAÑOL
IMPORTANT NOTICE: All prices are subject to change. The prices listed here are for reference only and were the publisher's suggested retail price at the time we posted this catalogue. Usually, LEA Book Distributors will charge the publisher's suggested US retail price or at times the publisher's price for foreign customers. Check with us for latest price changes.

Le ofrecemos estas selecciones excepcionales:
(LEA no vende estos productos a clientes dentro de España):

GRAMÁTICA BÁSICA DEL ESPAÑOL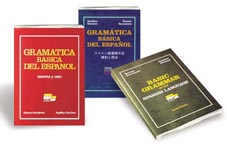 Ramón Sarmiento y Aquilino Sánchez
ISBN : 84-7143-410-5; 336 p. ; 24x17 cm

CARACTERÍSTICAS METODOLÓGICAS:
Obra que, a partir del uso idiomático, describe exhaustivamente tanto los aspectos normativos como sistemáticos de la lengua española. Además de la regla, explica clara y concisamente las causas de la norma y del uso. Se ilustra con multitud de ejemplos.

Acuérdese, nos comprometemos a proporcionarle...
CUALQUIER LIBRO PUBLICADO EN INGLÉS O EN ESPAÑOL
(Pedido mínimo $200.00 organizaciones)
LEA Book Distributors
170-23 83rd Avenue, Jamaica Hills, NY 11432, USA
Tel. 1(718)291-9891 * Fax 1(718)291-9830
Please direct all inquiries to: orders@leabooks.com
Home
--- Estudios Hispánicos --- SGEL---GRAMÁTICA BÁSICA DEL ESPAÑOL
© LEA Book Distributors 1999