ENCICLOPEDIA UNIVERSAL 2005
Now available the 2005 Edition in 3 versions
(See our complete line of Micrenet Multimedia Products
for home, college, school, and work.)

Versión española de esta página
The most popular and best known SPANISH CD-ROM encyclopedia.
Equivalent to a 90 volume print encyclopedia.
OVER 500,000 USERS WORLDWIDE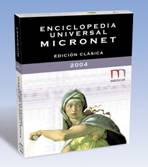 Classic Edition (one CD-ROM): $120.00. ISBN: 84-95381-62-1
Premium Edition, (2 CD-ROMS - added features): $150.00
DVD Edition (many added features): $150.00

SPECIAL OFFER for the 2002 version. We have some stock at he following special prices while they last):
Classic, $50.00
Premium, $70.00
DVD, $70.00

Many more features. Latest information

With over 165,000 article entries, 12 million words, and the equivalent of over 42,000 pages, Enciclopedia Universal is an indispensable reference tool for teachers, students, researchers, and the general public throughout the Spanish-speaking world. Its ease of use will offer quick access to any concept, word, subject, geographical item, illustration or expression no matter how complex. A "click" with your mouse will immediately transfer you from your screen to multiple marked references and similar concepts. Enciclopedia Universal contains the following:

1.- MULTIMEDIA ENCYCLOPEDIA: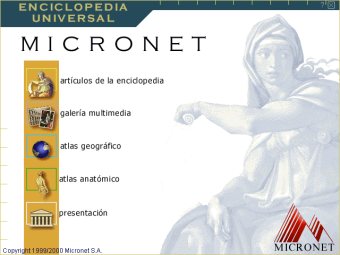 v Equivalent to 42,000 pages or a 90 volume printed encyclopedia.
v 175,000 articles, 60,000 biographies
v 9,000 specialized in-depth articles of up to 100 pages long
v 11,000 biology articles, 11,000 in medicine, 8,000 in astronomy, etc.
v 18,000 specialized articles
v 400,000 definitions, and over 800,000 search words
v 600 interactive maps, 18,000 geographic terms
v 10,000 towns in the Americas, every town in Spain
v 40 million hypertext links
Statistical, demographic, and economic data from all over the world. Special emphasis has been placed on the Latin American in dealing with cities, peoples, cultures, and geography.

2.- MULTIMEDIA GALLERY:
Ø Over 17,000 color illustrations with animation and video: the most important monuments, the most influential people; information on sports, customs from different lands.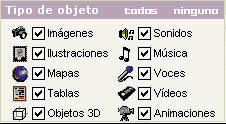 Ø Over 1,700 sound fragments including the most popular melodies, animals calls, and national anthems from all over the world. Over 350 historic videos and 3D animations. Interactive search game. Resizable screen to take advantage of your monitor capabilities and use of up to 16 million colors.
Ø Videos and animations on history, science, and folklore

3.- INTERACTIVE EDUCATIONAL ACTIVITIES:

* Anatomical atlas

* Interactive geographical atlas. Guess the country game

* Word games

* 14,000 Spanish proverbs

* Musical puzzles




4.- SPANISH DICTIONARY: It includes an up-to-date Spanish dictionary withover 200,000 meanings. Dialectal variations from Latin America and word uses not yet listed in the dictionary of the Royal Academy are included.

5.- BILINGUAL DICTIONARY: Over 32,000 English/Spanish terms.


Easy and friendly software interface for quick navigation. Windows 3.1 and up.
System Requirements
Pentium Computer
16 MB RAM
Windows 9x, 2000, Milenium, NT Workstation; NT Server
CD-ROM / DVD-Rom
Sound Card
VGA Monitor, 256 Colors (recommended 800x600 with 32.000 colors)
Requisitos del Sistema
Ordenador pentium
16 Megas de RAM
Windows 9x, 2000, Milenium, NT Workstation; NT Server
Lector de CD-ROM / DVD-Rom
Tarjeta de Sonido
Monitor VGA de 256 Colores (recomendado 800x600 con 32.000 colores)
Acuérdese, nos comprometemos a proporcionarle...
CUALQUIER LIBRO PUBLICADO EN INGLÉS O EN ESPAÑOL
(Pedido mínimo $200.00 organizaciones)
LEA Book Distributors
170-23 83rd Avenue, Jamaica Hills, NY 11432, USA
Tel. 1(718)291-9891 * Fax 1(718)291-9830
Please direct all inquiries to: orders@leabooks.com
Home
--- Estudios Hispánicos
© LEA Book Distributors 1999