OBRAS DE REFERENCIA DE MÉXICO
Los Milenios de México

NOTA IMPORTANTE: Todos los precios están sujetos a cambio. Los precios listados aquí son sólo a modo de referencia y reflejaban el precio de venta de la editorial a la hora de ponerlos en esta página. Normalmente, para los libros de los EEUU, LEA Book Distributors cobra el precio de la editorial. Para los libros publicados en España o en Hispanoamérica, LEA ofrece un percio normalmente válido para los EEUU, Canadá y toda Hispanoamérica. No vendemos a clientes dentro de España los libros publicados en España. Comprueben con nosotros los precios para preparar su pedido.

Vea también nuestra página sobre la más extensa Historia de México: Gran Historia Ilustrada de México
NUEVA EDICIÓN: Vea nuestra nueva oferta, Nuestro País, Enciclopedia de México.
6 tomos, mucho más extensa y al día, y con 2 CD-ROM.

LOS MILENIOS DE MÉXICO (MexicoThrough the Millennia) IS A SPANISH-LANGUAGE ENCYCLOPEDIA THAT VIVIDLY CAPTURES MEXICO'S SPIRIT LIKE NEVER BEFORE. THE 3-VOLUME SET CONTAINS WELL OVER 8,000 FULL-COLOR PHOTOGRAPHS, ILLUSTRATIONS, MAPS AND GRAPHS -MAKING IT AN INFORMATIVE, USER-FRIENDLY REFERENCE FOR PATRONS OF ALL AGES.ENCYCLOPEDIC FORMAT. ENTRIES IN ALPHABETICAL ORDER.
Enciclopedia de México en 3 volúmenes, con más de 8,000 fotografías, ilustraciones, mapas, y gráficos.
Formato diccionario enciclopédico. Entradas organizadas en orden alfabético.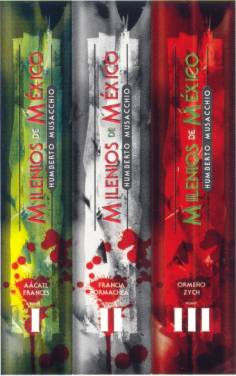 General Editor: Humberto Musacchio
The author, Humberto Musacchio, is an internationally recognized journalist and regular contributor to periodicals such as Reforma and Siempre! in Mexico.

(Agosto 2000, México)
ISBN: 968-6565-34-5
FORMAT: 8.5 x 11", hardcover with dust jacket. 3 volumes
PUBLISHER: Hoja Casa Editorial
BINDING: Smith Swen binding, rounded spine, printed in Italy
IMPRINT: Raya en el Agua
COUNTRY OF ORIGIN: Mexico
INSIDE PAPER: 90 gram stock R400, Burgo Satin Matte
PUBLICATION DATE: August 2000
PRICE: $305.00
PAGE COUNT: 3 Volumes; 3,384
Para pedir esta obra, envíenos un mensaje por e-mail con todos sus datos.
Please direct all orders and inquiries to: orders@leabooks.com




FULL-COLOR SPREADS FEATURE NUMEROUS PHOTOGRAPHS, ILLUSTRATIONS, MAPS, CHARTS AND GRAPHS OF THE KEY PEOPLE AND PLACES OF MEXICO.
Its 3,384 pages contain a wealth of information about Mexico's states, municipalities, political parties, geography, architecture, indigenous groups, past social movements and current organizations, incluiding the projects that will prepare Mexico for the future.
Each of Mexico's 32 states is a featured with 8 full pages of information. Alphabetical listings within the 3 volumes allow for easy reference. It is Mexico's most complete and visually compelling, Spanish-language encyclopedia to date!
The only up-to-date, full-color, Spanish-language encyclopedia about Mexico.

8 full pages of information for each of Mexico's 32 states.

Entries incluide biographies of Mexicans who have made significant contributions to science, education and the arts.

More than 8,000 color photographs, illustrations, maps and graphs.

Biographies incluide comprehensive information on both historical and modern figures.

Interior layout and numerous graphics make

MILENIOS

DE MEXICO an eye-catching and easy-to-use reference for all ages.
Acuérdese, nos comprometemos a proporcionarle...
CUALQUIER LIBRO PUBLICADO EN INGLÉS O EN ESPAÑOL
(Pedido mínimo $200.00 organizaciones)
LEA Book Distributors
170-23 83rd Avenue, Jamaica Hills, NY 11432, USA
Tel. 1(718)291-9891 * Fax 1(718)291-9830
Please direct all inquiries to: orders@leabooks.com
Home
--- Materiales en Español - Los Milenios de México ---
© LEA Book Distributors 1999