English & American Studies
Scholarly Editions:
The Centenary Edition of
The Works of Nathaniel Hawthorne
(Ohio State University Press)

IMPORTANT NOTICE: All prices are subject to change. The prices listed here are for reference only and were the publisher's suggested retail price at the time we posted this catalogue. Usually, LEA Book Distributors will charge the publisher's suggested US retail price or at times the publisher's price for foreign customers. Check with us for latest price changes.

Hawthorne, Nathaniel
The Centenary Edition of the
Works of Nathaniel Hawthorne

Volumes XXI and XXII, The English Notebooks, 1853–1856 and The English Notebooks, 1856–1860, complete the Centenary Edition of the Works of Nathaniel Hawthorne. These notebooks, comprising more than 350,000 words, are the longest sustained writing of Hawthorne's career.


Hawthorne traveled to England in 1853, having been appointed American consul at Liverpool by his old college friend, now president, Franklin Pierce. While in Europe, Hawthorne kept a voluminous journal, in part with an eye to its future usefulness. The English Notebooks contain detailed accounts of the family's sightseeing, with due attention to nature, architecture, and the oddities of the British character.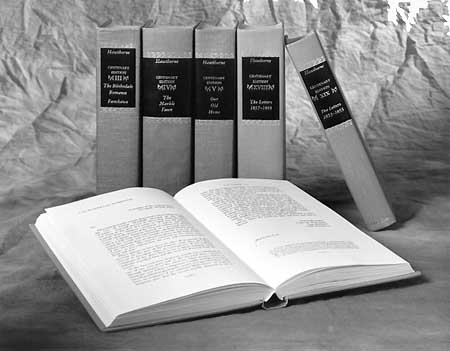 Even in journal form, his observations are "worked up" and not mere jottings. The English Notebooks are unique in Hawthorne's writing for their indulgence in the literary gossip common to men of letters of the Victorian age. In his descriptions of his extensive travels in many parts of England and Scotland, and his "picturesque tour" of North Wales, Hawthorne examines critically the settings and trappings of the British historical novel, using his position as consul to examine the new urban culture. These tours and observations, more than literary gossip, led him to his final and unfinished writing projects, The American Claimant Manuscripts and The Elixir of Life Manuscripts (Volumes XII and XIII).

Vol. I, The Scarlet Letter
1963 292 pp.
$60.00s cloth 0059-1

Vol. II, The House of the Seven Gables
1965 420 pp.
$60.00s cloth 0060-5

Vol. III, The Blithedale Romance and Fanshawe
1965 507 pp.
$70.00s cloth 0061-3

Vol. IV, The Marble Faun
1969 610 pp.
$80.00s cloth 0062-1

Vol. V, Our Old Home
1970 497 pp. CIP. LC 75-92336
$70.00s cloth 0002-8

Vol. VI, True Stories from History and Biography
1972 369 pp. CIP. LC 93-150220
$70.00s cloth 0157-1

Vol. VII, A Wonder Book and Tanglewood Tales
1972 464 pp.
$70.00s cloth 0158-X

Vol. VIII, The American Notebooks
1971 835 pp. CIP. LC 70-150222
$95.00s cloth 0159-8

Vol. IX, Twice-told Tales
1974 637 pp. CIP. LC 73-5363
$80.00s cloth 0202-0

Vol. X, Mosses from an Old Manse
1974 664 pp. CIP. LC 73-5364
$80.00s cloth 0203-9

Vol. XI, The Snow Image and Uncollected Tales
1974 488 pp. CIP. LC 73-5365
$70.00s cloth 0204-7

Vol. XII, The American Claimant Manuscripts
1977 657 pp. CIP. LC 77-75175
$80.00s cloth 0251-9

Vol. XIII, The Elixir of Life Manuscripts
1978 803 pp. CIP. LC 77-00000
$95.00s cloth 0252-7

Vol. XIV, The French and Italian Notebooks
1980 1,045 pp. CIP. LC 63-750
$95.00s cloth 0256-X

Vol. XV, The Letters, 1813–1843
1985 785 pp. CIP. LC 83-27336
$95.00s cloth 0363-9

Vol. XVI, The Letters, 1843–1853
1985 775 pp. CIP. LC 83-27336
$95.00s cloth 0364-7

Vol. XVII, The Letters, 1853–1856
1988 667 pp. CIP. LC 83-27336
$80.00s cloth 0365-5

Vol. XVIII, The Letters, 1857–1864
1987 732 pp. CIP. LC 83-27336
$95.00s cloth 0383-3

Vol. XIX, The Consular Letters, 1853–1855
1988 480 pp. CIP. LC 83-27336
$80.00s cloth 0384-1

Vol. XX, The Consular Letters, 1856–1857
1988 340 pp. CIP. LC 88-5299
$80.00s cloth 0462-7

Vol. XXI, The English Notebooks, 1853–1856
1997 878 pp. CIP. LC 96-23705
$95.00s cloth 0670-0

Vol. XXII, The English Notebooks, 1856–1860
1997 866 pp. CIP. LC 96-23705
$95.00s cloth 0671-9

Vol. XXIII, Miscellaneous Prose and Verse
1995 752 pp. CIP. LC 94-31078
$95.00s cloth 0644-1


N.B. The books we list under any of these subject headings are only a small selection that we simply want to promote more actively. We thought those may be of particular interest to you.

Remember, we commit ourselves to provide...
ANY BOOK PUBLISHED IN ENGLISH OR IN SPANISH!

LEA Book Distributors
170-23 83rd Avenue, Jamaica Hills, NY 11432, USA
Tel. 1(718)291-9891 * Fax 1(718)291-9830
Please direct all inquiries to: orders@leabooks.com

© LEA Book Distributors 1999