Reference Shelf
Random House Dictionaries

IMPORTANT NOTICE: All prices are subject to change. The prices listed here are for reference only and were the publisher's suggested retail price at the time we posted this catalogue. Usually, LEA Book Distributors will charge the publisher's suggested US retail price or at times the publisher's price for foreign customers. Check with us for latest price changes.

Webster's Unabridged Dictionary and CD-ROM
Webster's College Dictionary
Webster's American Family Dictionary
Historical Dictionary of American Slang
Dictionary of Euphemisms and Other Doubletalk

Random House Webster's Unabridged Dictionary and CD-ROM Version 3.0
RH Reference & Information Publishing | CD-ROM / Book | April 1999 $ 75.00 | 0-375-40383-3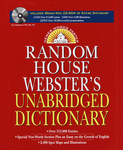 About this Book
With fifty years of experience in dictionary publishing behind it, Random House Webster's Unabridged Dictionary is the most definitive single-volume reference of the English language available. This modern dictionary offers an exhaustive, traditional study of the language, while covering the latest, most important developments--ahead of any other dictionary.

Using cutting-edge technology, Random House is able to bring you Newer Words Faster. The Random House Living Dictionary Database, from which the Random House Unabridged Dictionary was developed, is an immense, revolutionary computerized database for direct, immediate on-line editing. Dictionary entries can be updated on-screen as required, and most importantly, vital new vocabulary, from science to slang, can be added instantly, the moment it emerges in our language.

Random House Webster's Unabridged Dictionary is designed to meet the wide-ranging needs of today's students and scholars, who study ancient documents one day and surf the Internet the next; of professional writers, who craft poems or write articles for technical journals; of businesspeople, who need to communicate clearly, whether face-to-face or fax-to-fax; and--above all--the needs of word lovers.

In addition to standard and specialized vocabulary, this extensive volume contains a wide variety of features, encompassing up-to-date, authoritative factual and encyclopedic information. It is truly a unique general reference volume for the office, the school, and the entire family.

Important Features Include:

--A brand-new eight page New-Words Section in the front of the book, with over 1,000 important new words and meanings added at press time, not found in the A-Z section--words like intranet, body piercing, soccer mom, and sport-utility vehicle.

* Over 315,000 entries
* 1,500 updated definitions and entries
* 2,400 spot maps and illustrations
* Scholarly, up-to-date etymologies, including dates to show when terms entered the
language, and showing clearly labeled Americanisms
* Entries for important and famous people; for places, historical events; major works of
literature, music and art; names and abbreviations of academic, governmental, social,
and fraternal organizations; popular given names; common abbreviations; and
foreign terms
* Entries and definitions for current place names, reflecting recent political and
geographical changes worldwide
* Coverage of major British, Canadian, and Australian terms
* Over 75,000 example phrases and sentences to show how words are used in context
* Metric equivalents for weight, volume, height, distance, etc., included in definitions
and captions
* Endangered species identified
* Comprehensive supplementary notes at many entries, discussing: usage problems,
pronunciations questions, distinctions among synonyms, regional variations and
dialects
* Additional supplementary lists of synonyms, antonyms, words formed from common
prefixes
* Valuable supplements to the dictionary included, in front and back matter
* Sound-spelling Correspondences in English
* A Basic Manual of Style
* Guidelines for avoiding insensitive and offensive language in both writing and
speaking
* List of Words Commonly Confused

With fifty years of the finest dictionary-making in the world to offer, Random House brings you Newer Words Faster in this impressive, authoritative reference.

MORE COMPREHENSIVE
With over 315,000 entries, the complete vocabulary of the renowned Second Edition of the Random House Unabridged Dictionary is contained in this one volume. The Language of literature, the terms in your textbooks, and the nuances in your newspapers are all here.

MORE COMPACT
Reformatted in this easier-to-use size, while retaining the full contents, this edition of Random House Webster's Unabridged Dictionary, preserves its extensive and authoritative coverage of modern American English, unmatched in any other single-volume dictionary. From law, medicine, and computers to art, history, and world geography, it offers a complete reference library in one convenient volume.

MORE CURRENT
If it's an important new word, you'll find it here first. A brand-new eight-page New-Words Section has been included at press time featuring the latest important words and meanings not in the standard A-Z section--terms like Megan's Law, feng shui, home page, and mesclun. Over 1,500 other entries and definitions have been updated as well.

Also included are:

* New and updated biographical entries
* Revised geographical entries reflecting the recent changes worldwide
* 2,400 spot maps and illustrations

CD-ROM Version 3.0: AN IMPROVED CD-ROM
With an improved search engine, the CD-ROM is a flexible tool with advanced features designed to meet the needs of scholars, students, businesspeople, and anyone else who needs an extensive, versatile resource for words.

* Find the word you need--when you need it.
* Do specialized computer searches
* Print the results.
* Link the dictionary to your word processor.
* Choose the language of your interface--English, French, or Spanish.
* Play word games.

CLICK! FOR FAST ELECTRONIC SEARCHES
Choose among four ways to search the dictionary. Whichever Search Type you choose, just a click of the mouse brings up the word you want with the full text of the dictionary entry--definitions, written pronunciations, parts of speech, etymologies, synonyms and antonyms, usage notes, and more.

LOOK! FOR THE CAMERA ICON
This dictionary on disk is not just words--more than 2,400 spot maps and illustrations await you. Just click on the camera icon wherever it appears.

LISTEN! TO THE RECORDED PRONUNCIATIONS
Hear the written language come to life. Over 120,000 professionally recorded pronunciations--more than in ant other electronic dictionary--capture the authentic sounds of American English. Just click on the loudspeaker icon.

System Requirements for the CD-ROM

* IBM PC or compatible (80486 or higher)
* 8Mb of RAM or more
* 3Mb of free disk space on a hard drive (or, for custom installation of data files on
hard drive, 30 Mb)
* Microsoft Windows 3.1 or higher
* Windows-compatible mouse
* CD-ROM drive (double speed or faster recommended) to access recorded
pronunciations
* Windows-compatible sound card
Random House Webster's College Dictionary
Revised and Updated Second Edition Random House
Reference
RH Reference & Information Publishing | Hardcover | June 1996
$ 23.95 | 0-679-45570-1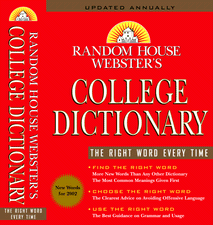 About this Book
Body piercing is in. So are buffalo wings, killer apps, and yada-yada-yada.

If it's an important new word, you will find it here first...in the all new 50th Anniversary edition of the RANDOM HOUSE WEBSTER'S COLLEGE DICTIONARY. Unlike any other college dictionary, Random house Webster's uses the state-of-the-art Living Dictionary Database™ to enable its team of expert editors to add new words as soon as they become current--faster than any other dictionary. RANDOM HOUSE WEBSTER'S COLLEGE DICTIONARY not only brings you Newer Words Faster, but always lists the most common, up-to-date meanings first, to help you find what you're looking for more quickly and easily.

RANDOM HOUSE WEBSTER'S COLLEGE DICTIONARY allows you to be up-to-date, guided by the best advice on English usage--such as how to avoid insensitive and offensive language in your writing or speaking. Best of all, this all-new edition features rewritten definitions for extra clarity and precision, to help you understand at a glance the meaning of words.

Why Choose Any Other Dictionary?

Over 160,000 entries and 175,000 definitions--more than any other college dictionary!

Hundreds of new words and meanings found for the first time in a college dictionary--like intranet, Ebonics, nonstarter, olestra, same-sex, Megan's law, TV-Y, and Web site.

All new design and illustrations! A modern new type design and hundreds of completely new digitally rendered illustrations make definitions even easier to understand!

Expert usage notes--written by noted usage specialists--offer clear explanations of important nuances of English usage.

The one-step reference resource! Includes up-to-date biographical and geographical entries--plus 8 pages of world maps. Also contains an indispensable Guide for Writers and additional essays to help you use English more effectively.
Webster's American Family Dictionary

Random House
Reference | Random House Reference | Hardcover | November 1997 | $ 23.95 | 0-679-45801-8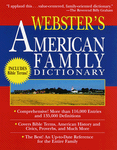 "I applaud this . . . value-centered, family-oriented dictionary."
--The Reverend Billy Graham

A Dictionary Resource for the Whole Family

The aim of Webster's American Family Dictionary is unique and challenging: it is to capture and record the standard vocabulary of American English in a way that reflects the common ethical, moral, religious, social, and civic values of mainstream Americans. It is, in short, both a lexical and cultural record of standard American English at the dawn of the 21st century.

A family reference that goes beyond removing offensive language, Webster's American Family Dictionary reflects the language and cultural values of most American families. While remaining inclusive enough for use through the college level, this new dictionary also covers special categories that are not typically treated in other standard dictionaries, such as:

the Bible
religious notables
cultural literacy
American history and civics
American folklore
popular proverbs and sayings
mythology
biography
geography
world history
world religious

The most comprehensive dictionary of its kind, Webster's American Family Dictionary has 116,000 entries, 135,000 definitions, and 300 illustrations, maps, and charts. In addition, we have included important documents that define American cultural and religious traditions:

Declaration of Independence
Ten Commandments
Sermon on the Mount
Amendments to the Constitution
Gettysburg Address

Webster's American Family Dictionary provides expanded definitions and biblical references, not typically found in other nonsectarian vocabulary resources, for terms such as burning bush and crown of thorns. Additionally, the Topical Index of Selected Key Terms will provide starting points for further study. Most importantly, definitions and discussions of controversial ideas and entries are treated with sensitivity

The First Modern American Dictionary to Cover the Bible and Our Contemporary Language

Not since Noah Webster created the first American dictionary has a guide to our language covered both important Bible terms and the essential vocabulary of the modern home, school, and office.

The dictionary that reflects your values
A valuable reference for the entire family
Clear definitions essential for understanding difficult and controversial topics


"The new Webster's American Family Dictionary should be very helpful for anyone interested in the full meaning of words, expanded to include their historical, literary, and religious connotations."
--Jimmy Carter

"I think Noah Webster would have been proud to see his name affiliated with this dictionary, which is in keeping with his original concept of what a dictionary should be."
--Billy Graham

Random House English Language Desk Reference
RH Reference & Information Publishing | Hardcover | May 1995
$ 18.00 | 0-679-43898-X
About this Book
This all-in-one handbook incorporates sections on vocabulary building, grammar, spelling, and pronunication, and contains a standard dictionary of 30,000 entries, a thesaurus with more than 80,000 synonyms and antonyms, plus a rhyming dictionary of over 30,000 words.


Random House Historical Dictionary of American Slang, V 1, A-G
Random House, Inc.Reference
RH Reference & Information Publishing | Hardcover | May 1994
$ 65.00 | 0-394-54427-7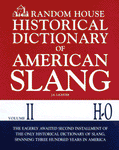 Random House Historical Dictionary of American Slang Vol II, H-O
Jonathan E. Lighter
Language Arts; Reference
RH Reference & Information Publishing | Hardcover | September 1997
$ 80.00 | 0-679-43464-X
About this Book
Essential to writers, linguists, humorists, lexicographers, journalists, critics, sociologists, translators, editors--and to everyone who wants to understand the language of America, the second volume of this most significant and comprehensive reference on slang covers current and obsolete words and phrases, origins of expressions, sexual and scatological vocabulary, and more.


Rawson's Dictionary of Euphemisms and Other Doubletalk
Being a Compilation of Linguistic Fig
Hugh Rawson
Crown | Hardcover | October 1995 $ 25.00 | 0-517-70201-0
About this Book
Hugh Rawson's celebrated language book in a new edition updated with more than 600 new entries. "Rawson is no dry lexicographer but a brother-in-arms of Ambrose Bierce, Dr. Johnson, and H. L. Mencken, God rest their crusty souls."--Chicago Sun-Times.
Remember, we commit ourselves to provide...
ANY BOOK PUBLISHED IN ENGLISH OR IN SPANISH!
LEA Book Distributors
170-23 83rd Avenue, Jamaica Hills, NY 11432, USA
Tel. 1(718)291-9891 * Fax 1(718)291-9830
Please direct all inquiries to: orders@leabooks.com
© LEA Book Distributors 1999