Translators & Language Professionals
Multilingual Dictionaries in
Business & Economics, Law,
Library Science, and Linguistics from
Elsevier Publishing Group


IMPORTANT NOTICE: All prices are subject to change. The prices listed here are for reference only and were the publisher's suggested retail price at the time we posted this catalogue. Usually, LEA Book Distributors will charge the publisher's suggested US retail price or at times the publisher's price for foreign customers. Check with us for latest price changes.

TO ORDER: Just send an e-mail with your list, full address, and credit card data. Institutions: Send P.O. orders@leabooks.com


NEW! Elsevier's Dictionary of Advertising
In English, German, French and Russian

Elsevier's Banking Dictionary (Print & CD-ROM Edition)
In English/American, French, Italian, Spanish, Portuguese, Dutch and German
Third Revised and Enlarged Edition

NEW! Elsevier's Economics Dictionary
In English, French, Spanish, Italian, Portuguese and German

Elsevier's Dictionary of European Community Company/Business/Financial Law (Print & CD-ROM Edition)
In English, Danish and German

NEW! Elsevier's Dictionary of Export Financing and Credit Insurance (Print & CD-ROM Edition)
In English, German and French; Second, Enlarged Edition

Elsevier's Dictionary of Financial Terms (Print & CD-ROM Edition)
In English, German, Spanish, French, Italian and Dutch
Second Revised and Enlarged Edition

Elsevier's Dictionary of Greek and Latin Word Constituents
Greek and Latin affixes, words and roots used in English, French, German, Dutch, Italian and Spanish

Elsevier's Dictionary of Insurance and Risk Prevention (Print & CD-ROM Edition)
in English, French, Spanish, German and Portuguese

Elsevier's Dictionary of the Labour Market (Print & CD-ROM Edition)
In English, German, Swedish, Spanish and French

NEW! Elsevier's Legal Dictionary
In English, German, French, Dutch and Spanish

Elsevier's Dictionary of Library Science, Information and Documentation (Print & CD-ROM Edition)
In English/American (with definitions), French, Spanish, Italian, Dutch, German and Arabic

NEW! in 2003 Elsevier's Dictionary of Linguistics
In English, French, Spanish, Portuguese and German

---
NEW!
Elsevier's Dictionary of Advertising
In English, German, French and Russian
S.G. Manoilova, Sofia, Bulgaria
D.H. Konstantinova, Sofia, Bulgaria
The dynamic business of advertising is quite fascinating as it encompasses an eclectic diversity of fields and activities. Spanning from matters of budgeting, discounts and commissions to creativity, the art of words and images, it communicates to consumers a viable, marketable message.
To cover such a diverse spectrum, this dictionary provides the users with terminology from the various spheres that interact to form the ever-expanding vocabulary of modern advertising: marketing and market research, creativity (graphic design, text writing and concept development, photography and film-making basics), media, prepress and typography.
This dictionary will be of good use to students of advertising, advertising professionals (account executives, graphic designers, copywriters, media planners etc.), as well as to a wide range of business people.
Year 2002
ISBN: 0-444-50691-8
Hardbound 568 pages #
7,593 terms
Price:
---

Elsevier's Banking Dictionary
In English/American, French, Italian, Spanish, Portuguese, Dutch and German
Third Revised and Enlarged Edition
J. Ricci, Montevideo, Uruguay
This is the third revised edition of a dictionary which was first published thirty years ago. A second edition was published in 1980 in an effort to keep up with the revolution which was then taking place in the field of economics. In that edition almost 50 entries were deleted from the original version and more than 600 new terms were included. Since that time there have been even more developments in the banking and financial world so creating the need for this third revised edition. Portuguese has been added to the dictionary as this language now plays a very important role in the banking business community. This updated version will be of considerable help to banks and financial companies all over the world.
Year 1990
---
NEW!

Elsevier's Economics Dictionary
In English, French, Spanish, Italian, Portuguese and German
J.L. De Lucca, Sao Paulo, Brazil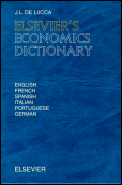 This dictionary contains terms covering the following fields and subfields: Business economics, economic development and growth, economic history, economic systems, economic thought, financial economics, general economics, industrial organization, international economics, labor and demographic economics, law and economics, macroeconomics and monetary economics, mathematical an quantitative methods, microeconomics, natural resource economics, public economics, social economics, urban, rural and regional economics, welfare.
The dictionary is supplemented by an exhaustive list of abbreviations in several languages. It will be an essential reference tool for business people operating within a new economic world order, who wish to understand global trade relations. The wide variety of economic terms presented makes this dictionary unique in the field.
Year 2001
ISBN: 0-444-82448-0
Hardbound, 978 pages #
7,735 terms
Price:
---

Elsevier's Dictionary of European Community Company/Business/Financial Law
In English, Danish and German
H.K. Bock
G. Frey
I.R. Bock, Ringkøbing, Denmark
This volume is a general dictionary within the areas of company, business and financial law, where the selection of terms is based primarily on established and emerging usages within Community legal terminology. The volume provides definitions and general explanations in English, supplemented with specific explanations in Danish and/or German as required. The careful arrangement of terms in Danish and German allows near-independent use between these two languages. Heavy emphasis is placed on idiomatic language use with the inclusion of a large number of complex verb and noun phrases, everyday abbreviated terms, and names of institutions etc. When making the selection of terms, the compilers used their experience as professional translators of commercial and theoretical legal and financial documents. The dictionary will be invaluable to Community business people, lawyers, accountants, translators and students.
American Reference Books Annual 1998

"In the increasingly cross-country web of Europe, the dictionary will be of help to those who participate in the expanding economic relations between the members of the European Union."

FIT Newsletter

"...recording of a considerable number of interesting expressions which it might not be easy to locate elsewhere..."
Year 1997
---
NEW!

Elsevier's Dictionary of Export Financing and Credit Insurance
In English, German and French; Second, Enlarged Edition
P. Dorscheid, Hamburg, Germany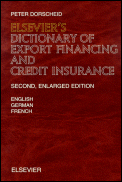 The world is changing and so are international trades in goods and services, their financing as well as their traditional forms of ensuring and guaranteeing. The second edition of this dictionary takes account of this ongoing development.
Twenty years ago, export credit insurance was, nearly exclusively, a matter of state support to the exporting industry: preferential financing facilities offered through state banks and public export credit insurance through governmental or state-near export credit agencies (ECAs). The terminology was dependent on the national legal and commercial systems of these institutions. Ten years ago, it became obvious that export credit insurance was no longer an exclusive matter of ECAs when all major private credit insurers began to offer cover for commercial risks. Today, we are at the edge of covering even political risks on the account of private credit insurance companies and their reinsurers.
These economic developments left their traces in the terminology of export financing and credit insurance and will continue to do so in the future. This dictionary may be useful to practitioners, exporters, bankers and credit insurance companies in particular, as well as to specialised translators, scholars and scientists.
Year 2001
---

Elsevier's Dictionary of Financial Terms
In English, German, Spanish, French, Italian and Dutch
Second Revised and Enlarged Edition
D. Phillips
M.-C. Bignaud
F.J. Thomson, University of Antwerp (RUCA), Belgium
Since the publication of the first edition of this dictionary (1979), the world of finance has undergone many profound changes. The compilers of this second edition have taken account of these developments by eliminating outdated entries, by including about 450 new ones and by updating and thoroughly revising all other entries. This dictionary thus fully reflects the terminology currently in use in the world of finance. It has easy multilingual cross-referencing via indexes, is user-friendly, and presents an exhaustive combination of a dictionary with a thesaurus. It is descriptive, rather than prescriptive, and thus records all the terms actually in use to express particular concepts, leaving the choice of the most appropriate equivalent, which obviously depends on the context, to the user.
Year 1997
---

Elsevier's Dictionary of Greek and Latin Word Constituents
Greek and Latin affixes, words and roots used in English, French, German, Dutch, Italian and Spanish

G. Lurquin, Centre de Terminologie de Bruxelles, Institut Libre Marie Haps, Brussels, Belgium
Modern languages borrowed not only the roots, but also prefixes, suffixes and whole words from Greek and Latin. This dictionary of Greek and Latin word constituents lists thousands of these constituents, together with examples of their use in modern English, French, German, Dutch, Italian and Spanish, and often their etymology.
It will be invaluable to both teachers and students of translation and interpretation. Specialists and students in the fields of medicine, astronomy, physics, chemistry and biology will also find this an indispensible tool.
Year 1998
ISBN: 0-444-82890-7
Hardbound, 1,200 pages #
6,578 terms
Price:
---

Elsevier's Dictionary of Insurance and Risk Prevention
In English, French, Spanish, German and Portuguese
J.L. De Lucca, Sao Paulo, Brazil
This dictionary with 3962 terms and 2000 abbreviations in five languages, covers the traditional terminology of insurance and the most recent terms associated with new technologies. Special attention has been paid to the areas of transport insurance, fire insurance, life insurance and environmental risks. Also included are the important abbreviations related to sea-transport insurance, general insurance and law insurance. The dictionary should prove indispensable to insurance companies and all those involved in insurance, from students to underwriters and translators.
Year 1992
---

Elsevier's Dictionary of the Labour Market
In English, German, Swedish, Spanish and French
U. von Kunhardt
I. Llistosella-Matzky
This dictionary is intended to be a help to all those who work within or are involved with the sometimes very complicated field of labour relations: trade unionists and employer and employee representatives in the broadest sense of the word, businessmen, interpreters and translators. As international co-operation in this field grows closer and becomes more and more important, fast and easy understanding assumes a vital role. Unfortunately, the organizational systems differ so much from one country to the other, mostly due to historical reasons, that it is often very difficult to translate expressions from one language into the other. This dictionary, which is based on terminology that has largely been collected in the course of the authors' practical work, is intended to help solve this problem.
The dictionary offers many multiword expressions, typical in this field, and includes terms from several related areas, such as labour law, education and training, social security, insurance, social policy and the patent and technological development fields. Furthermore, it includes general conference terminology and the names of institutions, government agencies and international organizations.
Year 1988
---
NEW!

Elsevier's Legal Dictionary
In English, German, French, Dutch and Spanish

D.C. van Hoof, University of Antwerp, Belgium
D. Verbruggen, CLT Language Centre, University of Louvain, Belgium
C.H. Stoll, Eurolux Computers S.a.r.l., Altrier, Luxembourg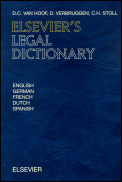 This dictionary was conceived to provide both the professional and the non-professional user with basic legal terminology in the forever changing pattern of world politics and the internationalisation, globalisation, of legal issues. Terms were selected from internationally accepted and used sources: basic documents (important treaties, conventions, agreements, protocols, model laws, uniform practices, recommendations, reports, rules etc.), relevant legal concepts, such as the "lex mercatoria" (principles of international trade law), and generally accepted legal terms in international trade (such as the Incoterms).
The following legal areas received special attention: accounting, administrative, banking, canon, civil, commercial, communication, contract, corporate, criminal, customs, disputes, economic, education, environment, European Union, family, financial, fiscal, history, industrial property, insurance, intermediaries in international trade (agent, distributor), international co-operation, international public, international trade, intellectual property, labour, legal professions, legislative, maritime, medical, military, penal, personal, private international, procedural, property, public, social, succession, tort, (international) trade, transport, and transfer of technology law.
L'Interete, 2001

"Elsevier's Legal Dictionary meriterait de seduire son public et de devenir un best-seller."
Year 2001
ISBN: 0-444-81785-9
Hardbound, 1,430 pages #
15,164 terms
Price:
---

Elsevier's Dictionary of Library Science, Information and Documentation
In English/American (with definitions), French, Spanish, Italian, Dutch, German and Arabic
W.E. Clason
S. Salem
The word "document" conjures up to most a medium of past or present information, which could be in the form of a clay tablet of antiquity or a modern encyclopaedia. It is justifiable, therefore, to assume that this dictionary encompasses several wide-ranging subjects. The fields covered are also closely related, a fact which can be attributed to the enormous impact of automation and technology. In clarifying various topics, Mr. Clason has listed specific documents - in itself an unusual approach which will do much to assist operational scientists. The inclusion of an Arabic supplement enhances the value of the dictionary which is an essential tool for libraries, documentation centres and specialists in the field.
Year 1973 3rd reprint 1992
---
NEW! IN 2003

Elsevier's Dictionary of Linguistics
In English, French, Spanish, Portuguese and German
J.L. De Lucca, Department of Linguistics, University of Sao Paulo, Brazil
The dictionary will contain terms covering the following fields and subfields: anthropological linguistics, applied linguistics, comparative linguistics, computational linguistics, contrastive analysis, language acquisition, diachronic linguistics, functions of language, lexicography, phonetics, phonology, pragmatics, psycholinguistics, semantics, sociolinguistics, structural linguistics, syntax, systemic linguistics, tagmemics, text linguistics, transformational generative grammar.
Year 2003
ISBN: 0-444-50497-4
Hardbound, approx. 500 pages #
In preparation
approx. 4,500 terms
---
Last update: 15 Aug 2005
Remember, we commit ourselves to provide...
ANY BOOK PUBLISHED IN ENGLISH OR IN SPANISH!
(Minimum order: $100.00 individuals, $200.00 institutions and bookstores)
LEA Book Distributors
170-23 83rd Avenue, Jamaica Hills, NY 11432, USA
Tel. 1(718)291-9891 * Fax 1(718)291-9830
Please direct all inquiries to: orders@leabooks.com
© LEA Book Distributors 1999