Language Resources
Bilingual German Dictionaries from
Oxford University Press
Now with Text-to-Speech (TTS) software application

IMPORTANT NOTICE: All prices are subject to change. The prices listed here are for reference only and were the publisher's suggested retail price at the time we posted this catalogue. Usually, LEA Book Distributors will charge the publisher's suggested US retail price or at times the publisher's price for foreign customers. Check with us for latest price changes.

TO ORDER: Just send an e-mail with your list, full address, and credit card data. Institutions: Send P.O. orders@leabooks.com


NEW EDITION: The Oxford-Duden German Dictionary
The Concise Oxford-Duden German Dictionary, Revised ed.
Oxford-Duden Pictorial German-English Dictionary 2nd ed.
Oxford Starter German Dictionary
NEW!: / 2002: The Practical Dictionary of German Usage
NEW!: / 2002: The Oxford German Business Dictionary
Dictionary of Engineerng & TEchnology (2 vols.)
Dictionary of Engineering and Technology
Volume I: German-English
Volume II:English-German

Fifth Edition
RICHARD ERNST

Long considered the essential reference for readers of German scientific and technical literature and for translators, this indispensable reference has been thoroughly revised and updated. The book is 40 percent larger than the previous edition, and now contains over 197,000 entries to reflect the significant growth in technical language in the last ten years. It features expanded coverage of rapidly developing areas, including electronics, nuclear engineering, and computers. All major industrial, technical, and basic scientific disciplines are covered, including automobiles, aviation, ceramics, chemical processing, civil engineering, control and measurement systems, data processing, electrical engineering, geology, hydraulics, manufacturing methods, mathematics, mechanical engineering, nuclear physics, oil drilling and refining, and much more.

From reviews of the previous edition: "The authoritative source....for all libraries with research collections in engineering and technology that contain extensive foreign-language holdings." --American Reference Books Annual

"By far the best in its class. . . .The indispensable tool for the professional linguist." --Chronicle of the American Translators Association

"A new edition of a foreign-language technical dictionary is always welcome. This revision contains more than 197,000 entries and covers all major industries....The format of this German-English dictionary is easy to understand and use." --Choice

Volume I: 1268 pp.; illus.; 6 x 9 1/4; 0-19-520820-X; Publ. 1989; Price: $135.00
Volume II: 1000 pp.; illus.; 6 x 9 1/4; 0-19-520485-9; Publ. 1985; Price: $135.00

---
NEW EDITION
SPECIAL, LIMITED TIME OFFER: Order the PRINT + CD-ROM with VOICE.
The Oxford-Duden German Dictionary on CD-ROM
An authoritative electronic German dictionary, featuring full coverage of the German of Austria and Switzerland



Oxford-Duden German Dictionary

Book & Text-to-Speech CD

M. Clark O. Thyen

0198607431

,

hardback

,

1728 pages

2003 In Stock
Description

Over the past decade, the Oxford-Duden family of German-English dictionaries has established itself as a world leader, recommended for teachers, translators, and students. Backed up by the unique language databanks maintained and continuously expanded by Oxford University Press and the Dudenverlag (Germany's leading language reference publisher) for their celebrated monolingual dictionaries, every title in the range provides a more accurate, up-to-date, and complete picture of real language than has ever been possible before.

The

Oxford-Duden German Dictionary

is the flagship dictionary of the line, in a major new edition. Here one will find unmatched coverage of German worldwide (including Swiss and Italian German), incorporating the spelling changes ratified in 1996. Now, for a limited time only, this outstanding dictionary will include the cutting-edge Text-to-Speech CD-ROM which will pronounce any word in German--FREE with purchase of the dictionary.

Text-to-Speech (TTS) is a software application that translates words on the screen into spoken language. Just type your sentence in German, and the computer will read it back to you with perfect pronunciation. Cut and paste a letter from a friend and you can hear what your friend has to say. It will even recognize times and dates written in abbreviated form and will change intonation according to punctuation. This new software makes language come alive, providing a unique opportunity to practice pronunciation, as well as giving excellent guidance in pronouncing particularly difficult words. This innovative language technology is an ideal learning tool, and there is nothing else like it available in the marketplace.

Acclaimed by language professionals the world over-and now packaged with the free pronunciation CD, the unabridged

Oxford-Duden

is the most comprehensive, accurate, and up-to-date dictionary of German and English.
Product Details
1728 pages; 0-19-860743-1
---
The Concise Oxford-Duden German Dictionary
Second Edition
Edited by M. CLARK and O. THYEN

A major new edition including thousands of new words and expressions


This new edition incorporates the recent German spelling reforms throughout the text. With over over 140,00 words and phrases, and over 240,000 translations, this major new edition provides unrivalled coverage of general, scientific, and technical and literary vocabulary, including thousands of new expressions such as alcopop, dataglove, emoticon, road rage, chatten, Datenautobahn, Suchmaschine, zappen. There is extended treatment of specific vocabulary areas: detailed in-text boxes cover topics such as nationalities, jobs, addresses, greetings, asking for directions, and apologizing, giving extra help with usage, constructions, and choosing vocabulary. Also new to this edition is a new guide to email and the Internet which offers a unique gateway to language and culture in the German-speaking world. There is also an entirely new Thematic wordfinder which brings together the essential vocabulary from a broad range of subject areas including the environment, society, business and industry, communication, media, and the arts.


1248 pp.; 0-19-864230-X; Publ. 2000; Price: $27.95
---

The Oxford-Duden Pictorial German-English Dictionary
Second Edition
The Oxford-Duden Pictorial German and English Dictionary, Second Edition identifies over 29,000 objects by means of numbered illustrations and offers at a glance their German and English terms. This new edition has been completely updated and revised to include the most recent innovations in science and technology and to offer increased coverage of all major fields of reference.

872 pp.; 384 illus, 6 in color; 0-19-864502-3; Publ. 1995; Price: $25.00
---

The Oxford Starter German Dictionary
Second Edition
Edited by NEIL MORRIS and ROSWITHA MORRIS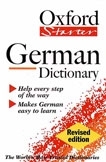 The Oxford Starter German Dictionary provides essential information in a totally new way. The two sides of the dictionary have very distinct functions, approaching the needs of the English-speaking learner of German from different angles. Every effort has been made to approach the foreign language from the point of view of the beginner who may be unfamiliar with the conventions of the more traditional bilingual dictionary. This unique dictionary is an important, user-friendly introduction to a foreign language.





384 pp.; 0-19-860329-0; Publ. 2000; Price: $10.95
---

NEW!: / 2002 (paper edition):
A Practical Dictionary of German Usage
K. B. BEATON

A major difficulty faced by English speakers learning German is that of finding exactly the right German word to translate an English word in a particular context. This dictionary focuses on those words which cause particular difficulties for speakers of English, providing longer articles than those found in traditional bilingual dictionaries.

Review from previous edition: "It is a compendium of knowledge about the German language that provides the advanced student and scholar with a veritable treasure chest ... It deserves to be used by all serious English-speaking students of the German language."--MLR

"This dictionary does indeed justify its claim of being essential for advanced users of German."--American Reference Books Annual

Dr K. B. Beaton was formerly Senior Lecturer in German Studies at the University of Sydney before his death in August 1994.

944 pp.; 0-19-924665-3 (Cloth); Publ. 1997; Price: $175.00
944 pp.; 0-19-924002-3 (Paper); Publ. 2002; Price: $35.00

---

NEW!: / 2002:
The Oxford German Business Dictionary
Edited by Magdalena Seubel and Neil Morris

640 pp.; None; 0-19-860482-3: Published 2002; Price: $21.50


Remember, we commit ourselves to provide...
ANY BOOK PUBLISHED IN ENGLISH OR IN SPANISH!
(Minimum order: $100.00 individuals, $200.00 institutions and bookstores)

LEA Book Distributors
170-23 83rd Avenue, Jamaica Hills, NY 11432, USA
Tel. 1(718)291-9891 * Fax 1(718)291-9830
Please direct all inquiries to: orders@leabooks.com

© LEA Book Distributors 1999