Language Resources
Bilingual Italian Dictionaries from
Oxford University Press

IMPORTANT NOTICE: All prices are subject to change. The prices listed here are for reference only and were the publisher's suggested retail price at the time we posted this catalogue. Usually, LEA Book Distributors will charge the publisher's suggested US retail price or at times the publisher's price for foreign customers. Check with us for latest price changes.

TO ORDER: Just send an e-mail with your list, full address, and credit card data. Institutions: Send P.O. orders@leabooks.com


Oxford Concise Italian Dictionary
Oxford-Duden Pictorial Italian-English Dictionary
Oxford Color Italian Dictionary, edited by Mazza
Pocket Oxford Italian Dictionary Reissue
Oxford Concise Italian Dictionary
Edited by GIUSEPPE RAGAZZINI, ADELE BIAGI, ANNA RAVANO, and MONICA HARVEY SLOWIKOWSKA

Contains over 181,000 words and phrases, and translations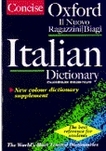 Containing over 181,000 words, phrases, and translations, this dictionary boasts outstanding coverage of contemporary Italian as well as British and American English. Acclaimed by language professionals, specialist translators, and general users alike, its clear labeling of grammatical information, usage, and translations provides optimum clarity, while supplements on irregular verbs, false-friends, abbreviations, and acronyms deliver additional help. A brand new Visual Dictionary supplement illustrates many essential terms for such diverse fields as agriculture, anatomy, architecture, astronomy, geography, and sports, in over 100 color diagrams.
Based on the Ragazzini/Biagi Dizionario Inglese-Italiano Italiano-Inglese, renowned for its comprehensiveness and precision, this dictionary provides students at intermediate level with an authoritative guide to Italian language and culture.

1248 pp.; 107 color illus, 5 b/w halftones; 6-1/4 x 8-5/8; 0-19-860243-X; Publ. 1998; Price: $25.95

---

The Oxford-Duden Pictorial Italian and English Dictionary

The Oxford-Duden Pictorial Italian and English Dictionary, identifies over 29,000 objects by means of numbered illustrations and offers at a glance their Italian and English terms. Based on the premise that pictures can more clearly convey certain kinds of information, these dictionaries present a list of vocabulary relating to a subject together with a picture illustrating that subject. Each double-page spread links the words by number to the picture situation drawn from every day life, while a multitude of sections cover a broad range of subjects in the fields of science, medicine, technology, industry, commerce, and arts and leisure, including astronomy, automobiles, swimming, supermarkets, nuclear energy, nightclubs, and much more. Both English and Italian words appear on the same page for easy use.
The dictionaries also provide fully alphabetized indices in both languages which refer students not only to the various subjects and contexts in which a word is used, but also to the correct translation and vocabulary of the entire subject. This new addition to the successful Oxford-Duden Pictorial range is completely up-to-date and includes the most recent innovations in science and technology and the newest developments in the language relating to all major fields of reference. It is an essential reference for all students of Italian and will serve as an invaluable supplement to other foreign language texts and guides.

"Proof that a picture is, indeed, worth a thousand words."--Library Journal

"A wonderful concept....The range of subjects is astonishing."--Reference and Research Book News

"Duden's pictorial dictionary has always been a blessing."--The Economist

872 pp.; 384 illus.; 0-19-864517-1; Publ. 1995; Price: $21.50

---

The Pocket Oxford Italian Dictionary
Edited by LEXUS and DEBORA MAZZA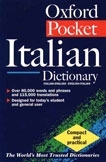 With examples carefully selected by a large team of native speakers of English and Italian, The Pocket Oxford Italian Dictionary clearly illustrates the full range of meanings and typical contexts of both languages. Offering wide-ranging coverage, this outstanding dictionary offers over 80,000 words and phrases, and over 100,000 translations, as well as guidance on key constructions, complementation, and difficult points of grammar. Including complete coverage of contemporary idiomatic Italian and English, both written and spoken, The Pocket Oxford Italian Dictionary covers the vocabulary that students really need.

704 pp.; 0-19-860282-0; Publ. 2000; Price: $11.95
---
The Oxford Color Italian Dictionary
Revised Edition
Edited by DEBORA MAZZA

The Oxford Colour Italian Dictionary offers wide-ranging coverage, including over 50,000 words and phrases and over 70,000 translations. Covering the vocabulary the user really needs, it includes the newest terminology from areas such as business, computing, and current affairs. It provides thousands of examples drawn from real speech and written sources, coverage of idiomatic phrases, as well as pronunciation guidance and full verb tables.

512 pp.; 4 x 6; 0-19-860251-0; Publ. 1999; Price: $10.95
---

Remember, we commit ourselves to provide...
ANY BOOK PUBLISHED IN ENGLISH OR IN SPANISH!
(Minimum order: $100.00 individuals, $200.00 institutions and bookstores)
LEA Book Distributors
170-23 83rd Avenue, Jamaica Hills, NY 11432, USA
Tel. 1(718)291-9891 * Fax 1(718)291-9830
Please direct all inquiries to: orders@leabooks.com
© LEA Book Distributors 1999