Language Resources
Bilingual Spanish Dictionaries from
Oxford University Press
Now with Text-to-Speech (TTS) software application

IMPORTANT NOTICE: All prices are subject to change. The prices listed here are for reference only and were the publisher's suggested retail price at the time we posted this catalogue. Usually, LEA Book Distributors will charge the publisher's suggested US retail price or at times the publisher's price for foreign customers. Check with us for latest price changes.
NEW EDITION (2003): The Oxford Spanish Dictionary, 2nd ed.
The Oxford Spanish Desk Dictionary
Llompart:Oxford Starter Spanish Dictionary
Oxford-Duden Pictorial Spanish-English Dictionary 2nd ed.
Oxford Colour Spanish Revised ed.
Oxford Pocket Spanish Dictionary 2nd ed., edited by Styles
Oxford Spanish Dictionary and Grammar
NEW EDITION (2003)
SPECIAL, LIMITED TIME OFFER: Order the PRINT + CD-ROM with VOICE.
The Oxford Spanish Dictionary

Third Edition

Beatriz Galimberti Jarman, Roy Russell, Carol Styles Carvajal

Jane Horwood

ISBN: 0-19-860475-0

,

hardback

,

2080 pages

2003 In Stock




Description
Compiled by expert teams of Spanish and English lexicographers, the

Oxford Spanish Dictionary

provides the richest, most contemporary coverage of Spanish from around the world. The result of thorough research using sophisticated computer programs to search for new terminology and ensure that all the latest vocabulary from Latin American Spanish and American English is covered, this brand new edition covers over 24 varieties of Spanish as it is written and spoken throughout the Spanish-speaking world--from Spain to Mexico, from Peru to the River Plate.

This groundbreaking edition of the

Oxford Spanish Dictionary

features 20,000 new entries (10,000 in each language), with the updating focused particularly on business, IT, and scientific terminology. Special entries on life and culture explain the differences between institutions, administrative systems, educational systems, and general life in the Spanish and English-speaking worlds, offering vital background to the language.

Also, for a limited time only, all

OSD

's will be packaged with a free CD that contains cutting-edge text-to-speech software. This software enables users to type in any word, phrase, question, or date, and an audio version of the text will immediately pronounce it with appropriate inflection. No other Spanish dictionary offers this revolutionary software.

With a newly designed user-friendly format, the dictionary is more accessible than ever. Each entry is in color making it easy for the reader to distinguish between and search for words. With half of the entries in English and half in Spanish (including the frontmatter), the

Oxford Spanish Dictionary

is the ideal reference for native speakers of either language. Handy, easy-to-use, and now packaged with the groundbreaking text-to-speech software, this dictionary is also the essential tool for all students and teachers, as well as translators and language professionals. Jacket covers are also available in Spanish.
Features
Over 300,000 words and phrases and over 480,000 translations that provide comprehensive and up-to-date coverage of Spanish and English

An extended guide to effective communication, including a wealth of model letters offering help with a wide range of topicsfrom compiling job applications to booking hotel rooms
Up-to-the minute information on the cultures of the English and Spanish-speaking worlds, including a new section on the Euro
In-text boxes that provide detailed guidance on grammar and usage
American English throughout, with British English alternatives given where relevant
---
Beatriz Galimberti Jarman, Roy Russell, Carol Styles Carvajal, and Jane Horwood are expert bilingual lexicographers who have led a team of Spanish, Latin American, British, and American editors throughout this project.


---
The Oxford Spanish Desk Dictionary
Spanish-English, English-Spanish
Second Edition
Edited by CAROL STYLES CARVAJAL, and JANE HORWOOD

The new second edition of the best Spanish-English desk dictionary

Drawn from the highly acclaimed Oxford Spanish Dictionary, this new Second Edition of The Oxford Spanish Desk Dictionary is more comprehensive, authoritative, and up to date than any other dictionary of comparable size, with over 80,000 words and 115,000 translations.

The second edition retains all the superb features of its esteemed parent volume in an affordable and easy-to-use format. Based on an extensive electronic databases in both English and Spanish, drawn from contemporary printed sources, the Dictionary accurately reflects how both languages are spoken and written in all contexts, from literature, to informal speech, to technical and scientific publications. Moreover, this edition offers the fullest treatment of Latin-American Spanish, with words and phrases common to a particular region or country clearly marked in the entry. There are thematic boxes dealing with key areas such as age, time, countries, and sports. The editors have included thousands of examples drawn from real speech and written sources to help clarify idiomatic usage. The Dictionary also provides much invaluable practical help, including sample letters, resumes, advertisements, job applications, and more.

Compact and comprehensive, easily fitting into a suitcase, knapsack, or attache case, The Oxford Spanish Desk Dictionary, Second Edition, is ideal for travelers, professionals, business people, and students of either language--from Kansas City to Caracas, from Manchester to Madrid.

1024 pp.; 0-19-521829-9; Publ. 2001; Price $15.95
---
The Oxford Starter Spanish Dictionary
Revised Edition
Edited by ANA CHRISTINA LLOMPART, CAROL STYLES CARVAJAL, and JANE HORWOOD
OPY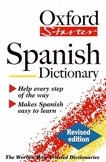 The Oxford Starter Spanish Dictionary is a unique, friendly apporach to learning the Spanish language. Together with three other Starter dictionaries (French, German, and Russian), this completely new range is a thorough introduction for English speakers who have limited knowledge of foreign languages. It provides detailed guidance, correct grammar and usage, the best translation, thematic boxes, and symbols, and it includes no abbreviations, making this dictionary especially easy to understand.

384 pp.; 0-19-860330-4, Paper, Price: $11.95. Publ. 2000


---
The Oxford-Duden Pictorial Spanish and English Dictionary
Second Edition
Now available in paperback editions, The Oxford-Duden Pictorial Dictionaries provide parallel English and foreign word lists containing 29,000 items for each language. Based on the premise that pictures can more clearly convey certain kinds of information, these dictionaries present a list of vocabulary relating to a subject together with a picture illustrating that subject.

Each double-page spread links the words by number to the picture situation drawn from everyday life; 384 sections cover a broad range of subjects in the fields of science, medicine, technology, industry, commerce, and arts and leisure, including astronomy, automobiles, swimming, supermarkets, nuclear energy, nightclubs, and much more. Both English and foreign words appear on the same page for easy use. The dictionaries also provide fully alphabetized indices in both languages which refer the reader not only to the various subjects and contexts in which a word is used, but also to the correct translation and vocabulary of the entire subject.

An essential reference for general readers, students, translators, travelers, and business people, The Oxford-Duden Pictorial Dictionaries serves as an invaluable supplement to other foreign language guides.

The new editions featured below have been completely updated and revised to include the most recent innovations in science and technology and to offer increased coverage of all major fields of reference.

888 pp.; 384 illus.; 0-19-864515-5; Publ. 1995; Price: $25.00
---
The Oxford Color Spanish Dictionary Plus
Second Edition
Edited by CHRISTINE LEA, CAROL STYLES CARVAJAL, MICHAEL BRITTON, and JANE HORWOOD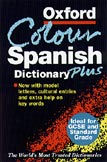 In this thoroughly updated edition, not only is all the essential everyday Spanish covered, but also an A-to-Z guide to cultural information is included, making this volume an outstanding, all-purpose learning tool.

Key words that are used more frequently are highlighted within the text, as they are the cornerstones to language learning, and slang and informal words are clearly denoted using warning symbols. As well, this dictionary offers a pronunciation guide, a glossary of grammatical terms, a list of abbreviations, and a catalog of Spanish irregular verbs.

Whether you are in the first years of study or you need to review your Spanish language skills for a trip to Europe, this new dictionary is your premier resource.


640 pp.; 0-19-864566-X; Publ. 2001; Price: $10.95
---
The Pocket Oxford Spanish Dictionary
Second Edition
Chief Editor: CAROL STYLES CARVAJAL and JANE HORWOOD

Offers over 85,000 words and phrases

Derived from the universally acclaimed Oxford Spanish Dictionary , this dictionary is designed to meet the needs of students in their senior year, or studying for their Higher, or A level qualification, as well as adult learners, and also business users. It is the only dictionary at this level to give detailed coverage of Spanish from 20 of the principal Spanish-speaking areas of the world. This dictionary is designed specifically to meet the needs of business users, adult learners or students in their first years of studying Italian. It give thousands of examples drawn from real speech and written sources to help learners use the language more effectively and idiomatically.
More than 125,000 translations included
1024 pp.; 5 x 7-3/4; 0-19-860281-2; Publ. 2000; Price: $9.95
---
The Oxford Spanish Dictionary and Grammar
Second Edition
JOHN BUTT
Edited by CAROL STYLES CARVAJAL, MICHAEL BRITTON, and JANE HORWOOD

This major new edition of Oxford Spanish Dictionary and Grammar has been fully revised to cover all the essential vocabulary and grammar of everyday life. Designed to meet the needs of students at all levels, as well as those of tourists and business people, it is a complete and handy reference to the Spanish language. Over 100,000 words, phrases and translations provide extensive coverage and up-to-the-minute vocabulary. Frequently used words are given a special layout with usage notes throughout the dictionary and new warning symbols make slang and informal words and expressions instantly identifiable.

The Grammar section offers a comprehensive and easy-to-use guide covering the construction of the language--including explanations of modern usage and grammar; information on the differences between spoken and written Spanish (with helpful examples taken from everyday speech, newspapers, and magazines); coverage of Latin American Spanish; separate sections on word order, prepositions, punctuation, and colloquial and technical words; and an extensive glossary and full index.

For those just learning Spanish or those fine-tuning their language skills, this is an essential resource.

851 pp.; 7 x 4 1/2; 0-19-860388-6; Publ. 2001; Price: $14.95


© LEA Book Distributors 1999