Reference Shelf
CD-ROM English-Spanish Bilingual Dictionaries


IMPORTANT NOTICE: All prices are subject to change. The prices listed here are for reference only and were the publisher's suggested retail price at the time we posted this catalogue. Usually, LEA Book Distributors will charge the publisher's suggested US retail price or at times the publisher's price for foreign customers. Check with us for latest price changes.

TO ORDER: Just send an e-mail with your list, full address, and credit card data. Institutions: Send P.O. orders@leabooks.com

We offer three outstanding choices:

NEW EDITION: Print and CD-ROM (2003)
The Oxford Spanish Dictionary

Third Edition

Beatriz Galimberti Jarman, Roy Russell, Carol Styles Carvajal

Jane Horwood

ISBN: 0-19-860475-0

,

hardback

,

2080 pages

Published: 2003

; In Stock;

Price: $49.95

(12)

CD-ROM EDITION, Version 2.0:
ISBN: 0-19-860683-4; Published: 2003; In Stock; Price: $49.95 (12)

COMBO OFFER: Print + CD-ROM edition: $95.00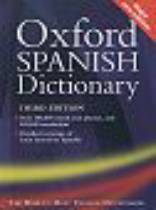 Description

Compiled by expert teams of Spanish and English lexicographers, the

Oxford Spanish Dictionary

provides the richest, most contemporary coverage of Spanish from around the world. The result of thorough research using sophisticated computer programs to search for new terminology and ensure that all the latest vocabulary from Latin American Spanish and American English is covered, this brand new edition covers over 24 varieties of Spanish as it is written and spoken throughout the Spanish-speaking world--from Spain to Mexico, from Peru to the River Plate.

This groundbreaking edition of the

Oxford Spanish Dictionary

features 20,000 new entries (10,000 in each language), with the updating focused particularly on business, IT, and scientific terminology. Special entries on life and culture explain the differences between institutions, administrative systems, educational systems, and general life in the Spanish and English-speaking worlds, offering vital background to the language.

Also, for a limited time only, all

OSD

's will be packaged with a free CD that contains cutting-edge text-to-speech software. This software enables users to type in any word, phrase, question, or date, and an audio version of the text will immediately pronounce it with appropriate inflection. No other Spanish dictionary offers this revolutionary software.

With a newly designed user-friendly format, the dictionary is more accessible than ever. Each entry is in color making it easy for the reader to distinguish between and search for words. With half of the entries in English and half in Spanish (including the frontmatter), the

Oxford Spanish Dictionary

is the ideal reference for native speakers of either language. Handy, easy-to-use, and now packaged with the groundbreaking text-to-speech software, this dictionary is also the essential tool for all students and teachers, as well as translators and language professionals. Jacket covers are also available in Spanish.
Features
Over 300,000 words and phrases and over 480,000 translations that provide comprehensive and up-to-date coverage of Spanish and English

An extended guide to effective communication, including a wealth of model letters offering help with a wide range of topicsfrom compiling job applications to booking hotel rooms
Up-to-the minute information on the cultures of the English and Spanish-speaking worlds, including a new section on the Euro
In-text boxes that provide detailed guidance on grammar and usage
American English throughout, with British English alternatives given where relevant
---
Beatriz Galimberti Jarman, Roy Russell, Carol Styles Carvajal, and Jane Horwood are expert bilingual lexicographers who have led a team of Spanish, Latin American, British, and American editors throughout this project.


IMPORTANT NOTICE: The Spanish CD-ROM Second edition (1996) is now out-of-print. New edition available as above.
LEA has stock for the Three-in-One , including Spanish, French, and German for $75.00. Not the current edition.
Oxford Three-in-One Bilingual Dictionary on CD-ROM
Now Oxford is pleased to offer all three electronic bilingual dictionaries on one CD-ROM: The Oxford 3-in-1 Bilingual Dictionary. Perfect for anyone who works with more than one foreign language, the 3-in-1 offers the most accurate, comprehensive, and accessible information on modern Spanish, French, and German.
* Tthe Oxford Hachette
* The Oxford Spanish
* The Duden German Dictionaries
on a single CD-ROM.

See also:
* The Espasa XXI Bilingual Dictionary: ESPASA XXI
* SEE ALSO: The Collins Talking Dictionary

Remember, we commit ourselves to provide...
ANY BOOK PUBLISHED IN ENGLISH OR IN SPANISH!
(Minimum order: $100.00 individuals, $200.00 institutions and bookstores)
LEA Book Distributors
170-23 83rd Avenue, Jamaica Hills, NY 11432, USA
Tel. 1(718)291-9891 * Fax 1(718)291-9830
Please direct all inquiries to: orders@leabooks.com
© LEA Book Distributors 1999