Reference Shelf
The Oxford U P Bookshelf:
Humanities Dictionaries

IMPORTANT NOTICE: All prices are subject to change. The prices listed here are for reference only and were the publisher's suggested retail price at the time we posted this catalogue. Usually, LEA Book Distributors will charge the publisher's suggested US retail price or at times the publisher's price for foreign customers. Check with us for latest price changes.

TO ORDER: Just send an e-mail with your list, full address, and credit card data. Institutions: Send P.O. orders@leabooks.com

We offer these outstanding choices: Quotations, The Arts, Classical & Medieval Reference, Philosophy & Religion
LANGUAGE TOPICS

The Oxford Dictionary of Twentieth-Century Quotations
Edited by ELIZABETH KNOWLES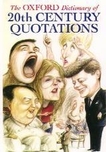 5,000 quotations that capture the wisdom, wit, and passion of the twentieth century

In The Oxford Dictionary of Twentieth-Century Quotations, Elizabeth Knowles has brought together 5,000 quotations that provide a kaleidoscopic look at the last hundred years--from inspirational words that launched great political movements, to songs that made us dance, to witty lines that made us laugh.
Here readers will find Franklin D. Roosevelt ("The only thing we have to fear is fear itself") and Martin Luther King, Jr. ("Injustice anywhere is a threat to justice everywhere"). There are numerous excerpts from works of art, from Franz Kafka's "It is often better to be in chains than to be free," to Cole Porter's "In olden days a glimpse of stocking / Was looked on as something shocking / Now, heaven knows, / Anything Goes." Knowles includes memorable flashes of wit, such as Dorothy Parker's "Men seldom make passes / At girls who wear glasses." And here too are the words of the notorious, such as Richard Nixon's "I am not a crook." In addition, the book features several special sections, including Misquotations, Newspaper Headlines ("Dewey defeats Truman"), Political Slogans ("Ban the Bomb"), Film Lines ("Let the force be with you"), and Anonymous ("Kilroy was here"). All quotations are organized alphabetically by author, and there are two indexes--a subject index and a key word index--to help readers find quotes when they don't know the author or when they need a quote to suit an occasion.

496 pp.; 0-19-860103-4; $30.00(02)
---
Instant access to over 20,000 quotations.
The Oxford Dictionary of Quotations and The Oxford Dictionary of Modern Quotations
Windows Version
Electronic edition
Edited by ANGELA PARTINGTON and TONY AUGARDE

This electronic edition combines The Oxford Dictionary of Quotations and The Oxford Dictionary of Modern Quotations to provide instant access to over 20,000 quotations. Ranging from profound, to cogent, to witty, these quotations will add spice to your writing and conversation. Spend hours simply browsing through this volume, or zip directly to the exact quote you need. For students, educators, or anyone with a love of famous sayings, this resource is an excellent addition to an electronic reference library. -"I don't want to achieve immortality through my work ... I want to achieve it through not dying." - Woody Allen -"The answer to the Great Question of...Life, the Universe and Everything ... Is ... Forty-two." -Douglas Adams, Hitch Hiker's Guide to the Galaxy Harware requirements: IBM PC or fully compatible; 80386X processor (or higher); 4Mb free RAM; 8Mb free hard disk space; MS-DOS 3.1 (or higher); Mouse.

5 (Five) 3.5" diskettes; comprehensive user's manual; 0-19-268134-6; $39.95 (02)
---
THE ARTS

The Oxford Dictionary of Art
New Edition
Edited by IAN CHILVERS and HAROLD OSBORNE
Consultant Editor: DENNIS FARR



An encyclopedic resource on the world of art--now in a new edition

Whether you are interested in Junk Art or Byzantine Art, the Ash Can School or the Antipodeans, Praxiteles and Phidias or Gilbert and George, The Oxford Dictionary of Art is the first place to turn for accurate information about artists, schools, periods, techniques, critical terms, major museums, art historians, philosophers, and much much more. Compiled from three highly acclaimed Oxford Companions--The Oxford Companion to Art, to Twentieth Century Art, and to the Decorative Arts--and with hundreds of new entries added, this authoritative, one volume reference offers over three thousand entries on almost every aspect of Western art, as well as the most essential features of Asian art.
Covering the entire history of art, this wide ranging and up-to-date guide is an indispensable reference for scholars, for students, and for art enthusiasts of every kind. It is also a browser's delight, filled with fascinating facts about the personalities who people the world of art.
Features over 3,000 entries covering every aspect of painting, sculpture, drawing, graphic arts, and applied arts
Includes an invaluable directory of museums and galleries around the world
672 pp.; 6-1/8 x 9-1/4; 0-19-860084-4; 1997; $55.00 (01)



A Dictionary of Twentieth-Century Art
Edited by IAN CHILVERS
From Renoir to Red Grooms, the only one-volume dictionary of 20th-century art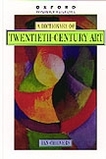 From Renoir and Picasso to Red Grooms and Guerrilla Girls, this is the most useful reference work on twentieth-century art available in a single volume. Compiled by Ian Chilvers, the editor of The Oxford Dictionary of Art, it is both authoritative and accessible, with generous use of anecdotes and clear explanations of many potentially confusing terms.

Providing broad coverage of painting, sculpture, drawing, and the applied arts, the Dictionary has clear, scholarly entries on the important movements and styles of the twentieth century, including Dada, Cubism, Surrealism, Art Deco, Abstract Expressionism, Pop Art, Body and Performance art, and Neo Expressionism. In addition, it provides entries on art schools and galleries, exhibitions and prizes, terms and techniques. Extensive biographies feature not only artists but also collectors, critics, dealers, and patrons. And though the Dictionary concentrates on the great names, it is not confined to the mainstream of modern art, and features both artists working in a more popular tradition as well as interesting peripheral figures.

This up to date and informative guide is an essential reference for anyone interested in modern art.
---
Ian Chilvers is a freelance writer and editor. He also edited The Oxford Dictionary of Art. He lives in London.

688 pp.; 5 x 7 3/4; $50.00 (02) cloth; 1998, 0192116452
0-19-280092-2; $18.95 (03) paper; 1999



The Oxford Dictionary of Opera
JOHN WARRACK and EWAN WEST

The most comprehensive one-volume reference on opera

La Scala, Luciano Pavarotti, Sweeney Todd, Maria Callas, Le Nozze di Figaro. These are just a few of the more than 1000 profiles on musical figures, 700 entries on famous works, and 200 important locales found in The Oxford Dictionary of Opera. Covering everything from composers, individual operas, well-known arias, and principle characters, to technical terms, librettists, and opera-houses, this is the most comprehensive one-volume reference work on all aspects of opera.
Provides opera synopses, first performance details, bibliographies of works about opera, entries on singers, definitions and discussions of technical terms and opera styles, and surveys of the history of opera worldwide

Extensive cross-references

Includes over 1000 profiles on musical figures, 700 entries on famous works, and 200 important locales

The Oxford Dictionary of Opera comes at a time when opera has reached unprecedented levels of popularity, enjoying well-filled opera houses, public television broadcasts, and huge record sales. Fully cross-referenced and packed with information, this tremendous reference is a must for all opera lovers.

"Fabulous.... Manages to include more than 900 singers and 750 composers, with the crisp detail that Oxford reference editors make their signature. Bravo! and Brava!"--Philadelphia Inquirer.

800 pp.; 6-1/8 x 9-1/4; 0-19-869164-5; 1992; $55.00 (01
---

The Oxford Dictionary of Music
Second Edition
MICHAEL KENNEDY
Associate Editor: JOYCE BOURNE

A new edition of the most comprehensive one-volume music dictionary available

When The Oxford Dictionary of Music first appeared, it was hailed as "without question the most comprehensive, detailed, reliable one-volume reference work on music now available in the English language" (Music and Musicians). Extensively revised and expanded, the second edition features over 900 entirely new entries, and many more descriptions of U.S. composers and performers than in the original work. Now with over 12,000 total entries, the dictionary remains the most comprehensive one-volume reference work available, offering a wealth of information on music and musicians from the Middle Ages to the present.

"An excellent resource for music and history students."--School Library Journal

"Up-to-date, and, frankly, indispensable."--The Times
Compiled by one of England's foremost music authorities
Over 12,000 entries (over 900 of which are entirely new)
2,000 entries on composers, 1,800 on performers, 450 on conductors
Over 2,200 definitions of musical terms and forms
Over 550 descriptions of musical instruments
Offers expanded coverage of U.S. composers and performers

1008 pp.; music examples; 6-1/8 x 9-1/4; 0-19-869162-9; 1995; $49.95 (02)

The Oxford Dictionary of Dance
DEBRA CRAINE and JUDITH MACKRELL

A fan's guide to dance performance, from the classical to the post-modern

Here is a lively, informative roadmap to a truly protean art form, an ideal resource for everyone who loves Swan Lake or the Rockettes, Merce Cunningham or Fred Astaire.

The Oxford Dictionary of Dance offers wide coverage of dancers, choreographers, teachers, composers, technical terms, major works, important films, and organizations involved in the dance world. It embraces the new activity within traditional forms like ballet as well as the stream of new dance languages invented by fresh generations of choreographers and the many dance forms imported from the rest of the world. Readers will find information on classical ballet, Spanish flamenco, Indian Bharata Natyam, Japanese Butoh, and jazz. The volume also covers post-modern dance, examining everything from Balanchine to recent practitioners of Eurocrash, minimalism, and contact improvisation.

Ranging from the history of music to the changing design of the ballet shoe, here is a comprehensive and affordable dictionary compiled by two leading authorities on dance.

544 pp.; 1 line illus; 6-1/8 X 9-1/4; 0-19-860106-9; 2000; $39.95 (01)




A Dictionary of Architecture
JAMES STEVENS CURL
Line Drawings by JOHN SAMBROOK

The most comprehensive and up-to-date dictionary of architecture available

From Aalto to ziggurat, this new work offers an authoritative and accessible guide to architecture and its history. With over 5,000 entries--twice as many as its nearest competitor--it provides extensive coverage of all periods of Western architectural history, from ancient times to the present day, in styles ranging from Assyrian architecture to Flemish Mannerism.

With entries spanning from the commonplace to the less well known, this dictionary aims to cover as wide a range of architectural terms as possible in an accessible style. Curl has included over 250 attractive illustrations, which add vital visual information to entries on topics such as the arch or the cross. There are also longer entries which explain the different schools of architecture--from Bauhaus to the Federal Style--and put them in their historical context. Biographical entries are provided for a great number of architects from the ancients to leading figures of today. From Brunelleschi and Gropius to Le Corbusier and Brunel, each entry outlines the architect's importance and gives examples of their most notable buildings.

Comprehensive and up to date, this book will prove to be an indispensable guide to anyone interested in architecture and its history. It is ideal for students and professional architects, as well as general readers.

---
James Stevens Curl is Research Professor of Architectural History at the Department of Architecture, De Montfort University, Leicester. He won the Sir Banister Fletcher Award for Best Architectural Book of the Year for his book The Art and Architecture of Freemasonry.

848 pp.; 150 line drawings; 0-19-210006-8; 1999; $55.00 (01) cloth
0-19-280017-5; $16.95 (03) paper;
---
CLASSICAL & MEDIEVAL REFERENCE

Selected one of the Best Reference Books of 1991 by Library Journal
Selected as the Best Specialist Reference Work 1991 by Reference Reviews
Chosen as an Outstanding Academic Book for 1991-1992 by Choice
The Oxford Dictionary of Byzantium
3 volumes
Edited by ALEXANDER P. KAZHDAN, Dumbarton Oaks, Washington, D.C.

The Oxford Dictionary of Byzantium is a three-volume, comprehensive dictionary of Byzantine civilization. The first resource of its kind in the field, it features over 5,000 entries written by an international group of eminent Byzantinists covering all aspects of life in the Byzantine world. According to Alexander Kazhdan, editor-in-chief of the Dictionary: "Entries on patriarchy and emperors will coexist with entries on surgery and musical instruments. An entry on the cultivation of grain will not only be connected to entries on agriculture and its economics but on diet, the baking of bread, and the role of bread in this changing society."

Major entries treat such topics as agriculture, art, literature, and politics, while shorter entries examine topics that relate to Byzantium such as the history of Kiev and personalities of ancient and biblical history. Each article is followed by a bibliography, and numerous maps, tables, architectural designs, and genealogies reinforce and clarify the text.

"This reference work is a major event for Byzantine studies....This is a remarkable accomplishment, one that both specialists and the educated public will find useful."--Speculum

"An indispensable reference tool for Byzantinists and Western medievalists, as well as an authoritative source for the more casual reader."--Religious Studies Review

"A landmark achievement that has no peer....Can be recommended wholeheartedly as an indispensable reference work of great worth."--Missiology

2366 pp.; line drawings, halftones & maps; 7-1/2 x 10; 0-19-504652-8; 1991; $375.00 (08)


---
RELIGION & PHILOSOPHY REFERENCE

Chosen as an Outstanding Academic Book of 1997 by Choice
The Oxford Dictionary of World Religions
Edited by JOHN BOWKER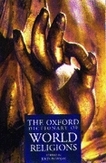 The definitive one-volume reference work on religions around the world

Religion is an integral part of every culture on Earth. And with the rise of the global village, the great influx of immigrants into the United States from Asia and the Middle East, and the growth of the ecumenical spirit in the last several decades, Americans are becoming more and more curious about the various religions of the world, including such major belief systems as Buddhism, Confucianism, Hinduism and Islam. Now, in The Oxford Dictionary of World Religions, readers have at their fingertips a gold mine of information on religions, movements, and cults around the globe and across the centuries.

Here are 8,200 alphabetical entries penned by some eighty contributors from around the world, representing the full spectrum of religious experience. Readers will find information on:
Religions: Christianity, Judaism, Buddhism, Hinduism, Islam, Jainism, Shinto, Sikhism, Taoism, and much more
Movements, Sects, and Cults: Over 500 entries on everything from Cargo Cults and the New Age movement to Rastafarians and Soka Gakkai
Sacred Texts: Over 1,000 entries covering the sacred writings of religions worldwide
Individuals: Including founders, leaders, gurus, philosophers, mystics, and heretics
Sacred Sites: Cities, buildings, centers of pilgrimage
Customs: Religious practices, dogmas, beliefs, traditions, festivals and fasts, and artefacts such as altars, rosaries, icons, torah ornaments, and much more
Ethics: Entries cover world-wide religious teachings on abortion, animals, birth control, war, sexuality and homosexuality, and suicide
General Topics: Aspects relevant to all religions, such as prayer, asceticism, cosmology, art and architecture, music and dance
Boasts over 8,200 entries, from short indentifications to extensive articles
Written by eighty experts from around the globe and representing the full spectrum of religious experience
Provides detailed coverage of Christianity, Judaism, Islam, Buddhism, Hinduism, Bahai, Taoism, and other world religions, movements, and cults
Includes extensive cross-referencing and suggested further reading, plus a 13,000-item topical index

1136 pp.; 6-1/8 x 9-1/4; 0-19-213965-7; 1997; $60.00 (01)

The Oxford Dictionary of the Christian Church
Third Edition
Edited by the late F. L. CROSS
Third Edition edited by E. A. LIVINGSTONE

Revised and updated--the unrivaled reference on all aspects of the Christian Church

The Oxford Dictionary of the Christian Church, since its first publication in 1957, has become the indispensable one-volume reference work on all aspects of the Christian Church. This new third edition, the first in over twenty years, builds on the unrivaled reputation of the previous editions. Extensively revised and updated, it reflects important changes in academic opinion and Church organization. There is increased coverage of the Eastern Churches, issues in moral theology, and developments stemming from the Second Vatican Council. Many new entries have been added--including articles on Liberation Theology, the ordination of women, Christianity in Vietnam, The Quest of the Historical Jesus, and the ethics of contraception and abortion--and the extensive bibliographies have been brought up to date. Readers are provided with over 6,000 authoritative cross-referenced A to Z entries covering all aspects of the subject.


"Remains unrivaled as the authoritative one-volume dictionary of the Christian church, its doctrines and practices, and its most influential historical figures....Highly recommended for general libraries, especially those that serve the needs of informed lay readers or ecclesiastical researchers."--Library Journal

Praise for the Second Edition: "Has no peer as a one-volume encyclopedia."--The Review and Expositer
Over 6,000 entries from more than 250 of the very best scholars in the field
1824 pp.; 0-19-211655-X; 1997; $125.00 (01)



Chosen as an Outstanding Academic Book of 1997 by Choice
The Oxford Dictionary of the Jewish Religion
Editors in Chief: R. J. ZWI WERBLOWSKY, Hebrew University of Jerusalem, Israel, and GEOFFREY WIGODER, Hebrew University of Jerusalem, Israel



This comprehensive dictionary of the Jewish religion contains nearly 2,400 alphabetically arranged entries ranging from short definitions to lengthy essays on major topics. It is the most accessible and complete one-volume resource available for information on the concepts, beliefs, and practices of historical and contemporary Jewish religious practice.

The combined effort of Israeli, American, and European scholars, this dictionary reflects the great variety of Jewish religious expression, from the traditional approaches to such recent variations as Reform, Conservative, and Reconstructionist Judaism. It covers all aspects of Jewish practice, law, and theology as expressed in the Bible and the Talmud and by philosophers throughout history. The work also includes biographical sketches of important personalities associated with the development of the Jewish religion over the centuries, articles on the mystical tradition and folklore, and entries addressing the more recent religious issues posed by the existence of the State of Israel.

Whether brief definitions, historical sketches

"Attractive, well-produced...the most complete one-volume resource available for information on the concepts, beliefs, and practices of Judaism, in the past and today....Authoritative and invaluable, it belongs in every congregational and institutional library."--Canadian Jewish News

792 pp.; 7 1/2 x 10; 0-19-508605-8; 1997; $95.00 (01)


The Oxford Dictionary of Philosophy
SIMON BLACKBURN

The most authoritative and up-to-date dictionary of philosophy available in one volume

The Gambler's Fallacy, the Dirty Hands Argument, Pascal's Wager, Buridan's Ass, Wittgenstein's Beetle in the Box--philosophical terms can be both intriguing and baffling. Now, eminent philosopher Simon Blackburn offers the most authoritative and up-to-date dictionary of philosophy available in a single volume, packed with helpful information for the novice and with astute observations for the expert. Ranging from Aristotle to Zen, the two thousand plus entries cover the entire span of philosophy, from the Vedas (written over three thousand years ago) to the most recent technical terminology, with ample coverage of important themes from Chinese, Indian, Islamic, and Jewish philosophy.


"A wondrous study of the concepts that structure our thinking."--School Library Journal
Written by one of the most eminent living philosophers
Offers over 2,500 entries in handy alphabetical order
Includes many unexpected entries, such as apathy, beauty, laughter, love, and the meaning of life
Vividly written, informative, and often witty entries make the book a pleasure to browse
416 pp.; 7 linecuts; 5-1/2 x 8-1/2; 0-19-211694-0; 1994; $49.95 (01) cloth;
0192831348; $14.95 (03) paper;

Remember, we commit ourselves to provide...
ANY BOOK PUBLISHED IN ENGLISH OR IN SPANISH!
LEA Book Distributors
170-23 83rd Avenue, Jamaica Hills, NY 11432, USA
Tel. 1(718)291-9891 * Fax 1(718)291-9830
Please direct all inquiries to: orders@leabooks.com
© LEA Book Distributors 1999