MACHINA SAPIENS
MULTIMEDIA EDUCATIONALPRODUCTS
El Corrector
IMPORTANT NOTICE: All prices are subject to change. The prices listed here are for reference only and were the publisher's suggested retail price at the time we posted this catalogue. Usually, LEA Book Distributors will charge the publisher's suggested US retail price or at times the publisher's price for foreign customers. Check with us for latest price changes.



Ver nuestra página web
para Enciclopedia Universal Micronet



EL CORRECTOR
n For Fast and Easy Correction of Written Spanish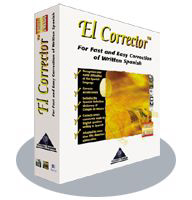 This second version of El Corrector is a state-of-the-art spelling checker, grammar checker and proofreader based on new developments in linguistic engineering. While other programs only offer you a list of possible replacements for misspelled words or grammar errors, El Corrector performs complete grammatical analyses, providing clear and precise explanations for each correction.


El Corrector, Version 2.0
Price: $125.00
v Detects archaisms as well as newly-coined words
v Detects sound-alike and look-alike words
v Corrects errors commonly made by Spanish speakers writing in their own language
v Integrates a fast spelling tool called QuickScan
v Verb conjugation
v Based on standard Spanish reference works by María Moliner, Manuel Seco and the Real Academia EspañolaI
v Selected by the Chilean Department of Education
v Adopted by more than fifty American universities
v Bilingual interface
v Corrects errors commonly made by English speakers writing in Spanish
v Corrects your texts from within most software products in which you edit text, in Windows 95/98/2000/NT and Mac OS 7/8/9, thanks to Symbiosis technology
v Works with standard keyboards
v Supports user-created dictionaries for new words (proper names, specialized terminology, acronyms, etc.)
v Endorsed by the National Federation of Hispanic-owned Newspapers
SYSTEM REQUIREMENTS

Windows
IBM-con Microsoft Windows 95/98/2000/NT 4 operating systems
IBM-compatible PC with Pentium processor
16 Mb RAM
10 to 20 Mb available hard disk space
Compatibilidad en Windows
Microsoft Word 7, 97 y 2000 (integración), Microsoft Word 6.0 (macro), Microsoft Word 2 a 7 (documentos), Microsoft Excel 95, 97 y 2000, Microsoft Outlook 97 y 2000, Microsoft Outlook Express 4 y 5, Microsoft PowerPoint 95, 97 y 2000, FrontPage Editor 98 y 2000, WordPad, Notepad, Microsoft Paint, Corel WordPerfect 7, 8 y 9 (integración), Corel WordPerfect 6.0a y 6.1 (macro), Corel WordPerfect 5 a 8 (documentos), ICQ, Netscape Navigator 2 a 4.6.1, Eudora Pro y Light 2 y 3, Dragon NaturallySpeaking, IBM ViaVoice, L&H Voice XPress, Lotus WordPro Millenium, Lotus Organizer, Lotus AmiPro 3.1 (documentos), RTF (documentos), HTML (documentos), SGML (documentos) y el formato texto ASCII (documentos).

Macintosh
MacOS 7.5.3 to 9
Macintosh computer with Power PC processor or better
13 Mb available RAM
10 to 26 Mb available hard disk space
Macintosh Compatibility
Microsoft Word 6 and 98 (integration), Microsoft Word 4 to 6.0.1 (documents), Microsoft Excel 98, Microsoft PowerPoint 98, Netscape Navigator 3 and 4, Eudora Pro 2 and 3 (cooperation), Eudora Light 1.5.4 to 3 (cooperation), AppleWorks, ClarisWorks 4.0 and 5.0 (cooperation), ClarisWorks 2.0 to 4.0 (documents), Corel WordPerfect 2.1 to 3.5 (documents), MacWrite Pro 1.5 (cooperation), QuarkXPress 3.2 to 4.01 (integration), AdobePageMaker 6.5 (integration), Adobe PageMaker 5 to 6.5 (cooperation), FileMaker Pro 3 and 4, Simple Text, WriteNow, Nisus Writer 5 (cooperation), RTF (documents), HTML (documents), SGML (documents) and the ASCII text format (documents).
Symbiosis technology corrects text in most editable fields in a large number of other Windows and Macintosh applications. For an updated list, see our Internet site.
©1997-2000, Les Logiciels Machina Sapiens inc. All rights reserved. El Corrector is a trademark of Les Logiciels Machina Sapiens inc. All other trademarks are the property of their respective owners. Product of Québec. Printed in Québec.
Acuérdese, nos comprometemos a proporcionarle...
CUALQUIER LIBRO PUBLICADO EN INGLÉS O EN ESPAÑOL
(Pedido mínimo $200.00 organizaciones)
LEA Book Distributors
170-23 83rd Avenue, Jamaica Hills, NY 11432, USA
Tel. 1(718)291-9891 * Fax 1(718)291-9830
Please direct all inquiries to: orders@leabooks.com
Home
--- Estudios Hispánicos
© LEA Book Distributors 1999