Reference Shelf
English-Spanish Bilingual Dictionaries

IMPORTANT NOTICE: All prices are subject to change. The prices listed here are for reference only and were the publisher's suggested retail price at the time we posted this catalogue. Usually, LEA Book Distributors will charge the publisher's suggested US retail price or at times the publisher's price for foreign customers. Check with us for latest price changes.

We offer these outstanding choices:
* The Oxford Spanish Dictionary
* Simon & Schuster International Dictionary
* HarperCollins Selections
* Random House Selections
* See also our Larousse Pages and the Espasa XXI selections
THE OXFORD U. P. BOOKSHELF
The Oxford Spanish Dictionary (Spanish-English, English-Spanish)
Second edition revised with supplements
Edited by BEATRIZ GALIMBERTI JARMAN, ROY RUSSELL, CAROL STYLES CARVAJAL, and JANE HORWOOD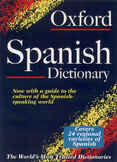 A revised edition of the leading Spanish-English bilingual dictionary

Compiled by an expert team of Spanish and English lexicographers, The Oxford Spanish Dictionary is the result of ten years research, which drew on a unique database of English and Spanish to create a dictionary that is second to none--authentic, contemporary, and lively.
New to this edition is a guide to life and culture in the Spanish- and English-speaking worlds. This guide covers a wide range of topics: from the political and educational systems to key events in the calendar and how they are celebrated. In addition, an expanded guide to effective communication provides wide-ranging advice and a wealth of model letters, covering everything from job applications and CVs to booking hotel rooms. Of course, the Dictionary's superb features remain intact. It boasts more than 275,000 words and phrases and more than 450,000 translations that provide the most comprehensive and up-to-date coverage of the general, scientific, literary, and technical vocabulary of contemporary Spanish and English. There is extra help on grammar, with large boxed notes within the A-Z dictionary that provide extended treatment of complex grammatical constructions, plus smaller in-text boxes that offer additional help on particular words and their correct usage. Subject boxes give immediate guidance on vocabulary in areas such as colors, time, day, dates and months, and sports.
The Oxford Spanish Dictionary covers more than 24 varieties of Spanish as it is written and spoken throughout the Spanish speaking world--the widest ranging coverage available. It is an essential resource for students, scholars, and travelers.

---
Beatriz Galimberti Jarman, Roy Russell, Carol Styles Carvajal, and Jane Horwood are expert bilingual lexicographers who have led a team of Spanish, Latin American, British, and American editors throughout this project.
1872 pp.; 7-3/8 x 10; ISBN: 0-19-860367-3;
LEA Price:
$45.00 (02) Published in 2001
Windows and Macintosh CD-ROM, ISBN: 0-19-268308-X; US Price: $50.00.
IMPORTANT NOTICE: The Spanish CD-ROM edition is now out-of-print at $50.00. LEA has stock for the Three-in-One , including Spanish, French, and German for $75.00.
Combined PRINT + CD-ROM package: $115.00
Oxford Three-in-One Bilingual Dictionary on CD-ROM
Now Oxford is pleased to offer all three electronic bilingual dictionaries on one CD-ROM: The Oxford 3-in-1 Bilingual Dictionary. Perfect for anyone who works with more than one foreign language, the 3-in-1 offers the most accurate, comprehensive, and accessible information on modern Spanish, French, and German.
* Tthe Oxford Hachette
* The Oxford Spanish
* The Duden German Dictionaries
on a single CD-ROM.

For more details, See CD-ROM EDITION

Oxford-Duden Pictorial Spanish & English Dictionary. 05/1995 2nd ed. Oxford UP. Oxford UP Staff. illus. Paper, SBN 0-19-864515-5 , Blackwell, NACS. 888p. $ 21.95
The Basic Oxford Picture Dictionary. 03/1994 Oxford UP. Margot F. Gramer. illus. Juv. AgeLv: 05-12 Gr: 0-7 Cloth ISBN 0-19-434571-8 . 134p. English, Spanish $ 9.95
The Oxford Color Spanish Dictionary: Spanish-English, English-Spanish; Espanol-Ingles, Ingles-Espanol. 07/1998 2nd ed. Oxford UP. Compiled by Christine Lea. Paper, SBN 0-19-860214-6 . Revised 528p. $ 7.95
The Oxford Color Spanish Dictionary: Spanish-English, English-Spanish; Espanol-Ingles-Espanol. 12/1995 Oxford UP. Edited by Christine Lea. Coll. Paper Text ISBN 0-19-860017-8 , 512p. (OP) $ 7.95
The Oxford Paperback Spanish Dictionary & Grammar. 11/1997 LCCN: PC4640.L45 1997 Oxford UP. Edited by Christine Lea, John Whitlam and John Butt. Paper, SBN 0-19-860079-8 LCCN: 98-112179 . 864p. $ 11.95
The Oxford Spanish Desk Dictionary. 08/1997 Oxford UP. Edited by Carol S. Carvajal and Jane Horwood. Coll. Cloth ISBN 0-19-521352-1 Wholesalers: JA Majors. 992p. Spanish Contact Suppl. for price info. $ 14.95
The Oxford Starter Spanish Dictionary. 10/1997 LCCN: PC4640.O95 1997 Oxford UP. Edited by Jane Horwood, Christina A. Llompart and Carol S. Carvajal. Paper, SBN 0-19-860035-6; 384p. $ 8.95
The Pocket Oxford Spanish Dictionary. 07/1997 Oxford UP. Edited by Carol S. Carvajal and Jane Horwood. Paper, SBN 0-19-521346-7.; 992p. $ 9.95
---
SIMON & SCHUSTER
International Dictionary Spanish - English.

08/1997 2rd ed. Macmillan Publishing Company. Tana De Gamez and Roger Steiner. Cloth ISBN 0671212672, 1632p. $ 55.00
This modern, comprehensive lexicon for the English and Spanish-speaking worlds is more than a dictionary, it's an invaluable language reference work. Here are the vocabulary and usages born of the technological developments and social changes of our time, with the most up-to-date references in all areas of human endeavor. Here too, in thousands of examples and idioms, is the diversity of traditions and temperament of those two worlds, as reflected in their languages throughout history and literature.
Simon and Schuster's International Dictionary has been compiled by leading authorities in linguistics in collaboration with more than 70 editors, authors and translators of the United States, Latin America, Spain and the United Kingdom. With over 200,000 entries, this is an indispensable reference work and a must for schools and libraries.
---
HARPER COLLINS BOOKSHELF
HarperCollins Spanish Dictionary, 4e: Unabridged Edition
by HarperCollins

With more than 230,000 references and 444,000 translations, the HarperCollins Spanish Unabridged Dictionary provides in-depth treatment of all areas of modern Spanish, including the specialized vocabulary terms used in the fields of computers, business, politics and medicine. In addition, incorporated within the main text of the dictionary are 1,000 sidebars that offer readers a deeper understanding of life and culture in Spanish-speaking countries and help unravel the complexities of the language.
Featuring a comprehensive coverage of phrases and idioms, a full treatment of Latin-American Spanish and an exceptionally user-friendly layout, the HarperCollins Spanish Unabridged Dictionary is an invaluable source for students and professionals alike. Bilingual English-Spanish, Spanish-English

HarperCollins ISBN 0062702076
Hardcover; ©1997;trim size: 7 1/2 x 10 1/4; $55.00
HarperCollins: Spanish College Dictionary 3rd Edition
by HarperCollins

The HarperCollins Spanish College Dictionary is a standout--you're holding the best buy on the shelf in your hands right now. Here's why:
Easiest to use: Usage levels are indicated throughout, with extensive examples to illustrate how words are used in context. A system of style labels identifies whether a word is formal, informal, literary, vulgar, dated, or euphemistic. In addition, specific meanings are clearly marked to guide the user to the correct treatment. The text also includes illustrations of pronunciations through the usage of the International Phonetic Alphabet, enabling easy access and effective communication for educational, business, and traveling purposes.
Most consistently updated: HarperCollins dictionaries are updated more frequently than the competition, giving you the edge in reading, writing and understanding the language.
Comprehensive: Fully updated coverage of both Spanish and English, including business, technological, and cultural terms and complete coverage of Latin-American usage.
HarperCollins ISBN 006270818X
Hardcover; ©1998;trim size: 6 3/8 x 9 1/4; $25.00
HarperCollins Spanish Dictionary, New Standard Edition
by HarperCollins
These new and popularly priced dictionaries, unparalled for their accurate reflection of the living language, offer more than 133,000 entries. Concise definitions and numerous phrases and examples provide an exceptionally clear format. The inclusion of the most recent vocabulary from such fields as economics, politics, computers, and medicine makes this series an invaluable and affordable resource for students and professionals alike. Each edition comes with comprehensive verb tables and is thumb-indexed.
HarperCollins, ISBN 0-06-275514-5
Hardcover; ©1993; 896 pages; $25.00
---
RANDOM HOUSE BOOKSHELF
Random House Latin-American Spanish Dictionary
Random House
RH Reference & Information Publishing | Hardcover | February 1997 $ 22.00 | 0-679-45294-X
About this Book
This dictionary provides detailed, reliable information on standard Spanish pronunciation, covering the distinctive words and meanings unique to Central and South America, as well as the Caribbean. The dictionary's features include:
*More than 60,000 entries
*Complete coverage of Latin-American Spanish usage
*Spanish-English and English-Spanish sections
*Geographical names and their derivatives
*Tables of irregular verbs
*Commonly used phrases, weight and measures, and more
The R H Latin-American Spanish Dictionary is perfect for business travelers and students alike.

Random House Spanish-English English-Spanish Dictionary
Second Edition
Random House
RH Reference & Information Publishing | Hardcover | April 1999 $ 20.00 | 0-375-40483-X




Remember, we commit ourselves to provide...
ANY BOOK PUBLISHED IN ENGLISH OR IN SPANISH!
LEA Book Distributors
170-23 83rd Avenue, Jamaica Hills, NY 11432, USA
Tel. 1(718)291-9891 * Fax 1(718)291-9830
Please direct all inquiries to: orders@leabooks.com