Religion
New Catholic Encyclopedia, 2002 Edition

IMPORTANT NOTICE: All prices are subject to change. The prices listed here are for reference only and were the publisher's suggested retail price at the time we posted this catalogue. Usually, LEA Book Distributors will charge the publisher's suggested US retail price or at times the publisher's price for foreign customers. Check with us for latest price changes.

AND DON'T FORGET: You can order any book you need from LEA, whether you find it here or not!

See our special page for: Encyclopedias of Religion
See our special page for: Oxford Encyclopedia of the Modern Islamic World
See our special page for: Encyclopedia of the Reformation
See our extensive pages for: New Catholic Encyclopedia 2002 Edition.


New Catholic Encyclopedia
Edition 2
Published in 2002
Published by Gale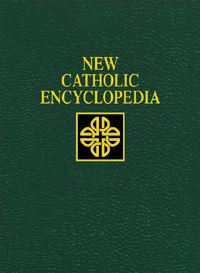 Since 1967, the New Catholic Encyclopedia, cited by Library Journal as one of the top 50 reference sources of the millennium, has been a standard in public, academic and high school libraries worldwide. Prized for its scholarly presentation of persons and subjects related to Catholicism and the humanities, the Encyclopedia is the first place you turn when your users have questions on topics such as abortion, divorce, cloning and reproductive technology. Gale, together with The Catholic University of America, is proud to announce a new and updated edition of this multi-volume set -- the first new edition in more than 30 years.
This revised edition features contributions from hundreds of scholars from all over the world, under the guidance of Catholic University of America's Reverend Berard Marthaler, O.F.M. and Gale. Incorporating content from the five supplementary volumes to the first edition of the New Catholic Encyclopedia, this new edition also features revised and new articles, bringing the entire encyclopedia up to date. Among the 12,000 entries in the Encyclopedia are articles on theology, philosophy, history, literary figures, saints, musicians and much more.
What impact did Catholicism have on Shakespeare? What role does music play in religious worship? Why is the fish a Christian symbol? What did John Paul II have to do with the fall of Communism in Eastern Europe? What?s the difference between the Catholic and Protestant bibles? The only comprehensive source on Catholic teachings, the New Catholic Encyclopedia is the source to consult for answers to questions like these, and hundreds of others.
In addition to the hundreds of new signed articles on a wide variety of topics, this new edition also features biographies of contemporary religious figures; thousands of photographs, maps and illustrations; and completely updated bibliographical citations. The 15th volume is a cumulative index to the entire encyclopedia.
Published/Released: 2002
2nd Ed.About 12,000 pp. in 15 vols. Ready September 2002.
ISBN 0-7876-4004-2. Order #GML35001-113827.
U.S. $1,995.00/15-vol. set.
---
In a unique partnership, Gale and The Catholic University of America are publishing a new edition of the New Catholic Encyclopedia — the first in more than 30 years. For almost 90 years, this authoritative encyclopedia has been known for its scholarly presentation of persons and subjects related to Catholicism and the humanities.



The standard of reference on Catholicism



Called "indispensable" by Catholic Library World and "a credit to American Catholic scholarship" by Library Journal, the New Catholic Encyclopedia is a standard in academic and public libraries of all types. It is equally popular among religious organizations and institutions, including seminaries, monasteries and U.S. Catholic parishes, especially those affiliated with education programs.



Why the new edition?



The Catholic Church has gone through tremendous changes since the last edition was published. It has become more open and flexible, while still maintaining its traditional principles. The second edition reflects this new approach. Here's what you will find in the second edition:

_

Articles updated to reflect the new code of Canon Law promulgated in 1983

_

Articles composed and reviewed by experts in their respective subject disciplines

_

Hundreds of new, signed articles on a wide variety of topics, including, but not limited to: historical figures, musicians, philosophy, saints and theology

_

New photos, maps and illustrations

_

Numerous new biographies on religious figures

_

Revised and updated information reflecting the most recent Catholic scholarship

_

Updating of numerous bibliographical citations

_

And much more



More than 200 distinctive contributors



For the new edition, Gale asked Rev. Bernard Marthaler, O. F. M. Conv., professor emeritus in the Department of Religion and Religious Studies at Catholic University, to lead a team of writers, advisors and researchers proficient in a variety of specialized subject areas. Respected contributors from around the world include:

_

Helen Alvaré, professor of law; Catholic University of America; has appeared on "60 Minutes" to defend the Catholic position on

Dr. Theodora Antonopoulou, lecturer in Byzantine literature; Department of Byzantine and Modern Greek Studies, University of Cyprus

_

Avery Dulles, professor emeritus of theology; Fordham University

_

Dr. Peter Herde, professor of history; Bayerische-Julius- Maximilians-Universität, Würzburg (University of Würzburg); Würzburg, Germany

_

Ralph McInerny, professor of philosophy; University of Notre Dame; director of Jacques Maritain Institute; author of "Father Dowling" mystery series

_

Sophia Menache, professor of medieval history; University of Haifa; Haifa, Israel

_

Thomas Noble, director of the Medieval Institute; University of Notre Dame

_

Edward Peters; Henry Charles Lea Professor of Medieval History; University of Pennsylvania

_

Ludwig Schmugge, professor of medieval history; University of Zürich

_

George Weigel, senior fellow; Ethics and Public Policy Center; authored a best-selling biography of Pope John Paul II



Unrivaled in scope and depth



The new edition of New Catholic Encyclopedia contains more than 12,000 entries, including:
_ Abortion
_ Pope John XXXIII
_ Afterlife
_ Life, Origin of
_ Ars moriendi (The Art of Dying)
_ New York, Archdiocese of
_ J.S. Bach
_ Notre Dame, University of
_ Buddhism
_ Peter, The Apostle
_ Byzantine Art
_ Pope Pius XII
_ Church in Kenya
_ Poltergeist
_ Faith and Reason
_William Shakespeare
_ Holocaust
_ Temptation
_ Islam
_ Tempting God
_ Jesus Christ, Contemporary
_ Tolerance
_ Developments in Theology
_ And much more
_ Evelyn Waugh

---

Remember, we commit ourselves to provide...
ANY BOOK PUBLISHED IN ENGLISH OR IN SPANISH!
(Minimum order: $100.00 individuals, $200.00 institutions and bookstores)
LEA Book Distributors
170-23 83rd Avenue, Jamaica Hills, NY 11432, USA
Tel. 1(718)291-9891 * Fax 1(718)291-9830
Please direct all inquiries to: orders@leabooks.com
© LEA Book Distributors 1999